75 Best Self-Love Quotes that'll Inspire You to Love Yourself
Loving yourself has great benefits from increasing your self-esteem to elevating your happiness. People who practice self-love take care of themselves as they would to their loved ones.
If you are someone who struggles to love themselves, then you need to look at some of the benefits of loving yourself.
Benefits of Practicing Self-love
Self-love develops self-confidence which makes you believe in your capabilities.
Self-love gives a boost in attractiveness because you accept your individuality, and are proud of it.
Self-love fosters a sense of responsibility towards your body and mind, so you don't engage in self-harm behaviour.
It gives you a higher level of satisfaction, and strong motivation.
Self-love makes you self-aware you get to learn about your own self, and your overall personality.
Loving yourself develops an inner sense of security.
How to Love Yourself
If you haven't kick-started your journey to self-love then you can do it by practising mindfulness, being kind to yourself, by challenging your negative beliefs about yourself, and by appreciate yourself whenever necessary. Also, don't forget to take care of yourself like a good friend, and remind yourself that you deserve to be happy.
So here are some of the best 75 quotes on Self-love, that will inspire you to love yourself. Because love is a strong medicine for all ailments.
75 Best Self-Love Quotes that'll Inspire You to Love Yourself
1. "To fall in love with yourself is the first secret to happiness." – Robert Morley
2. "I must undertake to love myself and to respect myself as though my very life depends upon self-love and self-respect."- Maya Angelou
3. "Self-love is not selfish; you cannot truly love another until you know how to love yourself."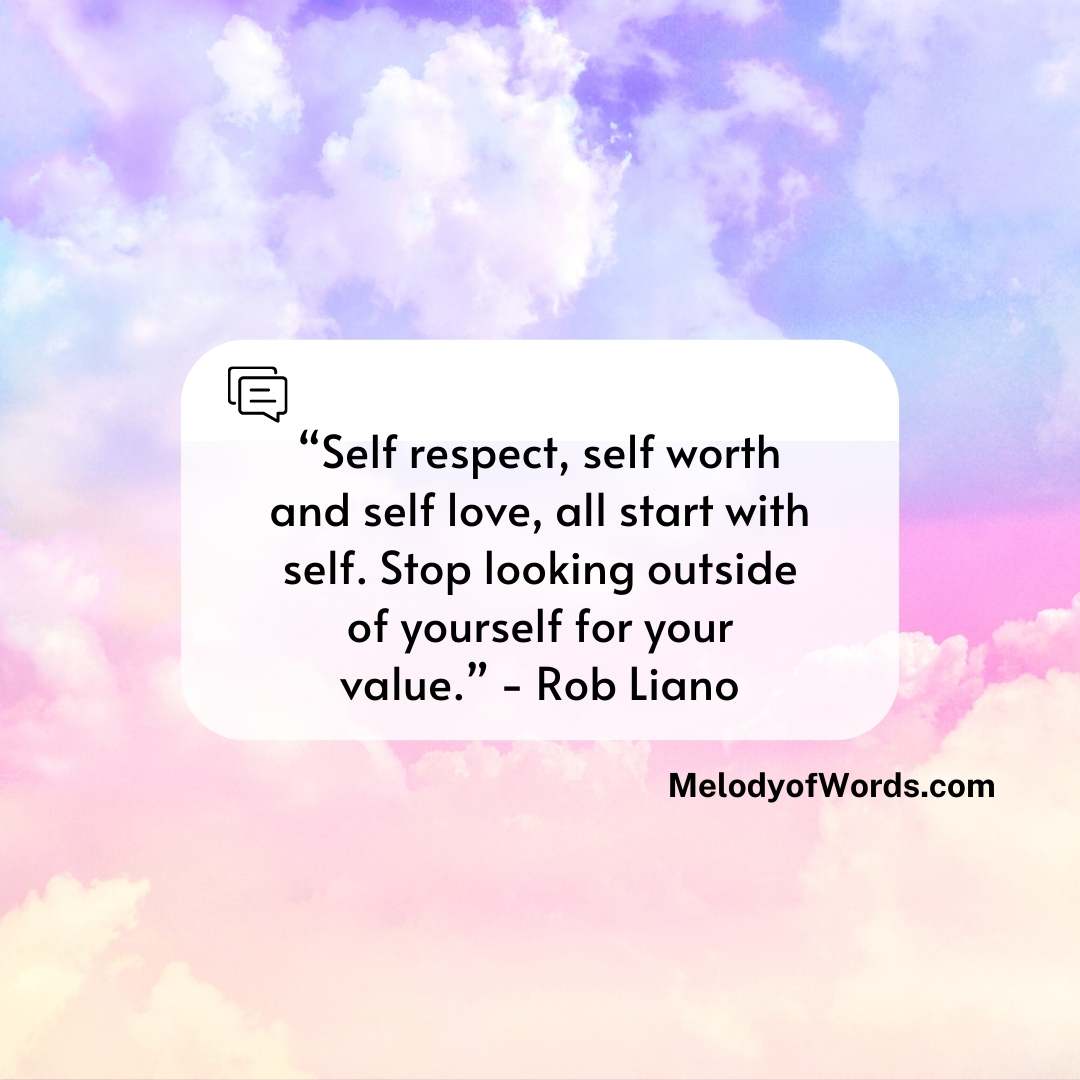 4. "Love yourself. Enough to take the actions required for your happiness. Enough to cut yourself loose from the drama-filled past. Enough to set a high standard for relationships. Enough to feed your mind and body in a healthy manner. Enough to forgive yourself. Enough to move on." – Steve Maraboli
5. "A loving person lives in a loving world. A hostile person lives in a hostile world. Everyone you meet is your mirror." – Ken Keyes
6. "Self respect, self worth and self love, all start with self. Stop looking outside of yourself for your value." – Rob Liano
7. "Find the love you seek, by first finding the love within yourself. Learn to rest in that place within you that is your true home." – Sri Ravi Shankar
8. "So then, the relationship of self to other is the complete realization that loving yourself is impossible without loving everything defined as other than yourself." – Alan Watts
9. "To be yourself in a world that is constantly trying to make you something else is the greatest accomplishment." – Ralph Waldo Emerson
10. If you don't love yourself, nobody will. Not only that, you won't be good at loving anyone else. Loving starts with the self." – Wayne Dyer
Also read: The Benefits of Self-Acceptance and How to Practice it
11. "I think everybody's weird. We should all celebrate our individuality and not be embarrassed or ashamed of it." – Johnny Depp
12. "We can never obtain peace in the outer world until we make peace with ourselves." – Dalai Lama
13. "I care for myself. The more solitary, the more friendless, the more un-sustained I am, the more I will respect myself." – Charlotte Brontë, Jane Eyre
14. "Love yourself first and everything else falls into line. You really have to love yourself to get anything done in this world." – Lucille Ball
15. "If you have the ability to love, love yourself first." – Charles Bukowski, Self-Love Quotes
16. "So plant your own gardens and decorate your own soul, instead of waiting for someone to bring you flowers."
17. "I found in my research that the biggest reason people aren't more self-compassionate is that they are afraid they'll become self-indulgent. They believe self-criticism is what keeps them in line. Most people have gotten it wrong because our culture says being hard on yourself is the way to be." – Kristen Neff
18. "Because one believes in oneself, one doesn't try to convince others. Because one is content with oneself, one doesn't need others' approval. Because one accepts oneself, the whole world accepts him or her." – Lao-Tzu
19. "A healthy self-love means we have no compulsion to justify to ourselves or others why we take vacations, why we sleep late, why we buy new shoes, why we spoil ourselves from time to time. We feel comfortable doing things which add quality and beauty to life." – Andrew Matthews
20. "You have been criticizing yourself for years, and it hasn't worked. Try approving of yourself and see what happens." – Louise L. Hay
Also read: The Art of Absorbing– How to Soak Positivity like a Sponge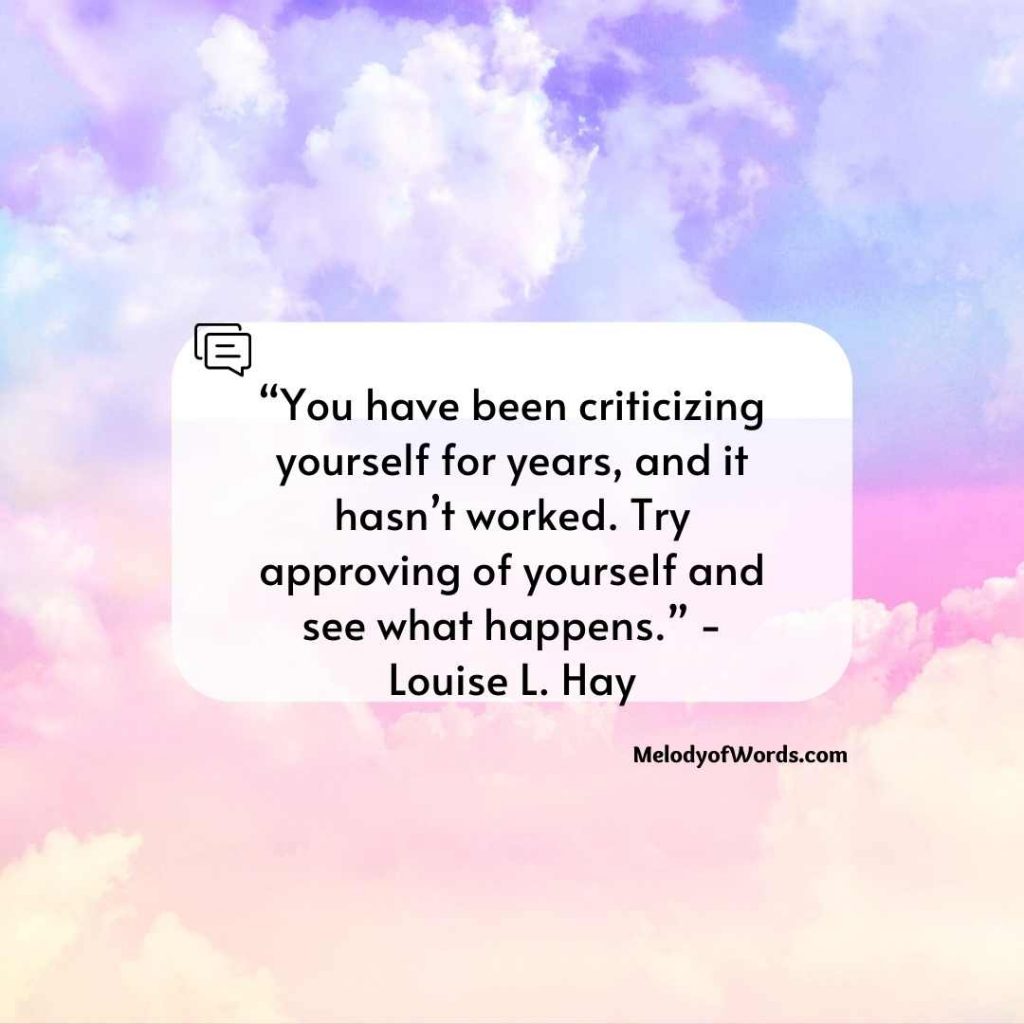 21. "No other love no matter how genuine it is, can fulfill one's heart better than unconditional self-love." – Edmond Mbiaka
22. "You yourself, as much as anybody in the entire universe, deserve your love and affection." – Buddha
23. "The quality of your relationship with yourself determines the quality of your relationship with everything else." – Dr. Robert Holden
24. "Even when it seems that there is no one else, always remember there's one person who never ceased to love you – yourself." – Sanhita Baruah, Self-Love Quotes
25. "If you don't love yourself, you'll always be chasing after people who don't love you either." – Mandy Hale
26. "You have to love yourself because no amount of love from others is sufficient to fill the yearning that your soul requires from you." – Dodinsky
27. "Love yourself enough to create an environment conducive to the nourishment of your personal growth. Allow yourself to let go of the people, thoughts, and situations that poison your well-being. Cultivate a vibrant surrounding and commit yourself to making choices that will help you release the greatest expression of your own unique beauty and purpose." – Steve Maraboli
28. "I love myself.' the quietest. simplest. most powerful. revolution. ever." – Nayyirah Waheed
29. "Be gentle with yourself, learn to love yourself, to forgive yourself, for only as we have the right attitude toward ourselves can we have the right attitude toward others." – Wilfred Peterson, Self-Love Quotes
30. "Self-love is asking yourself what you need every day and then making sure you receive it." – Unknown
31. "Loving yourself starts with liking yourself, which starts with respecting yourself, which starts with thinking of yourself in positive ways." – Jerry Corstens
32. "The moment you know yourself you have known the most precious thing in existence." – Osho
33. "Until you value yourself, you won't value your time. Until you value your time, you won't do anything with it." – M. Scott Peck, Self-Love Quotes
34. "There is no difficulty that enough love will not conquer
No door that enough love will not open
No gulf that enough love will not bridge,
No wall that enough love will not throw down
It makes no difference how deeply seated may be the trouble,
How great the mistake,
Sufficient realization of love will resolve it all.
If only you could love enough,
You would be the happiest and most powerful being in the universe." – Emmet Fox, Self-Love Quotes
35. "Something inside you emerges….an innate, indwelling peace, stillness, aliveness. It is the unconditioned, who you are in your essence. It is what you had been looking for in the love object. It is yourself." – Eckhart Tolle
36. "Your task is not to seek for Love, but merely to seek and find all the barriers within yourself that you have built against it." – Rumi, Rumi Quotes, Self-Love Quotes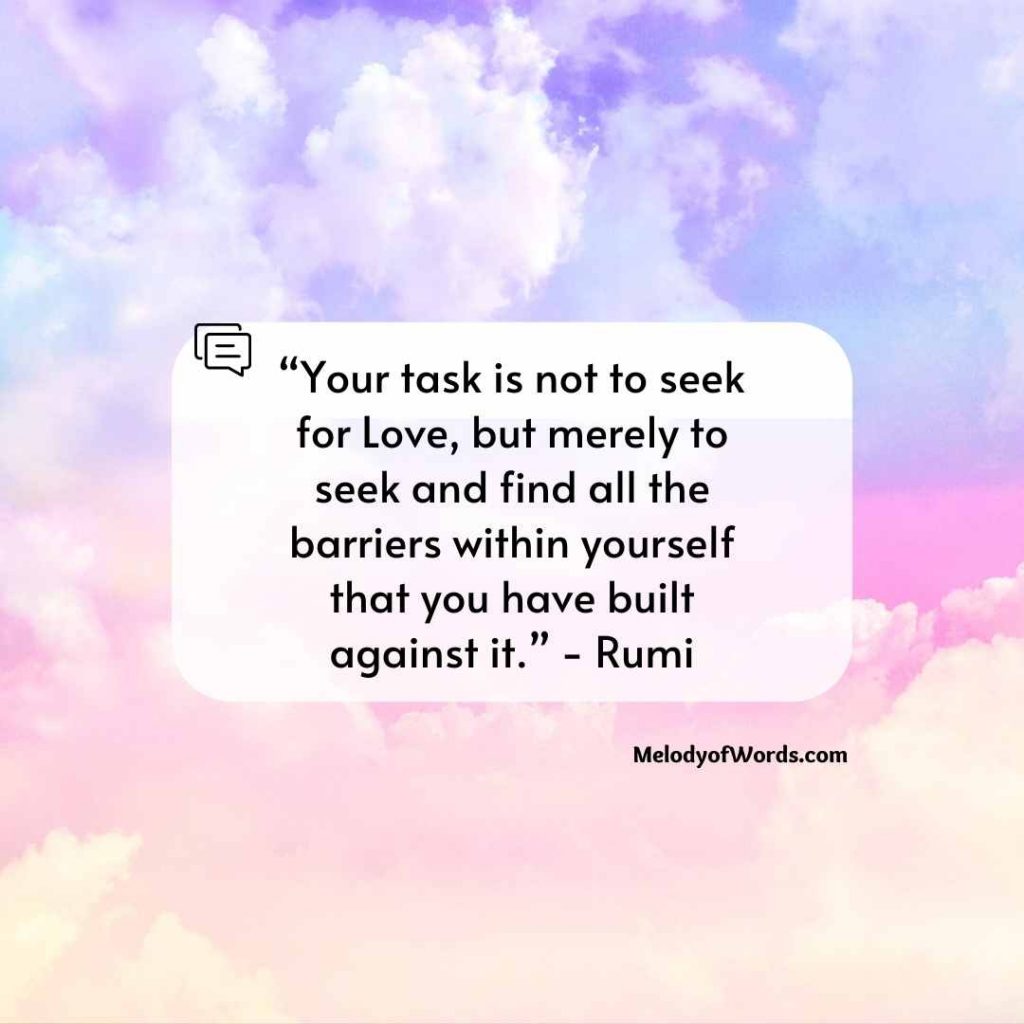 37. "Dedicate yourself to Love. Decide to let Love be your intention, your purpose, and your point. And then let Love inspire you, support you and guide you in every other dedication you make thereafter." – Robert Holden
38. "What you think about yourself is much more important than what others think of you." – Seneca
39. "Plant your own garden and decorate your own soul, instead of waiting for someone to bring you flowers."
– Veronica A. Shoffstall
39. "I love myself for I am a beloved child of the universe and the universe lovingly takes care of me now."
– Louise Hay
40. "I didn't belong as a kid, and that always bothered me. If only I'd known that one day my differentness would be an asset, then my early life would have been much easier." – Bette Midler
41. "I don't care about being "normal" getting approval or fitting in with the crowd. I do my own thing and follow my own path. Some people like me, some don't, and I'm okay with that." – Lori Deschene
42. "It's not your responsibility to want the life that others want for you." – Colin Wright
43. "What lies behind us and what lies before us are tiny matters compared to what lies within us."– Ralph Waldo Emerson
44. "Worthy now. Not if. Not when. We are worthy of love and belonging now. Right this minutes. As is." – Brene Brown
45. "Remember always that you not only have the right to be an individual, you have an obligation to be one." – Eleanor Roosevelt, Self-Love Quotes
46. "Self-pity gets you nowhere. One must have the adventurous daring to accept oneself as a bundle of possibilities and undertake the most interesting game in the world making the most of one's best." – Harry Emerson Fosdick
47. "One of the greatest regrets in life is being what others would want you to be, rather than being yourself." – Shannon L. Alder
48. "It's not selfish to love yourself, take care of yourself, and make your happiness a priority. It's a necessity." – Mandy Hale
49. "Low self-esteem is like driving through life with your hand-break on." – Maxwell Maltz
50. "Our self-respect tracks our choices. Every time we act in harmony with our authentic self and our heart, we earn our respect. It is that simple. Every choice matters." – Dan Coppersmith, Self-Love Quotes
51. "You have been criticizing yourself for years, and it hasn't worked. Try approving of yourself and see what happens." – Louise L. Hay
52. "A healthy self-love means we have no compulsion to justify to ourselves or others why we take vacations, why we sleep late, why we buy new shoes, why we spoil ourselves from time to time. We feel comfortable doing things which add quality and beauty to life." – Andrew Matthews
53. "I think the reward for conformity is that everyone likes you except yourself." – Rita Mae Brown
54. "Self-love, my liege, is not so vile a sin, as self-neglecting." – William Shakespeare
55. "Love is the great miracle cure. Loving ourselves works miracles in our lives." – Louise L. Hay
56. "Whatever course you decide upon, there is always someone to tell you that you are wrong. There are always difficulties arising which tempt you to believe that your critics are right. To map out a course of action and follow it to an end requires courage." – Ralph Waldo Emerson, Self-Love Quotes
57. "You are only afraid if you are not in harmony with yourself. People are afraid because they have never owned up to themselves." – Hermann Hesse, Self-Love Quotes
58. "You can't build joy on a feeling of self-loathing."– Ram Dass
59. "In a society that profits from your self doubt, liking yourself is a rebellious act." – Caroline Cardwell, Self-Love Quotes
60. "And you? When will you begin that long journey into yourself?" – Rumi, Self-Love Quotes
61. "Spending time alone in your own company reinforces your self-worth, and is often the number-one way to replenish your resilience reserves." – Sam Owen, Self-Love Quotes
62. "It is hard to love yourself if you never spend time with yourself. 'Alone Time' is Necessary" – Izey Victoria Odiase
63. "Truth is, I'm generally happiest when it's just me. It's okay to be madly in love with yourself." – Richelle E. Goodrich
64. "Self-care is how you take your power back." – Lalah Delia
65. "Nourishing yourself in a way that helps you blossom in the direction you want to go is attainable, and you are worth the effort." – Deborah Day, Self-Love Quotes
66. I've learned to ignore the negative people and just be a living example of confidence and self-love. – Khoudia Diop, Self-Love Quotes
67. A lot of times, in our culture and our society, we put romantic love somehow on a higher plane than self-love and friendship love. You can't do that. You have to honor and really fully invest in all these different loving relationships. – Delilah, Self-Love Quotes
68. If you don't know where to find self-love, you're going to spend the rest of your life trying to find it somewhere else. – Jeannie Mai
69. People should accept being single, because those are the moments you can really focus on yourself, and learning who you are. Then when you get in a relationship, you will be stronger and have a little bit more self-awareness, self-love, and the other ingredients for a healthy relationship. – Lauren London, Self-Love Quotes
70. Had we not loved ourselves at all, we could never have been obliged to love anything. So that self-love is the basis of all love. – Thomas Traherne, Self-Love Quotes
71. "We are what our thoughts have made us; so take care about what you think. Words are secondary. Thoughts live; they travel far." – Swami Vivekananda, Self-Love Quotes
72. "Be that strong girl that everyone knew would make it through the worst, be that fearless girl, the one who would dare to do anything, be that independent girl who didn't need a man; be that girl who never backed down." – Taylor Swift, Self-Love Quotes
73. "Self-esteem is made up primarily of two things: feeling lovable and feeling capable. Lovable means I feel people want to be with me. They invite me to parties; they affirm I have the qualities necessary to be included. Feeling capable is knowing that I can produce a result. It's knowing I can handle anything that life hands me." – Jack Canfield, Self-Love Quotes
74. "Love who you are, embrace who you are. Love yourself. When you love yourself, people can kind of pick up on that: they can see confidence, they can see self-esteem, and naturally, people gravitate towards you." – Lilly Singh, Self-Love Quotes
75. "My best advice is to celebrate your own unique features and never put them down. There is beauty in individuality, and it's so important to appreciate everything your body allows you to do. It's OK to have a down day — we all do from time to time — but it's not OK to compare yourself to others." – Philomena Kwao, Self-Love Quotes
If You Liked 75 Best Self-Love Quotes that'll Inspire You to Love Yourself…. then you might enjoy: