Quotes for Best Friend: 70 Deep and Beautiful Friendship Quotes to share with Your Bestie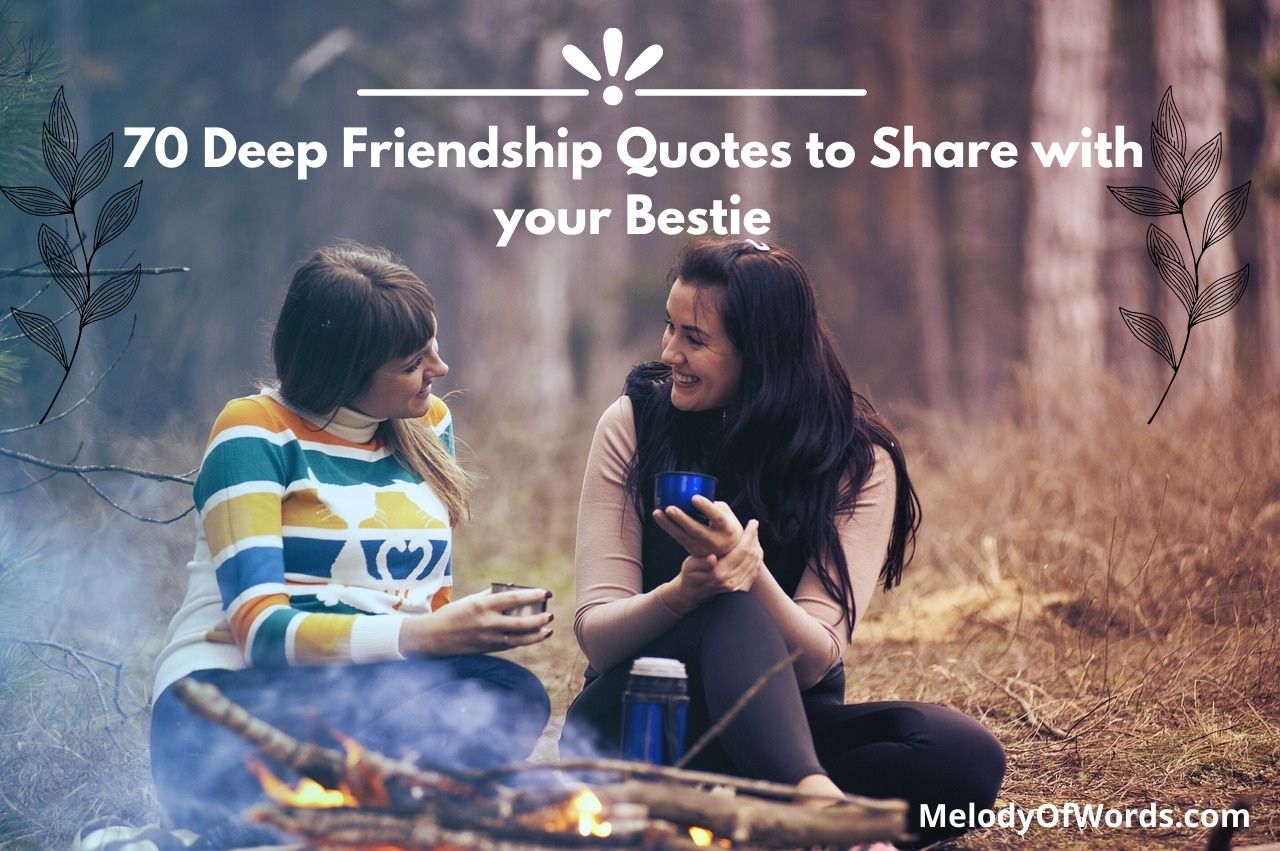 We are walking stories and wish to open the closet of stories hidden in our hearts for someone, who wishes to hear us sincerely. Therefore, we desire to have a friend in life who is understanding, caring, and isn't a judgemental prick.
When we find that gem of a person with whom we feel comfortable and enjoy their company, we make them our best friend. We feel proud in telling the world that we have a strong bond in between.
So don't wait for friendship day to express your love for your best friend. Celebrate your friendship with your bosom buddy with these deep and meaningful friendship quotes on best friend.
Here's a list of 70 deep and beautiful quotes for best friend that you can share with your bestie as a reminder of your unconditional love.
Quotes for Best Friend: 70 Deep Friendship Quotes to share with Your Bestie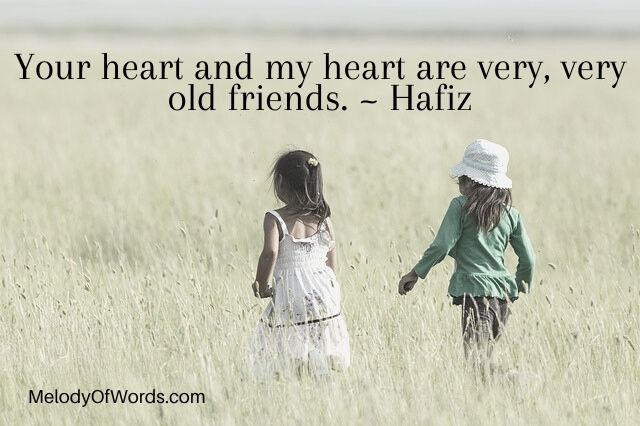 Famous Quotes for Best Friend:
1. "Friendship is born at that moment when one person says to another: 'What! You too? I thought I was the only one." — C.S. Lewis, Quotes for Best Friend
2. "The trouble is not in dying for a friend, but in finding a friend worth dying for."
― Mark Twain
3. "Life was meant for Best Friends and Good Adventures!"
4. "The only way to have a friend is to be one." — Ralph Waldo Emerson
5. Nothing makes the earth seem so spacious as to have friends at a distance; they make the latitudes and longitudes. – Quotes for Best Friend
6. "If you have two friends in your lifetime, you're lucky. If you have one good friend, you're more than lucky."
― S.E. Hinton, Quotes for Best Friend
7. "It is a good fortune to have one true friend in this lifetime, and keeping that friend is a real blessing."
8. "There's not a word yet for old friends who've just met." – Jim Henson, Quotes for Best Friend
9. "A single candle can lighten up a whole room. And a true friend lights up the whole life."
10. "True friendship is like a rose: we don't realize its beauty until it fades." ― Evelyn Loeb
11. "A friend is someone you call during your darkest hour."
12. "One measure of friendship consists not in the number of things friends can discuss, but in the number of things they need no longer mention." – Clifton Fadiman, Quotes for Best Friend
13. "Friendship marks a life even more deeply than love. Love risks degenerating into obsession, friendship is never anything but sharing."― Elie Wiesel, Quotes for Best Friend
14. "A friend is a person with whom I may be sincere. Before him I may think aloud. I am arrived at last in the presence of a man so real and equal, that I may drop even those undermost garments of dissimulation, courtesy, and second thought, which men never put off, and may deal with him with the simplicity and wholeness with which one chemical atom meets another."– Ralph Waldo Emerson
15. "We might not have a perfect picture together… but at least we are picture perfect!"
16. "Sweet is the memory of distant friends! Like the mellow rays of the departing sun, it falls tenderly, yet sadly, on the heart." – Washington Irving, Quotes for Best Friend
17. "No friendship is an accident." ― O. Henry
Also read: The Art of Absorbing– How to Soak Positivity like a Sponge
Funny Quotes for Best Friend:
18. "A best friend is someone who doesn't let you do foolish things alone." – Funny Quotes for Best Friend
19. "She is my Best Friend. You break her heart, and I will break your face." – Funny Quotes for Best Friend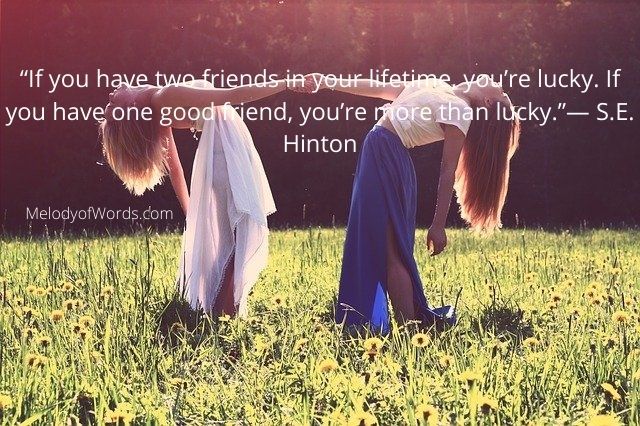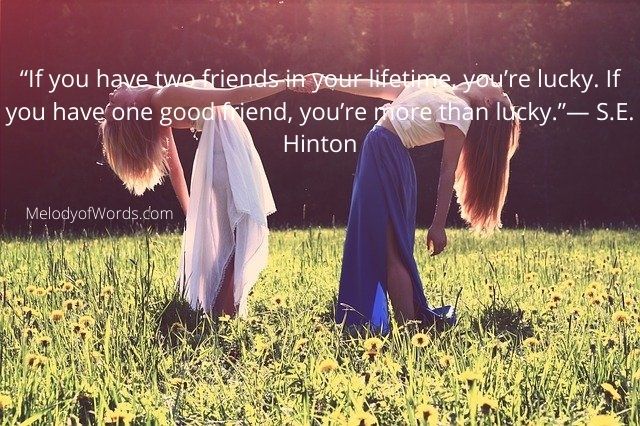 20. "Best friend: the one that you can be mad at only for a short period of time because you have important stuff to tell them."
21. "Studying means 10% reading and 90% complaining to your friends that you have to study."
22. "Friends buy you food. Best friends eat your food."
23. "I hope we're friend until we die. Then I hope we stay ghost friends and walk through walls and scare the shit out of people."
24. "We are best friends. Always remember that if you fall , I will pick you up… after I finish laughing."
25. "I'd take a bullet for you. Not in the head. But like in the leg or something."
26. "You will never realize how wired your friends are until you start to describe them to someone else."
27. "An old friend will help you move. A good friend will help you move a dead body." – Jim Hayes
28. "Best friends…they know how crazy you are and still choose to be seen with you in public."
29. "I don't need a psychiatrist to prod into my personal life and make me tell them all my secrets, I have my friends for that."
30. "I love my crazy, goofy, stupid, gorgeous, weird, lame, socially challenged friends."
Deep and Inspiring Quotes for Best Friend:
31. "Be slow to fall into friendship, but when you are in, continue firm and constant." ― Socrates
32. "A friend is someone who understands your past, believes in your future, and accepts you just the way you are."
33. "I don't need a friend who changes when I change and who nods when I nod; my shadow does that much better." – Plutarch
34. "Each friend represents a world in us, a world possibly not born until they arrive, and it is only by this meeting that a new world is born." – Anais Nin
35. "Lots of people want to ride with you in the limo, but what you want is someone who will take the bus with you when the limo breaks down." — Oprah Winfrey
36. "Find a group of people who challenge and inspire you; spend a lot of time with them, and it will change your life." — Amy Poehler
37. "Friendship is the hardest thing in the world to explain. It's not something you learn in school. But if you haven't learned the meaning of friendship, you really haven't learned anything." — Muhammad Ali
38. "True friendship comes when the silence between two people is comfortable." – David Tyson
39. "Do I not destroy my enemies when I make them my friends?" – Abraham Lincoln
40. "A friend is one who overlooks your broken fence and admires the flowers in your garden."
41. "The most memorable people in life will be the friends who loved you when you weren't very lovable."
Check out: The Benefits of Self-Acceptance and How to Practice it
Traveling with Best Friend Quotes: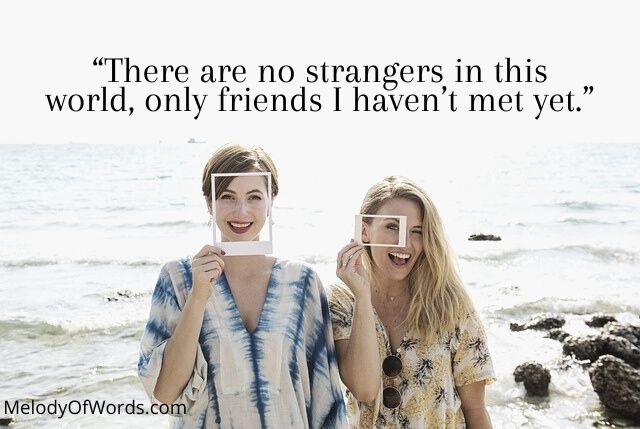 42. "As soon as I saw you, I knew a grand adventure was about to happen."
43. "There is an unspoken bond you create with the friends you travel with."
44. "Friends that travel together, stay together."
45. "Everyone needs a friend that will call and say, 'Get dressed, we are going on an adventure."
46. "Life by the water is always better, especially with a few good friends in tow."
47. "A good friend listens to your adventures. A best friend makes them with you."
48. "You can pack for every occasion, but a good friend will always be the best thing you could bring!"
49. "Perhaps travel cannot prevent bigotry, but by demonstrating that all peoples cry, laugh, eat, worry, and die, it can introduce the idea that if we try and understand each other, we may even become friends." – Maya Angelou, Maya Angelou Quotes
50. "The more I traveled, the more I realized fear makes strangers of people who should be friends." – Shirley MacLaine
51. "The world is a book, and those who do not travel read only a page." – Saint Augustine
52. "There is a whole world out there. Pack your backpack, your best friend and go."
53. "Sharing adventures means enjoying them 100% more."
54. "Sometimes all you need is a great friend and thirst for adventure." – Travel Quotes for Best Friend
55. "Only the people you don't know well enough seem normal. Every person you know well enough is odd, weird and different. This is called friendship!"
56. "There are no strangers in this world, only friends I haven't met yet."
57. "We are all travelers in the wilderness of the world & the best we can find in our travels is an honest friend." – Robert Louis Stevenson
58. "Good company in a journey makes the way seem shorter." – Izaak Walton
59. 'I have found out that there ain't no surer way to find out whether you like people or hate them than to travel with them.' – Mark Twain
60. 'It is not the destination where you end up but the mishaps and memories you create along the way.' – Penelope Riley
61. 'When you get lost in a really strange place, nothing is more comforting than finding your friend whom you trust and can show the way.' – Toba Beta, Quotes for Best Friend
62. 'And if I am not alone, then neither are you, and hand in hand we can marvel together at the strangeness of the human condition.' — Stephen Fry
63. "Don't walk in front of me… I may not follow
Don't walk behind me… I may not lead
Walk beside me… just be my friend" ― Albert Camus, Albert Camus Quotes, Quotes for best friend
64. "Good friends, good books, and a sleepy conscience: this is the ideal life." ― Mark Twain
65. "The truth is, everyone is going to hurt you. You just got to find the ones worth suffering for." ― Bob Marley
66. "It is not a lack of love, but a lack of friendship that makes unhappy marriages." ― Friedrich Nietzsche, Quotes for Best Friend
67. "Only a true best friend can protect you from your immortal enemies." ― Richelle Mead, Vampire Academy
68. "Things are never quite as scary when you have a best friend." ~ Bill Watterson
69. "What could someone figure out about you by the friends you've chosen? …Do your close friends tend to be older or younger than you? Less or more talented and successful than you? Do they share your values? Ambitions? Interests?" – Gregory Stock, The Book of Questions, Quotes for Best Friend
70. "Nothing delights the mind so much as fond and loyal friendship. What a blessing it is to have hearts that are ready and willing to receive all your secrets in safety, with whom you are less afraid to share knowledge of something than keep it to yourself, whose conversation soothes your distress, whose advice helps you make up your mind, whose cheerfulness dissolves your sorrow, whose very appearance cheers you up!" – Seneca, On the Shortness of Life, Quotes for Best Friend
If you liked 70 Deep Friendship Quotes, then you might also Enjoy: