25 Lovable Quotes for Brother because He is our Best Firecracker
25 Lovable Quotes for Brothers because He is our Best Firecracker
Brothers are like firecrackers, they can burst on you anytime and suddenly shower kisses and hugs on you like a love monkey. For them, their siblings as their favorite lab rats, on whom they experiment their WWE wrestling moves and their magic tricks, which never go as planned.
They spook you, tease you with weird childhood names and betray you by telling your worst secret to mum and friends, which embarrasses you the most.
But this is how brothers express love by being a complete nutcase in front of you. Not minding what the world thinks of them, when they are around their siblings.
They spoil their little sisters and brothers, and protect them like a tigress. Their love is unique and infinite at the same time they are like explosives, that doesn't come with a warning sign 😂
If you agree with me then you will love these quotes for brothers, that I have compiled for you with love.
It's rare that we express our love for our brothers and to be honest, we shouldn't wait for their birthday to tell them~ that we love you to the moon and back.
So don't wait any further and share your love for your brother with these~ 25 lovable quotes for brothers that says it all.
25 Lovable Quotes for Brothers because they are our Best Firecrackers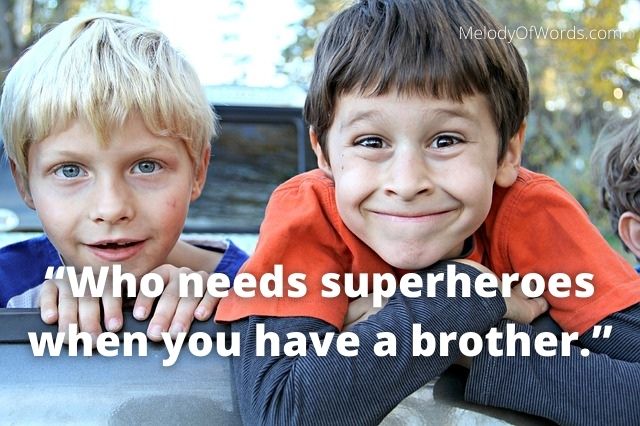 Cute Quotes for Brothers:
1. "Brothers are what best friends can never be." ~ Quotes for Brother
A brother is someone who helps you in your bad times, someone who keeps you as a priority. You can be spontaneous, goofy, and silly with him.
You can laugh hysterically, wail, or cry on his shoulders in the wee hours of the night. No matter the distance but a brother will cross seven seas to stand by you in the tough times. This is why brotherhood can't be replaced by friendship.
2. "Who needs superheroes when you have a brother." ~ Quotes for Brother
When you have a loving and caring brother, who takes care of your needs and supports you to thick and thin. Then you don't have to worry about anything. Because you know, he's standing by your side like a strong pillar to support you.
He is my true superhero because even when he's out of town, he makes sure to be there for me in my good and bad times.
3. "I don't believe an accident of birth makes people sisters or brothers. It makes them siblings, gives them mutuality of parentage. Sisterhood and brotherhood is a condition people have to work at. " – Maya Angelou
Brothers and sisters aren't always blood-related. Sometimes, by accident, you get to meet someone, who you can relate to on a deeper level.
One who understands you and takes care of you, like your own sibling. He/she scolds you, when you are wrong and guides you when necessary.
Although, you two might not be related by blood, but you share a healthy brotherly or sisterly bond with each other. Which is precious and special because you have created it yourself and it wasn't by fate. Cheers to such brother-sister bond.
4. "I've been blessed to have a brother like you, You're my pal, my buddy and my best friend too. And it means a lot having a brother like you." ~ Quotes for Brother
Having a brother, who is like your best buddy and your partner in crime is like a blessing. Because when you can share your problems, fear, and joy with your own brother. It makes you feel completed and satiated with the family life. The plus point is you don't have to form forced friendships for the sake of having company.
5. "There is no success you can celebrate more than the success of a brother." – Diego Luna
Watching your brother step on the ladder to success is one of the proudest moments, a sister can witness. The joy of watching your brother's hard work being rewarded is something, that cannot be defined in mere words.
6. "When brothers agree, no fortress is so strong as their common life." – Antisthenes, Quotes for Brother
When you only have brothers as siblings, you know, it's rare to see you all mutually agreeing on anything. If mum asks— "What would you like to have for dinner?" There will be four different replies, and none will agree on having what the other wants.

Whether it's bout changing the colour of your room, buying a new car, or deciding which movie to watch. You can never peacefully agree on anything.

Having brothers mean, there'll be frequent fights and power play between the siblings, to prove their point right or to be the dominant one. However, when the wrath of time befalls on the family, all brothers unite to make things right.
7. "Brothers are like streetlights along the road, they don't make distance any shorter but they light up the path and make the walk worthwhile." ~ Quotes for Brother
It's not always about reaching the destination that makes you feel accomplished. But it's also about the memories collected with your dear ones, that light up the path.
The journey becomes more worthwhile when you have brothers, who walk next to you like a guiding light, and picks you up when you fall down.
They remind you about the vision and enthusiasm you had, when you embarked on your journey. Hence, they keep motivating you to reach, where you deserve to be.
Also Read: 12 Horrendous yet Funny Things you'd Understand if you are a Middle Child
Quotes for Brothers to Strengthen the Bond:
8. "A brother shares childhood memories and grown-up dreams." ~ Quotes for Brother
A brother is someone with whom you have created sweet and salty memories for a lifetime. Someone with whom you have shared a significant part of your life from childhood, teenage years to adulthood. He is the one, who taught you how to ride a bicycle, to sneak from home, and to dream big.
9. "The happiest days of my youth were when my brother and I would run through the woods and feel quite safe." – Rachel Weisz, Quotes for Brother
Some of the best memories of a girl child are to enjoy without worrying about safety. When you have a brother, you are assured that, you'll be safe in his company. You can make your wildest dreams come true, when he's by your side.
He spoils you by taking you to the treacherous trails. You can run through the woods. Hear the wild birds chirping as you walk by, and jump on puddles while feeling safe and sound.
10. "Growing up, I had a very normal relationship with my brother and sister. But, over time, they became my best friends, and now I hang out with them all the time. I'm very close to them." – Logan Lerman
When you are small, things like family, siblings, good food and home are normal things for you. Because as a child you feel most people have that and it isn't a luxury. But when you grow up and mature, you get to meet different people with different stories.
It's when you hear the stories of rough childhood, dysfunctional homes and toxic siblings, that you realize how blessed to have a loving family. You love and cherish every time you spend with them, which brings you closer to your family and siblings.
11. "Love between brothers is messy, loud, rough, sweet, fierce, fun, unique, forever." ~ Quotes for Brother
A house full of brothers is always on fire. You invent weird challenges, have hilarious prank wars, and blast each other's minds by playing songs in full volume.

You fight, tease each other and exhibit fierce wrestling moves on each other to mimic WWE fights. Though, you may irritate each other at times, pick on each other's hairstyle and make fun of their dressing sense. But deep inside you all know, that your bond is strong like the mountains.
12. "Your brother is always the first male friend you will have in your life." – Ritu Ghatourey, Quotes for Brother
Sisters always count on their brother for giving them the expert advice on guys. He knows all your secrets and saves you from the wrath of your parents, even when he says he won't.
He is your first male friend who tells you the bitter truth about men. What they like and whether or not, the guy you are dating is worth your time.
Though you might be repulsed by it at times, but deep down you know, that he cares for you, and wants the best for you.
13. "I placed you in my heart since you were born. You are the best gift ever that I've gotten from our parents. I'm so lucky to have you as my younger brother." – Sam Dawn, Quotes for Brother
Dear brother, you are my prized possession, my best gift and my lifeline. You are my favourite companion and a lifelong friend.
I will always protect you and will wish the world's happiness to fall on your lap. I love you loads, my sweet little brother.
14. "A brother is a gift to the heart, a friend to the spirit." ~ Quotes for Brother
Having a brother is like a blessing as his love is pure and tranquil. He always keeps your safety above anything and makes sure, you don't have to struggle for anything.
He is like a guardian angel who silently protects you from all evil. He listens to you and bears your emotional outbursts. You can count on him because he is your best person in life, who doesn't expect anything in return.
Also Read: Quotes for Best Friend: 70 Deep and Beautiful Friendship Quotes to share with Your Bestie
Quotes for Your Brother to Celebrate the Bond:
15. "You my brother have always been a support in my life, you have always had encouraging words for me as a child and now into our adult years. I know I can always count on you being there. What would I ever do without you!" – Catherine Pulsifer, Quotes for Brother
Having a brother who you consider as the best support system in life is like winning the lottery. He pampers you like a mom and spoils you like a dad.
You can count on him as a friend and rely on him like family. Because he is the first person that comes to your mind when in need. He encourages you and makes you feel loved and it's something that you'd like to treasure forever.
16. "It's normal to fight with your brothers, and it's good to tease them to give them advice."
No relationship can ever survive without watching the tremors caused by fights. Because when you love someone dearly, you can get affected by little things.
Though you may fight with your brothers like tiger cubs and you might tease them. But you always turn to them for important life advice.
17. "He is my most beloved friend and my bitterest rival, my confidant and my betrayer, my sustainer and my dependent, and scariest of all, my equal." – Gregg Levoy, Quotes for Brother
My brother is my childhood friend, my sweet rival, my Santa Claus, who showers gifts on me and my agony aunt.
He listens to me, buys scrumptious dinner for me in exchange for the assignments, that I make for him. But one thing that I can say is that we both are alike and we are equally crazy and badass.
Also Read: 60 Ruskin Bond Quotes that Smell like Nostalgia
18. "Brothers don't necessarily have to say anything to each other, they can sit in a room and be together and just be completely comfortable with each other." – Leonardo DiCaprio, Quotes for Brother
Silence doesn't always have to be scary, especially when you know the person, you are sitting with has tranquil and pure thoughts for you.
But when you are at peace with one's aura, you can feel positive vibrations just from their presence. It can be equally exhilarating as talking on length about things you love.
That's why I love my brother because we can be at our heart's content, and feel blissful in each other's presence without having to talk for hours.
19. "A brother is someone who knows there's something wrong even when you have the biggest smile on your face." ~ Quotes for Brother
There's bro code between us, whenever I do something wicked, my brother is the first person who comes to know about it.
He gets my every move, my insane cover-up stories, my witty back-handed compliments, excuses and savage sarcasm. There's nothing that he cannot comprehend, he knows me skin-deep and that's what I like the most.
20. "We know one another's faults, virtues, catastrophes, mortifications, triumphs, rivalries, desires, and how long we can each hang by our hands to a bar. We've been banded together under pack codes and tribal laws." – Rose Macaulay
Brothers are playmates in the beginning and brothers for life. We play, kick, make and break rules but we never deceive our brothers and sisters. Because we belong to the same pack and follow the code to the T.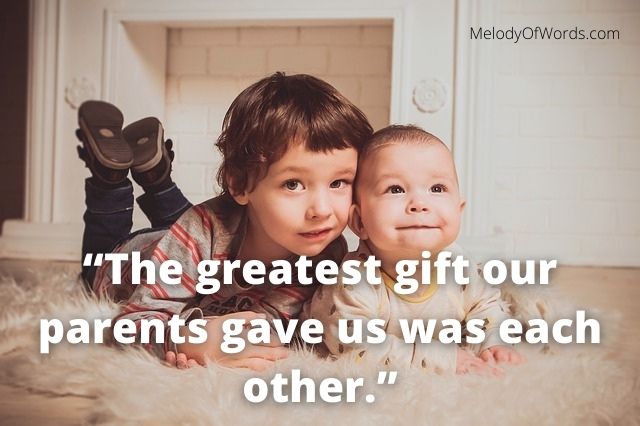 21. "The greatest gift our parents gave us was each other." ~ Quotes for Brother
My brother is my sweet little monster and even though I keep teasing you that, we found you in a dustbin. But dear little one, you are the best gift that mum and dad gave me. I sure am lucky!
Also Read: 15 Major Signs of Toxic Parents & How to Identify them
22. "We shared parents, home, pets, celebrations, catastrophes, secrets. And the threads of our experience became so interwoven that we are linked. I can never be utterly lonely, knowing you share the planet." – Pam Brown, Quotes for Brother
You might be far away from me and we don't share conversations frequently. But dear little brother, "I always remember you as my favourite pal and my source of happiness."
You are a big part of the memories I created for life. You are a part of all the ups and downs we faced in life. I can never feel alone because you are breathing in my soul.
23. "I always fight with my brother, but this is our kind of I Love You." ~ Quotes for Brother
My brother and I keep having silly fights, not a day passes by when we don't yell at each other. With all being said, I'd like to clarify that this is our kind of love. It isn't mushy and sweet as sugar but this is how we love.
24. "Brotherhood means… I will always come for you no matter the cost." ~ Quotes for Brother
Distance, time and situation can never be a hurdle for a loving and caring brother. No matter where you are, I know you'll be there for me, and I respect the kind of understanding that we have between us.
25. "Some relationships are like Tom and Jerry: They tease each other, knock down each other, irritate each other, but can't live without each other!" ~ Quotes for Brother
Brothers are crazy, stupid, salty and sweet. Though they tease you all day long, pull your ponytail, and make fun of your dressing sense. But one thing's is sure, you cannot live without them.
As it gets lonely and silent when he isn't around. That's why mum keeps saying, you both are like Tom and Jerry. Who keep chasing each other but hold each other's back during times of distress.
If you liked Quotes for Brothers, then you might enjoy: