Quotes on Writers that'll Inspire you to Create Magic through Words:
Only writers can understand the pain and agony of sitting patiently in front of the computer, waiting for inspiration to hit and the words to flow from your mind. While on good days, they can be lucky enough to experience the joy of having words woven with melody, melt from their mind like butter.
Some days, a writer can be artistic, expressive and visionary while on other days, he can be a blank canvas. Sitting idly, staring at the screen of his laptop in total disappointment. Which warns you that yet another day has been wasted in procrastinating.
This is why creative people seek inspiration from time to time. Whether it comes naturally through observation or by reading some great works of prominent writers.
So if you are a writer who is in a dilemma, whether or not you should take a break. Or spend time with the lonely-dusty books, kept on the shelf that might inspire you to write fiercely.
Then you are at the right place. Because we have compiled some of the best inspirational quotes on writers like you, that'll inspire you to create magic through words.
Quotes on Writers that'll Inspire you to Create Magic through Words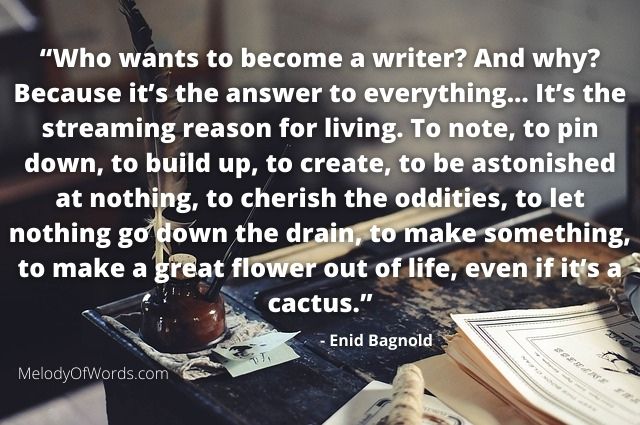 Popular Quotes on Writers:
1. "Who wants to become a writer? And why? Because it's the answer to everything… It's the streaming reason for living. To note, to pin down, to build up, to create, to be astonished at nothing, to cherish the oddities, to let nothing go down the drain, to make something, to make a great flower out of life, even if it's a cactus." – Enid Bagnold
2. "We are all apprentices in a craft where no one ever becomes a master." – Ernest Hemingway
3. "If a nation loses its storytellers, it loses its childhood." – Peter Handke
4. "For your born writer, nothing is so healing as the realization that he has come upon the right word." – Catherine Drinker Bowen
5. "The greatest part of a writer's time is spent in reading, in order to write; a man will turn over half a library to make one book." – Samuel Johnson, Quotes on Writers
6. "Each writer is born with a repertory company in his head. Shakespeare has perhaps 20 players… I have 10 or so, and that's a lot. As you get older, you become more skillful at casting them." – Gore Vidal, Quotes on Writers
7. "We're past the age of heroes and hero kings… Most of our lives are basically mundane and dull, and it's up to the writer to find ways to make them interesting." – John Updike
Also Read: What Happens when an Introvert Writes | Inside the Mind of an Introverted Writer
Charles Bukowski Quotes on Writers: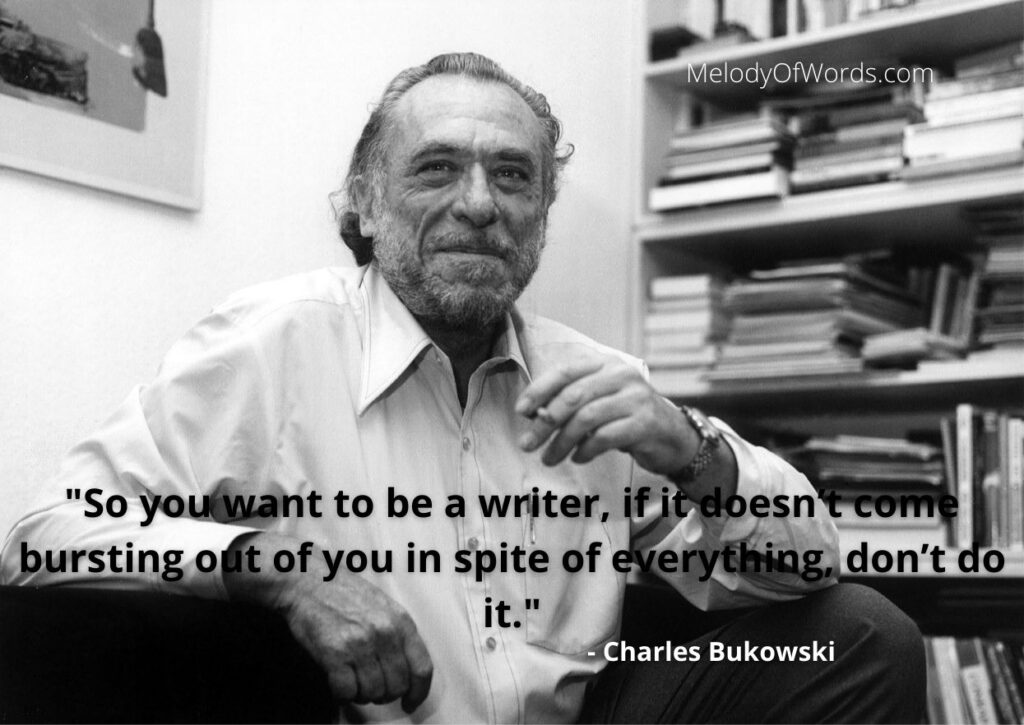 8. "So you want to be a writer, if it doesn't come bursting out of you in spite of everything, don't do it." – Charles Bukowski
9. "In my work, as a writer, I only photograph, in words, what I see."
10. "He asked, What makes a man a writer? Well, I said, it's simple. You either get it down on paper, or jump off a bridge." ~ Quotes on Writers
11. "The worst thing for a writer is to know another writer, and worse than that, to know a number of other writers. Like flies on the same turd."
12. "It was best to stay away from other writers and just do your work…" ~ Quotes on Writers
13. "I'm just an alcoholic who became a writer so that I would be able to stay in bed until noon."
14. "Writers are desperate people and when they stop being desperate they stop being writers."
15. "There were always men looking for jobs in America. There were always all these usable bodies. And I wanted to be a writer. Almost everybody was a writer. Not everybody thought they could be a dentist or an automobile mechanic but everybody knew they could be a writer. Of those fifty guys in the room, probably fifteen of them
thought they were writers. Almost everybody used words and could write them down, i.e., almost everybody could be a writer. But most men, fortunately, aren't writers, or even cab drivers, and some men – many men – unfortunately aren't anything." – Charles Bukowski Quotes on Writers
16. "There is a problem with writers. If what a writer wrote was published and sold many, many copies, the writer thought he was great. If what a writer wrote was published and sold a medium number of copies, the writer thought he was great. If what a writer wrote was published and sold very few copies, the writer thought he was great. If what the writer wrote never was published and he didn't have enough the money to publish it himself, then he thought he was truly great. The truth, however, was there was very little greatness.
It was almost nonexistent, invisible. But you could be sure that the worst writers had the most confidence, the least self-doubt. Anyway, writers were to be avoided, and I tried to avoid them, but it was almost impossible. They hoped for some sort of brotherhood, some kind of togetherness. None of it had anything to do with writing, none of it helped at the typewriter."
17. "There was nothing glorious about the life of a drinker or the life of a writer." ~ Quotes on Writers
Also Read: 10 Best Charles Bukowski's Poems read by Tom O'Bedlam
Inspirational and Motivational Quotes for Writers: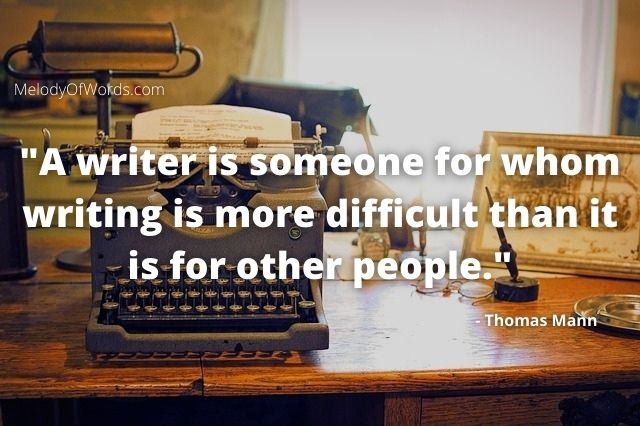 18. "You have to write the book that wants to be written. And if the book will be too difficult for grown-ups, then you write it for children." – Madeleine L'Engle
19. "No tears in the writer, no tears in the reader. No surprise in the writer, no surprise in the reader." – Robert Frost
20. "A writer is someone for whom writing is more difficult than it is for other people." – Thomas Mann
21. "The purpose of a writer is to keep civilization from destroying itself." – Albert Camus
22. "As a writer, you should not judge, you should understand." – Ernest Hemingway
23. "A good writer possesses not only his own spirit but also the spirit of his friends." – Friedrich Nietzsche
24. "Writers live twice." –  Natalie Goldberg, Quotes on Writers
25. "Genius gives birth, talent delivers. What Rembrandt or Van Gogh saw in the night can never be seen again. Born writers of the future are amazed already at what they're seeing now, what we'll all see in time for the first time, and then see imitated many times by made writers." – Jack Kerouac, Quotes on Writers
Also Read: J. Krishnamurti Quotes from the Book "Freedom From The Known"
26. "People say, 'What advice do you have for people who want to be writers?' I say, they don't really need advice, they know they want to be writers, and they're gonna do it. Those people who know that they really want to do this and are cut out for it, they know it." – R.L. Stine, Quotes on Writers
27. "Anyone who is going to be a writer knows enough at 15 to write several novels." – May Sarton
28. "When writing a novel a writer should create living people; people, not characters. A character is a caricature." – Ernest Hemingway
29. "Write while the heat is in you… The writer who postpones the recording of his thoughts uses an iron which has cooled to burn a hole with." – Henry David Thoreau
30. "Everybody walks past a thousand story ideas every day. The good writers are the ones who see five or six of them. Most people don't see any." – Orson Scott
Quotes on/for New and Upcoming Writers: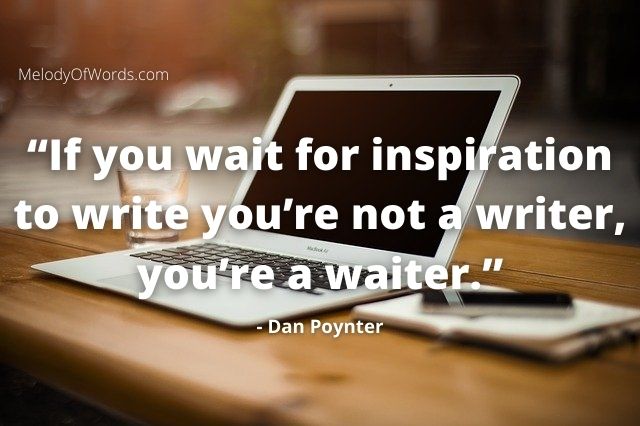 31. "Most writers regard the truth as their most valuable possession, and therefore are most economical in its use." – Mark Twain
32. "If you wait for inspiration to write you're not a writer, you're a waiter." – Dan Poynter
33. "Everywhere I go, I'm asked if the universities stifle writers. My opinion is that they don't stifle enough of them." – Flannery O'Connor
34. "Being a writer is a very peculiar sort of job: It's always you versus a blank sheet of paper (or a blank screen) and quite often the blank piece of paper wins." – Neil Gaiman, Quotes on Writers
35. "I would advise any beginning writer to write the first drafts as if no one else will ever read them – without a thought about publication – and only in the last draft to consider how the work will look from the outside." – Anne Tyler
36. "I believe myself that a good writer doesn't really need to be told anything except to keep at it." – Chinua Achebe, Quotes on Writers
37. "The secret to being a writer is that you have to write. It's not enough to think about writing or to study literature or plan a future life as an author. You really have to lock yourself away, alone, and get to work." – Augusten Burroughs, Quotes on Writers
Also Read: 50 Romantic Love Quotes by Famous Authors that'll Warm your Heart
38. "It is by sitting down to write every morning that one becomes a writer." – Gerald Brenan, Quotes on Writers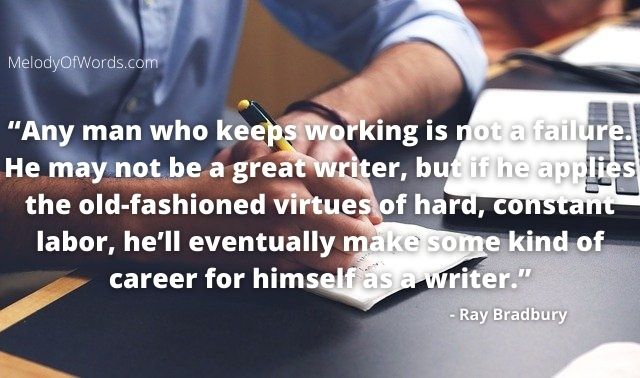 39. "Any man who keeps working is not a failure. He may not be a great writer, but if he applies the old-fashioned virtues of hard, constant labor, he'll eventually make some kind of career for himself as a writer." – Ray Bradbury
40. "A professional writer is an amateur who didn't quit." – Richard Bach
41. "So the writer who breeds more words than he needs, is making a chore for the reader who reads." – Dr. Seuss
42. "A writer is a world trapped in a person." – Victor Hugo
43. "Each writer is born with a repertory company in his head. Shakespeare has perhaps 20 players. I have 10 or so, and that's a lot. As you get older, you become more skillful at casting them." – Gore Vidal
44. "A writer never has a vacation. For a writer life consists of either writing or thinking about writing." – Eugene Ionesco
45. "Exercise the writing muscle every day, even if it is only a letter, notes, a title list, a character sketch, a journal entry. Writers are like dancers, like athletes. Without that exercise, the muscles seize up." – Jane Yolen, Quotes on Writers
46. "The artist doesn't have time to listen to the critics. The ones who want to be writers read the reviews, the ones who want to write don't have the time to read reviews." – William Faulkner, Quotes on Writers
47. "I tell writers to keep reading, reading, reading. Read widely and deeply. And I tell them not to give up even after getting rejection letters. And only write what you love." – Anita Diamant
48. "An absolutely necessary part of a writer's equipment, almost as necessary as talent, is the ability to stand up under punishment, both the punishment the world hands out and the punishment he inflicts upon himself." – Irwin Shaw, Quotes on Writers
49. "Every secret of a writer's soul, every experience of his life, every quality of his mind, is written large in his works." – Virginia Woolf
50. "Don't take anyone's writing advice too seriously." – Lev Grossman
51. "If I had to give young writers advice, I would say don't listen to writers talking about writing or themselves." – Lillian Hellman, Quotes on Writers
If you liked Quotes on Writers, then you might enjoy: