50 Best Sadhguru Quotes on Karma, Death, Life, Love and Yoga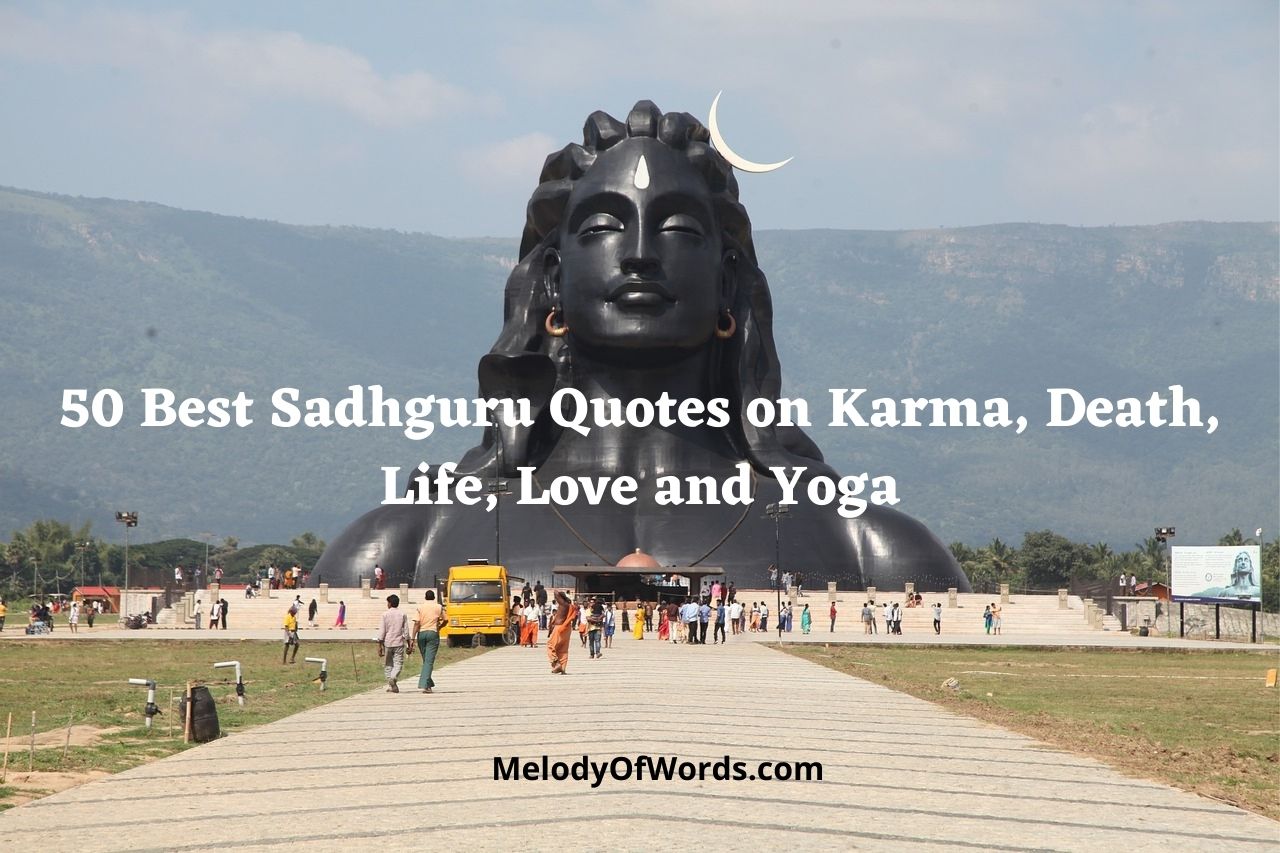 50 Sadhguru Quotes:
Sadhguru born on 3rd September 1957 is an Indian Yogi, author, poet, and also a spokesperson for Indian's ancient wisdom. He is also the founder of the Isha Foundation near Coimbatore. It is a non-profit organization housing state-of-the-art ashrams and well-maintained yoga centres.

Sadhguru's yoga programmes, spiritual and environment conservation rallies have brought a wave of transformation in the lives of many.
His discourses on life, its meaning, and humanity's quest to peace, have helped to bring a positive change in society.

Sadhguru is one such yogi who through his charm, wit, and carefree spirit has garnered the attention of the youth. Many youngsters, who feel lost in the mad rush of life. Or are torn between the modern and traditional potpourri, resort to Isha programmes that help them to facilitate inner engineering.
Life and Family of Sadhguru:
The man, who we today know as Sadhguru was born as Jagadish Vasudev in Mysore, Karnataka to a Telugu-speaking family. His father was a physician, and his mother a housewife.
As a child, Jaggi Ji was inclined towards nature and free living. He spent his time trekking alone in the dense forests and loved keeping snakes as pets.
In 1984, Vasudev met Vijaya Kumari (Vijji) after a yoga class in Mysuru, the couple had a brief romance and married each other during a trip to Irupu Falls on Maha Shivaratri.
In 1990, the couple was blessed with a daughter, who they named Radhe Jaggi. She is a trained Bharatnatyam dancer, married to Chennai-based classical vocalist Sandeep Narayan in 2014. Radhe's mother Vijji passed away in January 1997 at a large gathering at the Isha Yoga Center.
Education:
Jaggi Vasudev had other four siblings and he was the youngest of all. Therefore, the most loved one, who did what his heart wanted and never compromised with his dreams.
He completed his schooling at Demonstration School in Mysore and Mahajana Pre-University College. After which he graduated from the University of Mysore with a bachelor's degree in English.
However, against his parent's wishes, Jaggi refused to take up the post-graduation course and chose business instead.
Spiritual Life of Sadhguru:
At the ripe age of 13, Jaggi Vasudev started practicing yoga under the mentorship of his guru Malladihalli Raghavendra. He religiously practiced asanas and pranayama throughout his youth, without any spiritual aspirations.
At the age of 25, he went to Chamundi Hill for sadhana (meditation) and had a full-blown spiritual experience there.
Nearly six weeks after that experience, he handled the reins of his business to his friend, and started travelling to deduce his mystical experience.
After extensively travelling, meditating, and re-discovering himself through his spiritual experience. Jaggi Ji decided to teach yoga to share his wisdom and his profound inner experience with others.
In 1983, he gave his first yoga class to his first seven participants in Mysore. Over time, he started conducting yoga programmes across Karnataka and Hyderabad.
He travelled on his motorbike, supporting himself on the produce, he yearned from his poultry farm. At the end of every month, he used to collect his fees from his students and donated it to a local charity.
Notable Works of Sadhguru:
Sadhguru Jaggi Vasudev is a man and a mystic, who is on a peace mission. He is a man of wisdom, who through his intensive yoga practise, meditation, and ancient Indian wellness practices have attained profound knowledge on life.
Some of his notable works include:
Yoga programmes:
In 1994, after the inception of the ashram, Sadhguru started conducting yoga programmes on the premises of the newly established Isha Yoga Centre.
In 1996, he designed a special yoga course for the Indian Hockey team. In 1997, he launched his classes in the United States and from 1998 onwards for life-term prisoners in Tamil Nadu.
Religious Ceremonies and Festivals:
Sadhguru Ji religiously conducts gatherings (mahasathsangs) in Tamil Nadu and Karnataka. He also takes spiritual aspirants on pilgrim yatras to Mount Kailash and the Himalayas.
Each year, an all-night Mahashivarathri is celebrated in the honour of Lord Shiva. In 2013 around eight lakh people became a part of the holy ceremony.
Environmental Conservation:
Sadhguru also extends his support to Cauvery Calling Project which aims to plant around 2.4 billion trees through agroforestry. The project received huge support from politicians and celebrities.
Shiva Statue:
He also laid the foundation of a mammoth Shiva statue, a 34 metre tall (112 ft) and 500 tonne (490 long ton; 550 short ton) for promoting yoga.
It was inaugurated by Narendra Modi, the Prime Minister of India. And has received the honour of being the "Largest Bust Sculpture" by the Guinness World Records.
Books:
Sadhguru has authored some of the best selling books including Life and Death in one breath, Mystic Musings, Death: An Inside Story, Encounter the Enlightened, The Mystic Eye, Joy 24*7 and Dhyanalinga- The Silent Revolution.
His book on Inner Engineering: A Yogi's Guide to Joy (2016) was the best seller in The New York Times Best Seller list in several categories.
Honours and Accolades of Sadhguru:
Sadhguru's exceptional work in the field of spirituality and social welfare has earned him the Padma Vibhushan, India's second-highest civilian award from the Government of India.
His name has made it into the— 100 most powerful Indians list by The Indian Express and India Today.
Sadhguru Ji has graced many prestigious forums and conferences with his presence not just in India but across the globe.
He has addressed the United Nation's Millennium World Peace Summit, the British parliament's House of Lords, the Massachusetts Institute of Technology, and the International Institute for Management Development. Along with this, he has also spoken at the annual World Economic Forum in 2007, 2017 and 2020.
Learn more about this mystic yogi from India, through his musings. So here we present to you, some of the best Sadhguru quotes on Karma, Death, Life, Love and Yoga.
50 Best Sadhguru Quotes on Karma, Death, Life, Love and Yoga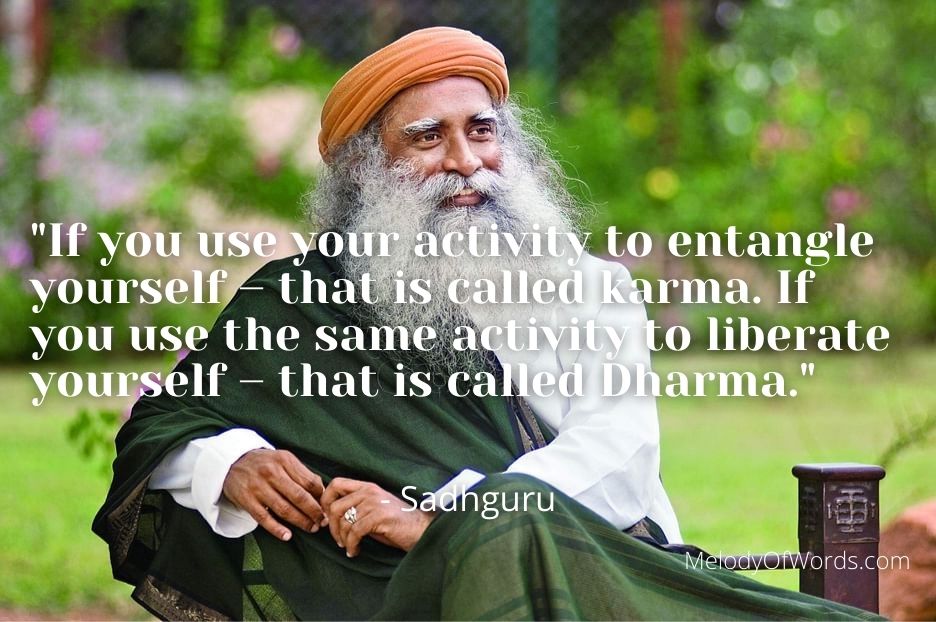 Sadhguru Quotes on Karma:
1. "If you use your activity to entangle yourself – that is called karma. If you use the same activity to liberate yourself – that is called Dharma." – Sadhguru
2. "Every moment of your life, you perform action – physically, mentally, emotionally, and energy-wise. Each action creates a certain memory. That is karma."- Sadhguru
3. "Karma means to take charge of your life. By making your karma a more conscious process, you become the master of your own destiny." – Sadhguru Quotes on Karma
4. "Karma is about shifting responsibility from heaven to yourself. In this, you become the very maker of your own destiny." – Sadhguru
5. "Karma means you are the maker of your life." – Sadhguru
6. "Devotion demolishes karma and leads to liberation." – Sadhguru
7. "Karma means your life is your making. Karmic accumulation can either be a Boost or Burden – that is your choice." – Sadhguru Quotes on Karma
8. "If you dismantle your karmic structure completely, you merge with existence. This is what mukti or ultimate liberation means – to become free from the very process of life, birth, and death." – Sadhguru Quotes on Karma
9. "No matter what kind of karma you gathered in the past, this moment's karma is always in your hands." – Sadhguru
10. "Karma means both action and memory. There is no memory without action and no action without memory." – Sadhguru Quotes on Karma
Also Read: 17 Insightful J. Krishnamurti Quotes on Love, Relationships & Freedom
Sadhguru Quotes on Death: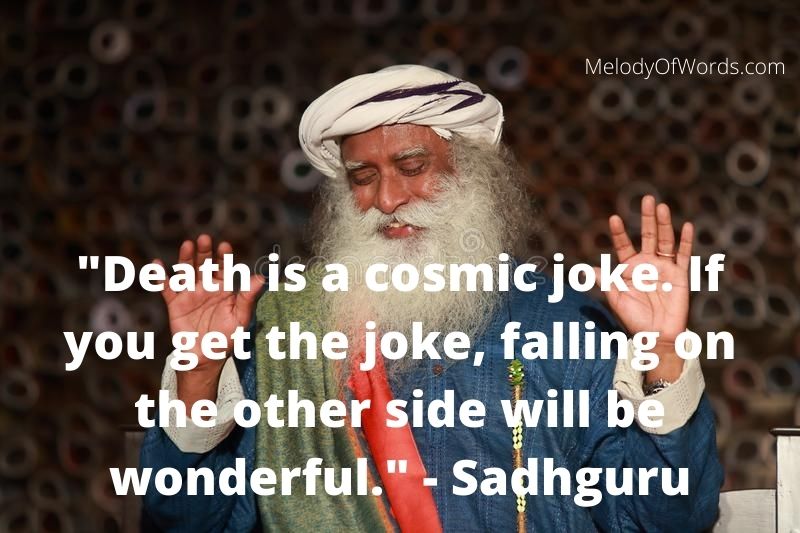 11. "Once you are constantly aware of your mortality, your spiritual search will be unwavering." – Sadhguru
12. "People who have truly, immensely loved each other are the ones who will handle the loss of the loved one gracefully." – Sadhguru Quotes on Death
13. "Only a person who has lived totally can die gracefully." – Sadhguru
14. "As life is, death is. The awareness of this fact allows you to live life fully and intensely." – Sadhguru
15. "Death is the highest relaxation. Life needs a certain amount of tension to keep it going." – Sadhguru
Also Read: 30 Signs you are in a Toxic Relationship and How to Deal with it
16. "For most people, life and the experience of life seem to be relative, but death is absolute. It takes the absoluteness of death to wake people up." – Sadhguru Quotes on Death
17. "The only reason why people have such a fear of death is they know nothing beyond the body." – Sadhguru
18. If you constantly remember that you are mortal, you will walk gently and sensibly upon this planet. – Sadhguru
19. "Death is a cosmic joke. If you get the joke, falling on the other side will be wonderful." – Sadhguru
20. "Death is a fiction of the unaware. There is only life, life, and life alone, moving from one dimension to another." – Sadhguru
Also Read: 30 Profound Quotes by Jiddu Krishnamurti on the Nature of Mind and Life
Sadhguru Quotes on Life and How to Live: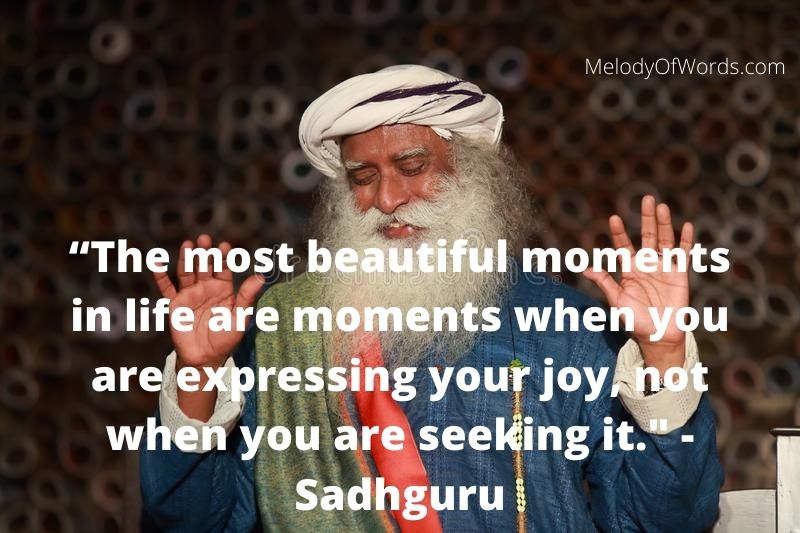 21. "If you ask a tree how he feels to know that he's spreading his fragrance and making people happy, I don't think a tree looks at it that way. I am just like that, and it is just my nature to be like this." – Sadhguru Quotes on Life
22. "The most beautiful moments in life are moments when you are expressing your joy, not when you are seeking it." – Sadhguru
23. "Lifestyle is a consequence of the times we live in – life is the real thing." – Sadhguru
24. "No matter how many things you gather in life, there is no container service in the end. Time to move from accumulation to true enhancement of life." – Sadhguru Quotes on Life
25. "I am not talking about you being a spectator, I am talking about involvement. I am talking about involving yourself into life in such a way that you dissolve into it." – Sadhguru
Also Read: 100 Best Osho Quotes on Love, Life Religion and Philosophy
26. "Constantly seek that which you know to be the highest. Living with the vision is an elevating experience and a joyous process in itself." – Sadhguru Quotes on Life
27. "The damage we cause to the environment is a consequence of how we are within ourselves. If we realize that maintaining our inner climate is in our hands, we will understand that taking action for the environment is also in our hands." – Sadhguru
28. "You do not have to do anything, you do not have to think anything, you do not have to feel anything to be complete. You are a Complete Life as You are." – Sadhguru
29. "Krishna says in the Gita, "The worst crime in the world is indecision." – Sadhguru
30. "You have too much social influence upon you. You are not going by your own nature. People do so many nonsensical life-negative things because they don't want to be left out of the scene around them." – Sadhguru Quotes on Life
Also Read: 100 Albert Camus Quotes on God, Suicide, Death, Love, Psychology, Happiness & More
Sadhguru Quotes on Love:
31. "Whether God or somebody else loves you does not make a difference for you. If you are loving, it makes your life very, very sweet." – Sadhguru
32. "Love – neither can you learn, nor can you practice, nor can you dispense it. It is just a flowering." – Sadhguru
33. "Everyone can love God as He does not demand anything from you. But to love the one who is next to you right now costs life." – Sadhguru Quotes on Love
34. "Love is a longing to include someone as a part of yourself. It is a possibility to become more than what you are, by inclusion." – Sadhguru
35. "Scale up your love! Why only love one person when you can fall in love with the whole universe." – Sadhguru
Also Read: 21 Life Changing Bhagavad Gita Quotes with Explanation and Meaning
36. "If there is love in your heart, it will guide you through your life. Love has its own intelligence." – Sadhguru
37. "Your ways of thinking and feeling, your likes and dislikes, your philosophies and ideologies all melt down when you fall in love." – Sadhguru Quotes on Love
38. "Your ability to love, to reach out, and to experience life is limitless. The limitation is only of Action of body and mind." – Sadhguru
39. "Only those who keep the garbage of their minds aside are truly capable of love and compassion." – Sadhguru
40. "Lust is a strong need; love is not a need. When you love, you settle down, nothing more is needed. In love, you can just sit here for a lifetime." – Sadhguru Quotes on Love
Also Read: Karma Quotes: Collection of 90 Best Quotes on Karma
Sadhguru Quotes on Yoga: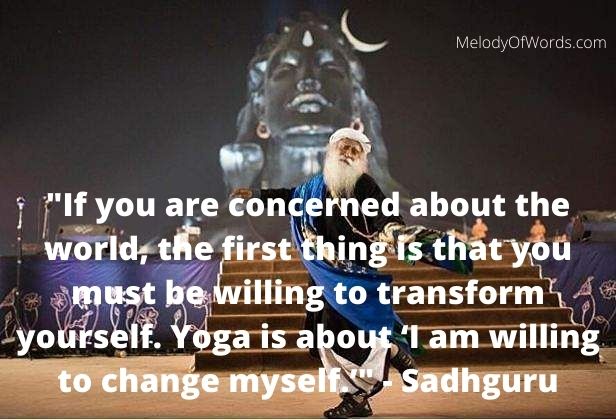 41. "The moment you create good and bad, you are dividing the world. Once you divide it, where is the question of inclusion? Where is the question of yoga? Where is the question of becoming one with everything?" – Sadhguru Quotes on Yoga
42. "Essentially, yoga means dissolving your identity." – Sadhguru
43. "The whole process of yoga is to take you from something that you know and take the next step into the unknown." – Sadhguru
44. "If you are concerned about the world, the first thing is that you must be willing to transform yourself. Yoga is about 'I am willing to change myself.'" – Sadhguru Quotes on Yoga
45. "Yoga is the science of activating your inner energies to such a vibrant and exuberant state that your body, mind, and emotions function at their highest peaks." – Sadhguru
Also Read: The Benefits of Self-Acceptance and How to Practice it
46. "When we say 'yoga,' we don't mean impossible pretzel poses. That's not what we're referring to. Yoga means to be in perfect tune. Your body, mind, and energy and the existence are in absolute harmony" – Sadhguru
47. "The whole process of yoga and meditation is just this, once you have a clear space between you and your mind it is a completely different dimension of existence." – Sadhguru Quotes on Yoga
48. "Yoga is the science of activating your inner energies to such a vibrant and exuberant state that your body, mind, and emotions function at their highest peaks." – Sadhguru
49. "Any method that you employ to enhance the presence of the non-physical – that which is the source of creation – within you, is yoga." – Sadhguru
50. "Yoga definitely works for everyone. Let this be clear. Yoga is a technology, so there is no question of it working for one person and not working for another." – Sadhguru
If you liked Sadhguru Quotes, then you might enjoy: