40 Best Quotes About The Love Of God to Strengthen Your Faith in the Almighty:
God's love is so pure and sacred, that you don't have to find it in a person or thing. You can experience the love of God by keeping him inside your heart, by practicing kindness, and following the path of truthfulness.
God is gracious even though you may ignore him, but God always plans for you because he loves you. Therefore, he silently guides you, gives you challenges to face, and hurdles to break because, he wants you to toughen up like a diamond.
God's love is the sweetest, one who rests his faith in God is filled with positivity, gratitude, and compassion.
With God, all things are Possible:
Maybe you are on the wrong path, or maybe you are avoiding him because things were tough for you from the start. But remember that God hasn't left you, he secretly cares for you, and watches you like a guiding light.
Even if you ignore him, he cannot ignore mankind, which is his most beloved creation. Be patient, and have faith in him, as God's love is infinite.
If you are afraid of God for the sins you have committed or have disregarded his existence. Then do not be afraid because God is merciful, he will forgive you because you are his child. He will give you chances to rectify your mistakes, so you can walk on the right path.
Don't feel small or outnumbered because God's love is abundant, and no living being shall be deprived of it. So let's celebrate the love of God by reading— 40 Best Quotes About The Love Of God to Strengthen Your Faith in the Almighty
40 Best Quotes About The Love Of God to Strengthen Your Faith in the Almighty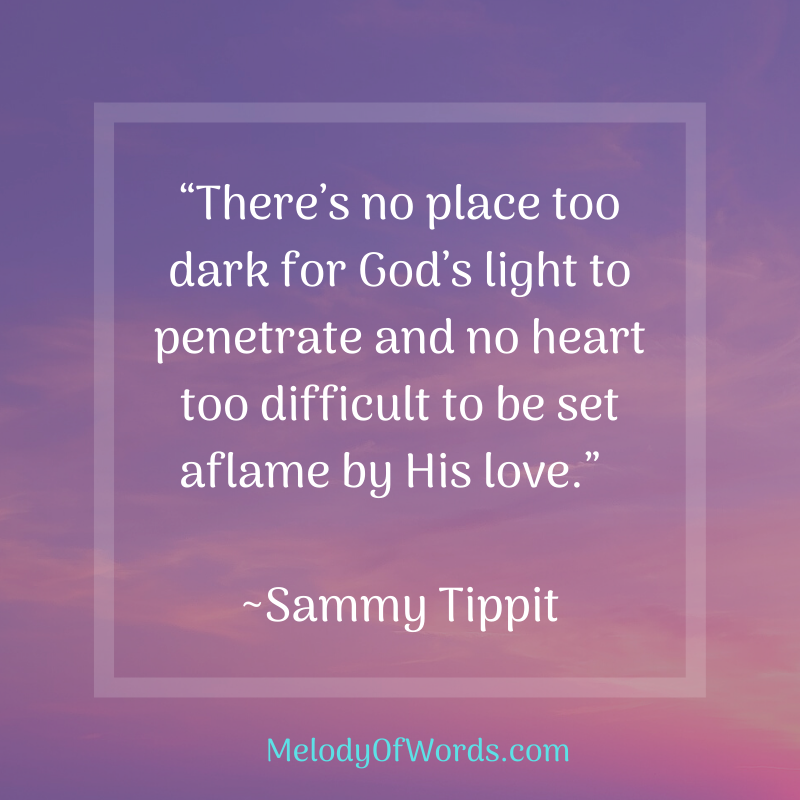 Popular Quotes About The Love Of God:
1. "It's not about finding ways to avoid God's judgment and feeling like a failure if you don't do everything perfectly. It's about fully experiencing God's love and letting it perfect you. It's not about being somebody you are not. It's about becoming who you really are." – Stormie Omartian, The Power of a Praying Woman, Quotes About The Love Of God
2. "God is love. He loves us and He pursues us with that love. And when I experienced His love, I was able to share that love with others. I appreciate the love God has for me – Jeanette Duby, Bridge to Grace"
3. "By the time kids are five I want them to know three things – God made me. God loves me. Jesus wants to be my friend forever." – Carey Nieuwhof
4. "I'm absolutely convinced that nothing – nothing living or dead, angelic or demonic, today or tomorrow, high or low, thinkable or unthinkable – absolutely nothing can get between us and God's love because of the way that Jesus our Master has embraced us." – Mary DeMuth, Live Uncaged
5. But God, being rich in mercy, because of the great love with which he loved us, even when we were dead in our trespasses, made us alive together with Christ- by grace you have been saved. – Ephesians 2:4-5
6. God is completely sovereign. God is infinite in wisdom. God is perfect in love. God in His love always wills what is best for us. In His wisdom He always knows what is best, and in His sovereignty He has the power to bring it about. – Jerry Bridges
7. "One who has been touched by grace will no longer look on those who stray as "those evil people" or "those poor people who need our help." Nor must we search for signs of "loveworthiness." Grace teaches us that God loves because of who God is, not because of who we are." – Phillips Brooks, Quotes About The Love Of God
8. "When we come to an understanding of how much (God) loves us, we'll be able to truly trust Him no matter what circumstances come our way. Receive His divine love today, and release the need to control every situation. His peace will cover you. Kristin Reeg, Pressing On
9. "God's answer to the question of identity ("Who am I?") is: "I love you. You mean everything to Me. You are worth the life of My Son, Jesus Christ, because that is what I paid for you. You belong, and you're supposed to be here. – Craig Hill, The Power of a Parent's Blessing"
10. "No matter what storm you face, you need to know that God loves you. He has not abandoned you." – Franklin Graham
Also Read: 70 Inspirational Strength Quotes that you must Imbibe from Religious Books & Successful People
Quotes About The Love Of God That Will Make Feel Loved And Secure: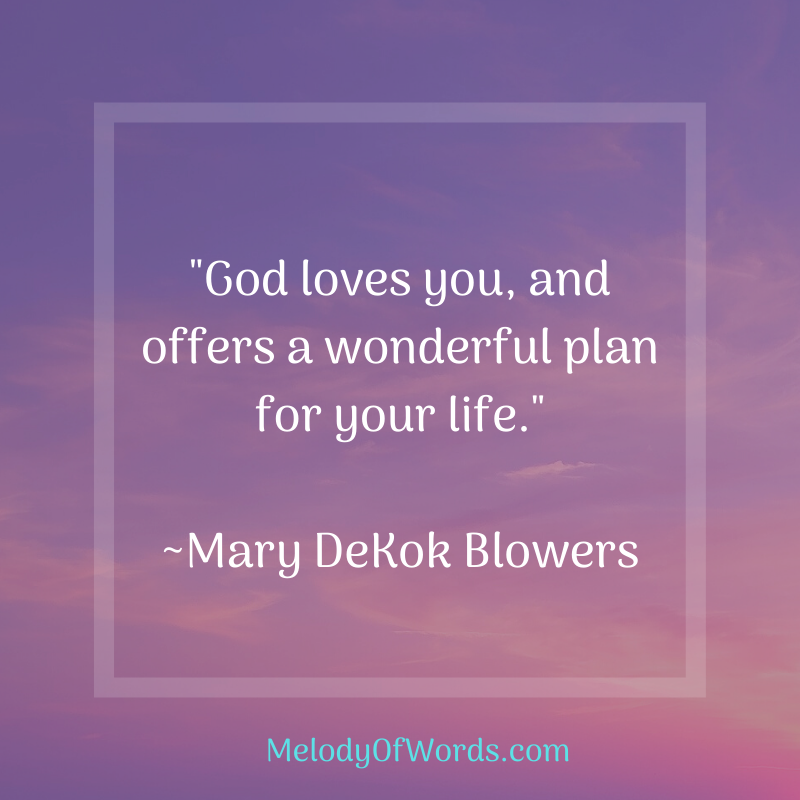 11. "Grace enables us to become the people we were meant to be. Many of us are tired of trying to live up to other people's expectations. It is a relief to discover that God loves us just as we are." – Rob Rufus, Living in the Grace of God, Quotes About The Love Of God
12. "Though our feelings come and go, God's love for us does not." – C.S. Lewis
13. God loves you, and offers a wonderful plan for your life. – Mary DeKok Blowers, Filled With the Holy Spirit
14. "Long ago I came to the total assurance that God loves me, God knows where I am every second of every day, and God is bigger than any problem life's circumstances can throw at me." – Charles Stanley, Finding Peace: God's Promise of a Life Free from Regret, Anxiety, and Fear, Quotes About The Love Of God
15. "The LORD your God is in your midst, a mighty one who will save; he will rejoice over you with gladness; he will quiet you by his love; he will exult over you with loud singing." – Zephaniah 3:17
16. "The Christian does not think God will love us because we are good, but that God will make us good because He loves us; just as the roof of a sunhouse does not attract the sun because it is bright, but becomes bright because the son shines on it." – C.S. Lewis, Quotes About The Love Of God
17. "Life is too short, the world is too big, and God's love it too great to live ordinary." – Christine Caine
18. "If you know that God loves you, you should never question a directive from Him. It will always be right and best. When He gives you a directive, you are not just to observe it, discuss it, or debate it. You are to obey it." – Henry Blackaby
19. "God bestows His blessings without discrimination. The followers of Jesus are children of God, and they should manifest the family likeness by doing good to all, even to those who deserve the opposite." – F.F. Bruce, Quotes About The Love Of God
20. But the love that God has expressed for ALL human beings is eternal. When Jesus had died on the cross to pay the sin debt for all people that will come to Him by faith in the right spirit and with the right attitude, then He had paved the way for them to be reconciled to Him and to have everlasting life in heaven with Him. – James Thomas Lee Jr, Easter is a True Christian Love Story, Quotes About The Love Of God
Also Read: The Power of Introversion: 8 Qualities of Introverts & How to Benefit from It
Quotes About The Love Of God That Will Put A Smile On Your Face: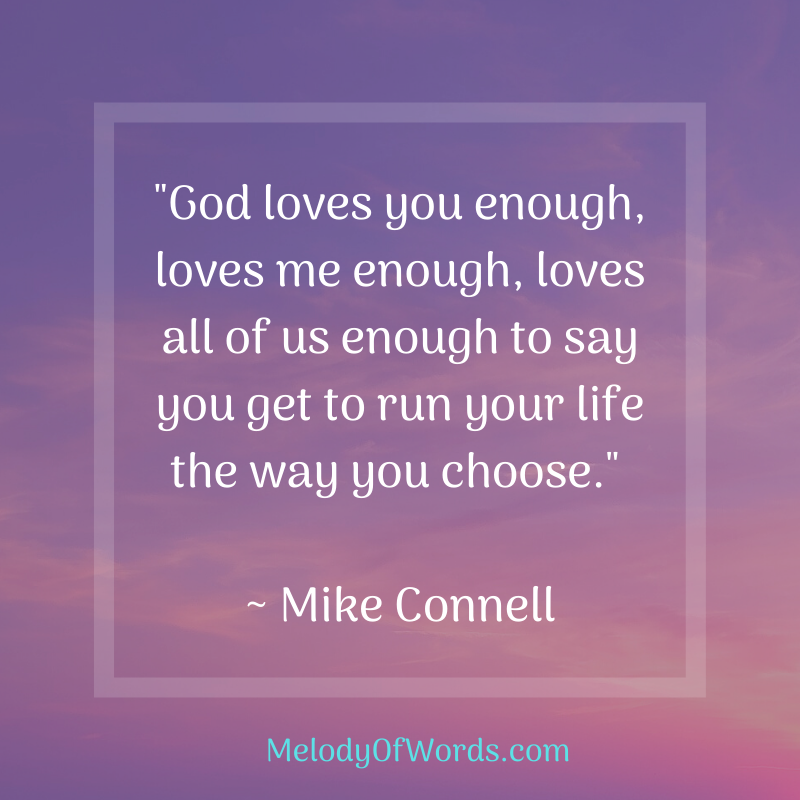 21. "God loves you enough, loves me enough, loves all of us enough to say you get to run your life the way you choose." – Mike Connell
22. It was during the most difficult struggle of my life that I began to truly experience the depth of God's love, the strength of His peace. – Michele Ellison, Jesus Peace, Quotes About The Love Of God
23. "No, in all these things we are more than conquerors through him who loved us. For I am sure that neither death nor life, nor angels nor rulers, nor things present nor things to come, nor powers, nor height nor depth, nor anything else in all creation, will be able to separate us from the love of God in Christ Jesus our Lord." – Romans 8:37-39, Quotes About The Love Of God
24. "But God shows his love for us in that while we were still sinners, Christ died for us." – Romans 5:8
25. "Before anybody can even come to understand or even show love to another person in a relationship is to know that God is love, which is the ultimate key to unlocks all other love." – John Franks, Manifesting Love, Quotes About The Love Of God
Also Read: 100 Platinum Quotes by the "Phenomenal Woman" Maya Angelou
26. "The LORD your God is in your midst, a mighty one who will save; he will rejoice over you with gladness; he will quiet you by his love; he will exult over you with loud singing." – Zephaniah 3:17
27. "God proved His love on the Cross. When Christ hung, and bled, and died, it was God saying to the world, 'I love you.'" – Billy Graham, Quotes About The Love Of God
28. "Your love, O Lord, reaches to the heavens, your faithfulness to the skies. Your righteousness is like the mighty mountains, your justice like the great deep." – Psalm 36:5-6, Quotes About The Love Of God
29. "Place me like a seal over your heart, like a seal on your arm; for love is as strong as death…Many waters cannot quench love; rivers cannot wash it away." – Song of Songs 8:6-7, Quotes About The Love Of God
30. Love is patient and kind; love does not envy or boast; it is not arrogant or rude. It does not insist on its own way; it is not irritable or resentful; it does not rejoice at wrongdoing, but rejoices with the truth. Love bears all things, believes all things, hopes all things, endures all things. Love never ends." – 1 Corinthians 13:4-8, Quotes About The Love Of God
Also Read: 100 Albert Camus Quotes on God, Suicide, Death, Love, Psychology, Happiness & More
More Quotes About The Love Of God: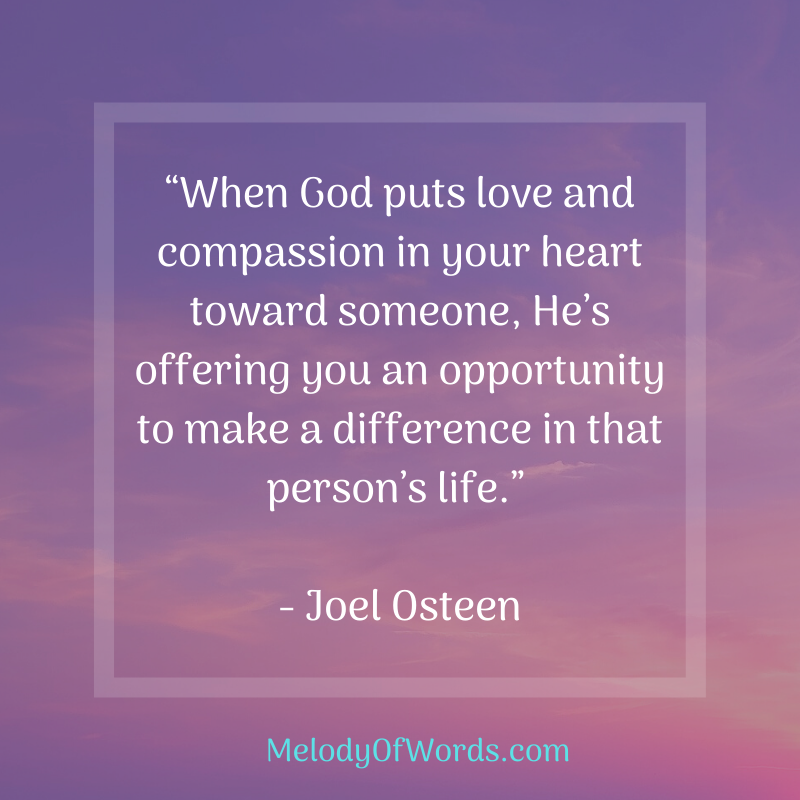 31. "Therefore we do not lose heart. Though outwardly we are wasting away, yet inwardly we are being renewed day by day. For our light and momentary troubles are achieving for us an eternal glory that far outweighs them all. So we fix our eyes not on what is seen, but on what is unseen, since what is seen is temporary, but what is unseen is eternal." – 2 Corinthians 4:16-18
32. "Though we are incomplete, God loves us completely. Though we are imperfect, He loves us perfectly. Though we may feel lost and without compass, God's love encompasses us completely. … He loves every one of us, even those who are flawed, rejected, awkward, sorrowful, or broken." – Dieter F. Uchtdorf, Quotes About The Love Of God
33. "God's love for us is uncoerced and so freely given that it does not demand a response. But so freely is it given that it creates freedom in the recipient, so that our response is not one of obligation or duty, nor the returning of a favor, but uncoerced love." ― Mark Galli, Chaos and Grace: Discovering the Liberating Work of the Holy Spirit
34. "God is love. He loves us and He pursues us with that love. And when I experienced His love, I was able to share that love with others. I appreciate the love God has for me." – Jeanette Duby, Bridge to Grace: Finding life and peace in the midst of death and chaos, Quotes About The Love Of God
35. "I tell you not to worry about everyday life. Look at the ravens. They don't plant or harvest or store food in barns, for God feeds them. And you are far more valuable to him than any birds!" – Luke 12:22, 24, Quotes About The Love Of God
36. "There's no place too dark for God's light to penetrate and no heart too difficult to be set aflame by His love." – Sammy Tippit, The Approaching Darkness
37. "When God puts love and compassion in your heart toward someone, He's offering you an opportunity to make a difference in that person's life." – Joel Osteen
38. "God waits for you to communicate with Him. You have instant, direct access to God. God loves mankind so much, and in a very special sense His children, that He has made Himself available to you at all times." – Wesley L. Duewel
39. "If you know that God loves you, you should never question a directive from Him. It will always be right and best. When He gives you a directive, you are not just to observe it, discuss it, or debate it. You are to obey it." – Henry Blackaby, Quotes About The Love Of God
40. "With God, you are stronger than your struggles and more fierce than your fears. God provides comfort and strength to those who trust in Him. Be encouraged, keep standing, and know that everything's going to be alright." – Germany Kent, Quotes About The Love Of God
If You Liked Quotes About The Love Of God, then You Might Enjoy Reading:
101 Best Mc Names with Origin and Meaning