50 Best Romantic Love Quotes for Her that'll Make her Say Awww!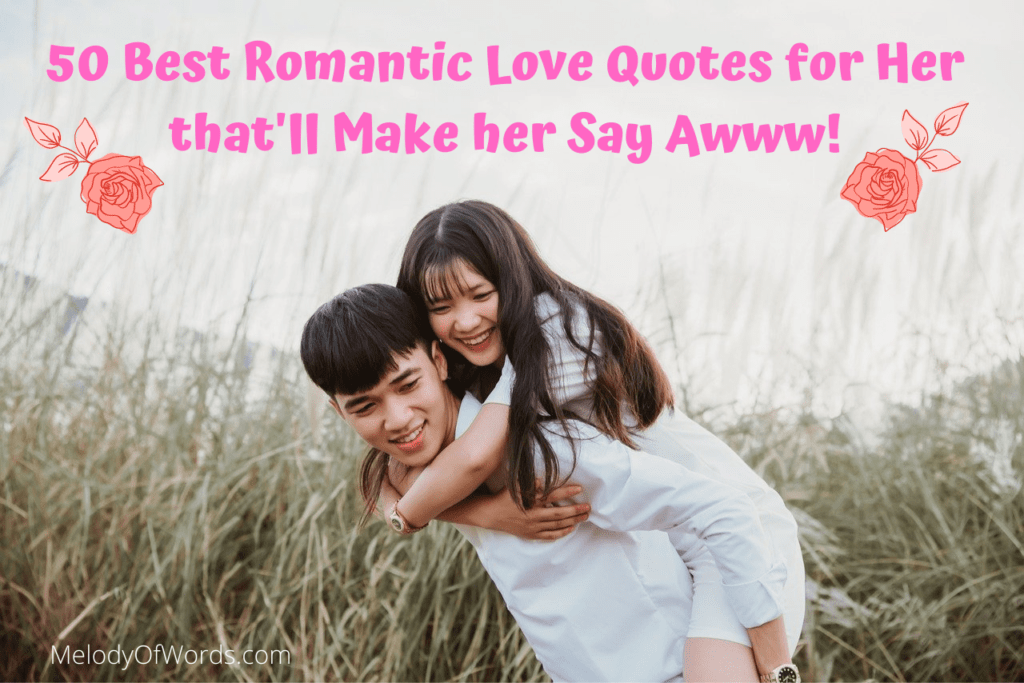 We guys are mute lovers, though we may have butterflies in our stomachs but when we see our ladylove, we go blank. We might hover around her like a bumblebee, and will cuddle or caress her.
However, when it comes to expressing love through spoken words, we go completely bonkers. I know, most of you guys can relate it with too.
So welcome to the silent lovers club, but this time we ain't backing up too soon, and will try our best to express our feelings with the sweetest lines possible.
Because sometimes apart from good behaviour it's good to say it out loud, and make her feel special. So don't be quiet, and let words do the talking. As it's every girl's dream to be appreciated by her soulmate, and to hear a few honey-dipped lines from her sweet lover.
If you can' think of some cute romantic quotes for her, then we have it all sorted out for you. So here some best romantic quotes for her that we have peculiarly handpicked for you.
Because every girl deserves to be felt special for the efforts she puts in keeping us happy, and putting up with our silent lover demeanour.
50 Best Romantic Love Quotes for Her that'll Make her Say Awww!
Emotional Love Quotes for Her:
1. "I look at you and see the rest of my life in front of my eyes."
2. "Thinking of you keeps me awake. Dreaming of you keeps me asleep. Being with you keeps me alive." – Inconnu
3. "You have bewitched me, body and soul, and I love… I love… I love you." – Mr. Darcy, Pride and Prejudice
4. "You are my best friend, my human diary and my other half. You mean the world to me and I love you."
5. "When I say I love you more, I don't mean I love you more than you love me. I mean I love you more than the bad days ahead of us, I love you more than any fight we will ever have. I love you more than the distance between us, I love you more than any obstacle that could try and come between us. I love you the most."
6. "There is a madness in loving you, a lack of reason that makes it feel so flawless." Leo Christopher, Quotes for Her
7. "The hours I spend with you I look upon as sort of a perfumed garden, a dim twilight, and a fountain singing to it. You and you alone make me feel that I am alive. Other men it is said have seen angels, but I have seen thee and thou art enough." – George Moore
8. "A hundred hearts would be too few to carry all my love for you." – Henry Wadsworth
9. "When you realize you want to spend the rest of your life with somebody, you want the rest of your life to start as soon as possible." – Harry Burns, Love Quotes for Her
10. "Life without love is like a tree without blossoms or fruit." – Kahlil Gibran Quotes for Her
Also Read: 22 Signs He Loves You and You Are The One He's Looking For
I Love You Quotes for Her, Straight from the Heart: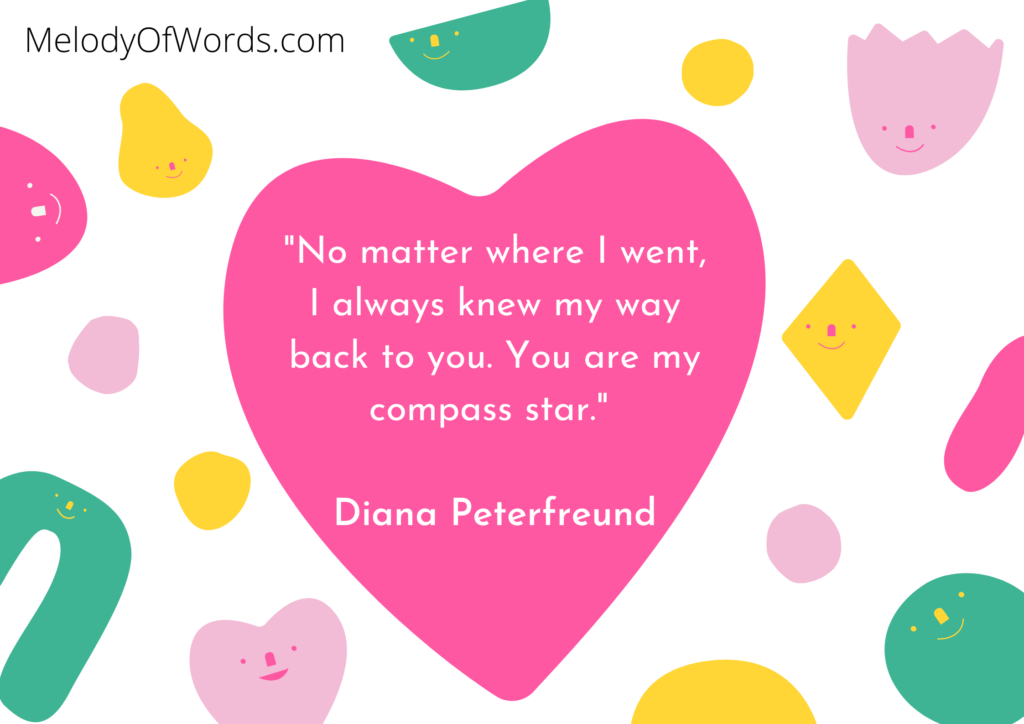 11. All, everything that I understand, I only understand because I love." – Leo Tolstoy Quotes for Her
12. "I've never had a moment's doubt. I love you. I believe in you completely. You are my dearest one. My reason for life." – Ian McEwan, Atonement
13. "Whatever happens tomorrow, or for the rest of my life, I'm happy now…because I love you." – Groundhog Day
14. "If I had to dream up the perfect woman, she wouldn't even come close to you." ­– Boy Meets World
15. "You are the one girl that made me risk everything for a future worth having." – Simone Elkeles, Perfect Chemistry
16. "You and I, it's as though we have been taught to kiss in heaven and sent down to earth together, to see if we know what we were taught." – Boris Pasternak, Doctor Zhivago
17. "You are the finest, loveliest, tenderest, and most beautiful person I have ever known—and even that is an understatement." – F. Scott Fitzgerald
18. "I want to tell you with my last breath that I have always loved you. I would rather be a ghost, drifting by your side as a condemned soul, than enter heaven without you. Because of your love, I will never be a lonely spirit." – Crouching Tiger, Hidden Dragon, Love Quotes for Her
19. "He stepped down, trying not to look long at her, as if she were the sun, yet he saw her, like the sun, even without looking." – Leo Tolstoy, Anna Karenina
20. "No matter where I went, I always knew my way back to you. You are my compass star." – Diana Peterfreund, For Darkness Shows the Stars, – Love Quotes for Her
Also Read: 100 Short Love Quotes from Best Romantic Movies, Songs & Famous Writers
Cute Love Quotes for Her to Propose: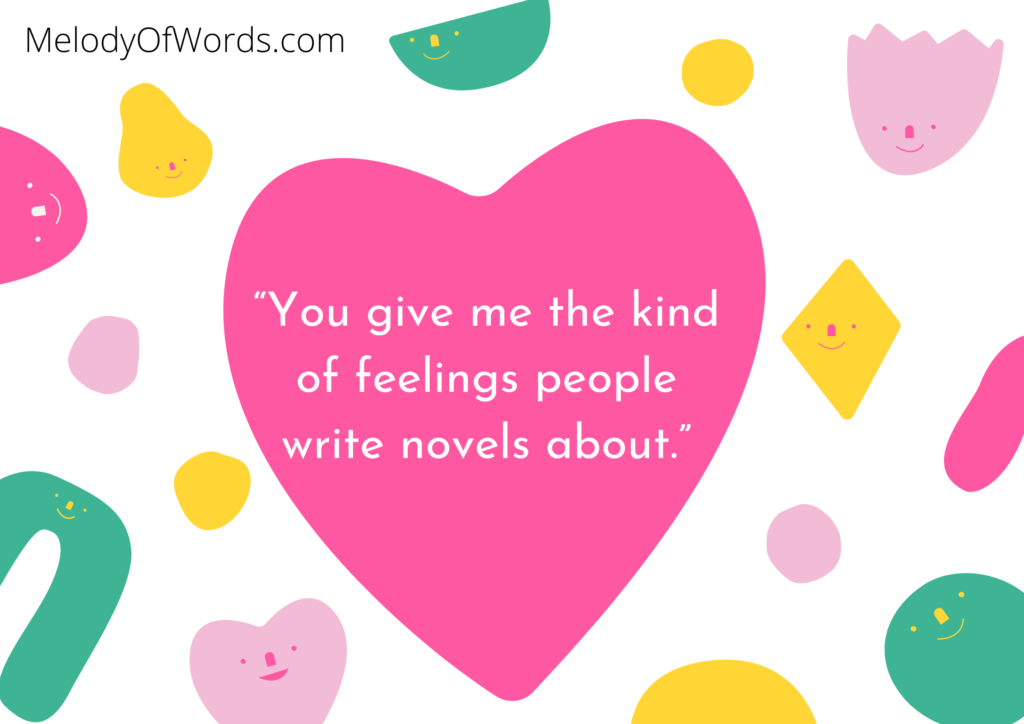 21. "I crown you the Queen of my heart."
22. "On this day, I vow to be completely yours forever."
23. "Not so long ago I was alone and lost, and then you came along and I was home. Thank you for finding me."
24. "I have waited so long for the perfect girl and my patience has finally paid off."
25. "I could start a fire with what I feel for you."
26. "You give me the kind of feelings people write novels about."
27. "I am in love with your smile, your voice, your body, your laugh, your eyes. But most of all, I am in love with you."
28. "Time and time again I have to pinch myself when I see you next to me. You are my dream come true."
29. "So many reasons are there to love you. Your cute smile, your sweet laugh, your innocence and your kind heart makes me love you. – Love Quotes for Her
30. "Today and always, beyond tomorrow, I need you beside me, always as my best friend, lover and forever soul mate."
Also Read: 10 Funny yet Positive Things that Happen when a Relationship turns Old
Flirty Love Quotes for Her: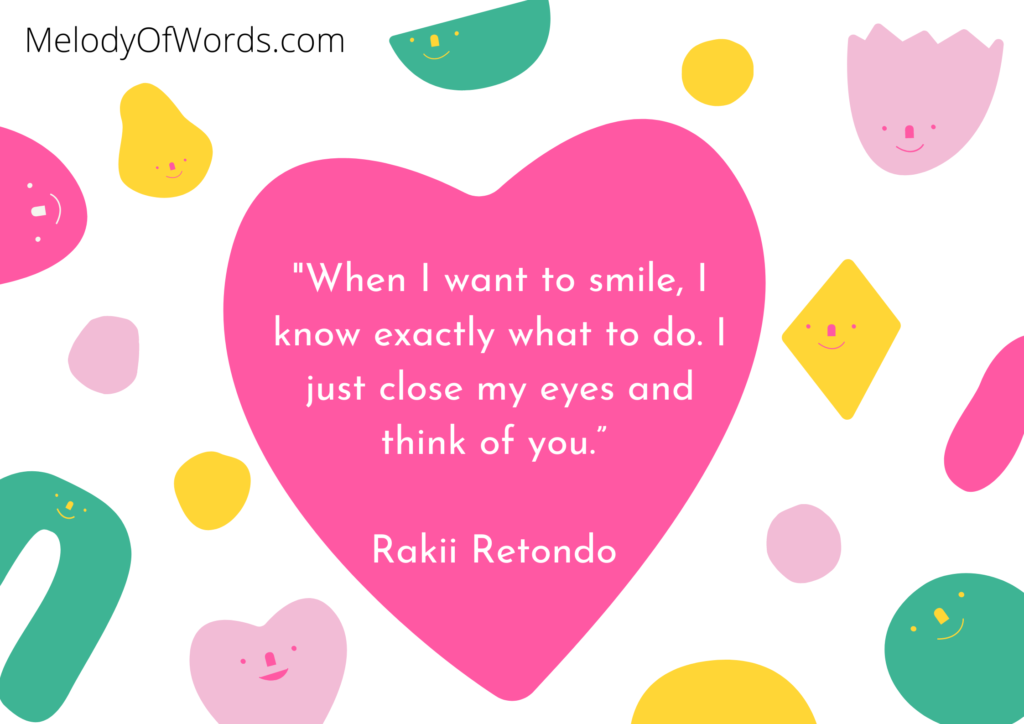 31. "I want you to know that you're the hottest biscuit this side of the gravy boat." – Erin McCarthy
32. "I'm so in love, every time I look at you my soul gets dizzy." – Jesse Tyler Ferguson
33. "When I want to smile, I know exactly what to do. I just close my eyes and think of you." – Rakii Retondo
34. "I can no longer think of anything but you. In spite of myself, my imagination carries me to you. I grasp you, I kiss you, I caress you, a thousand of the most amorous caresses take possession of me." – Honore de Balzac
35. "If you were a bullet I would shoot myself to have you in me." – Maygin Nikki
36. "Get out of my head and fall into my arms instead."
37. "You are adorable, mademoiselle. I study your feet with the microscope and your soul with the telescope." – Victor Hugo
38. "If you stood in front of a mirror holding 11 roses; you will see 12 of the most beautiful things in this word." – Scemaa
39. "I guess your name is Google. Because you have everything that I am searching for." – Ryan Gosling
40. "I think I can die happy now, coz I've just seen a piece of heaven." – Love Quotes for Her
Also Read: 8 Major Reasons why most Long Distance Relationships Fail & How to Avoid It
Funny and Silly Love Quotes for Her:
41. "You want to know who I'm in love with? Read the first word again."
42. "I love you so much I'd fight a bear for you. Well not a grizzly bear because they have claws, and not a panda bear because they know Kung Fu. But a care bear, I'd definitely fight a care bear for you."
43. "Will you lend me a kiss? I promise to give it back."
44. "Do you believe in love at first sight, or should I walk by again?"
45. "You must be made of Iodine, Livermorium, and Uranium because I Lv U!"
46. "Love makes people do silly things. Like, it made me send you this message!"
47. "You're like a dictionary – you add meaning to my life."
48. "Your legs must be tired because you have been running through my mind all night."
49. Every time I look in your eyes, I get a peaceful feeling. When am around you, everything seems perfect. I promise that I will always be there for you in whatever you do and support you in ups and downs as long as I live. You give my life meaning and make it worth living. Will you marry me?
50. You seem to have everything that I've been searching for in my entire life. Are you Google? Oops, you are an answered prayer. I thank God that I finally found you. – Love Quotes for Her
If You Liked Best Romantic Love Quotes for Her, then You Might also Enjoy: