70 Inspirational Strength Quotes that you must Imbibe from Religious Books & Successful People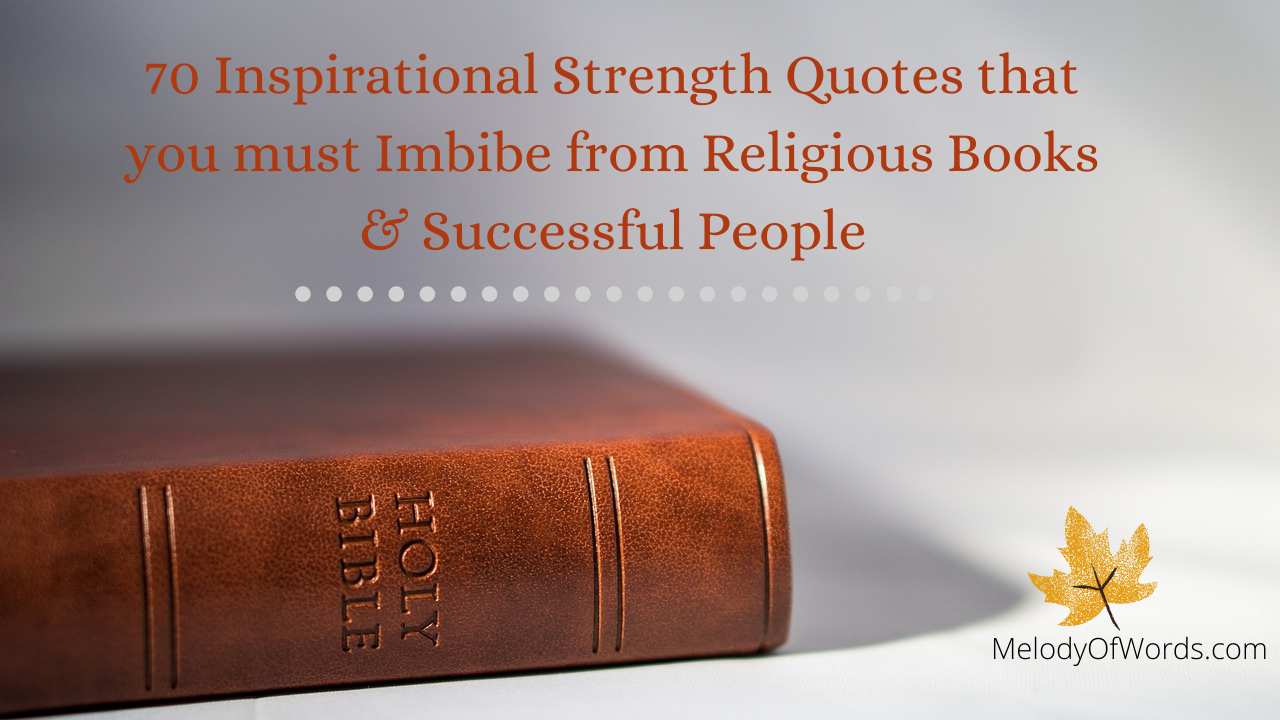 Strength is one of the qualities that is important for the survival of any living specie whether in human or animal kingdom. As it helps us to be flexible with time and situation, and to have the mental power to handle any situation.
Since we all have our personal struggles to deal with. Therefore, we must have the strength, and character to deal with tough times with courage and vigour.
Having the mental strength to endure difficult times strengthens our core, and builds our moral character. This is why we are told from a young age to be strong like the mountains, and swift as the river.
Without having inner strength one cannot survive, and face the hurdles that comes in life in the form of challenges. Therefore, we need both physical and mental toughness to deal with bad times, that takes a toll on our lives.
If you are someone who is receiving the slack of time, and is finding it hard to come to terms with life. Then here are some of my favourite quotes on strength from religious books that I like to read, as it helps me to be aware of my inner strength, that I fail to recognize sometimes.
I hope you too will find the strength, and determination to fight with the bad times. So here's a carefully curated collection of 70 Inspirational Quotes that you must Imbibe from Religious Books and Successful People.
70 Inspirational Strength Quotes that you must Imbibe from Religious Books & Successful People
Strength Quotes from Bible:
1. "God is our refuge and strength, an ever-present help in trouble. Therefore we will not fear, though the earth give way and the mountains fall into the heart of the sea, though its waters roar and foam and the mountains quake with their surging."
2. "So do not fear, for I am with you; do not be dismayed, for I am your God. I will strengthen you and help you; I will uphold you with my righteous right hand." – Bible Strength Quotes
3. "Finally, be strong in the Lord and in his mighty power."
4. "The Lord gives strength to his people; the Lord blesses his people with peace."
5. "Those of steadfast mind you keep in peace—because they trust in you. Trust in the Lord forever, for in the Lord God you have an everlasting rock." – Bible Strength Quotes
6. "Be strong and bold; have no fear or dread of them, because it is the Lord your God who goes before you. He will be with you; he will not fail you or forsake you. Do not fear or be dismayed."
7. "But those who hope in the Lord will renew their strength. They will soar on wings like eagles; they will run and not grow weary, they will walk and not be faint." – Strength Quotes from Bible
8. "The Sovereign Lord is my strength; he makes my feet like the feet of a deer, he enables me to tread on the heights."
9. "Be on your guard; stand firm in the faith; be courageous; be strong."
10. "Look to the Lord and his strength; seek his face always." – Bible Strength Quotes
Strength Quotes from Bhagavad Gita: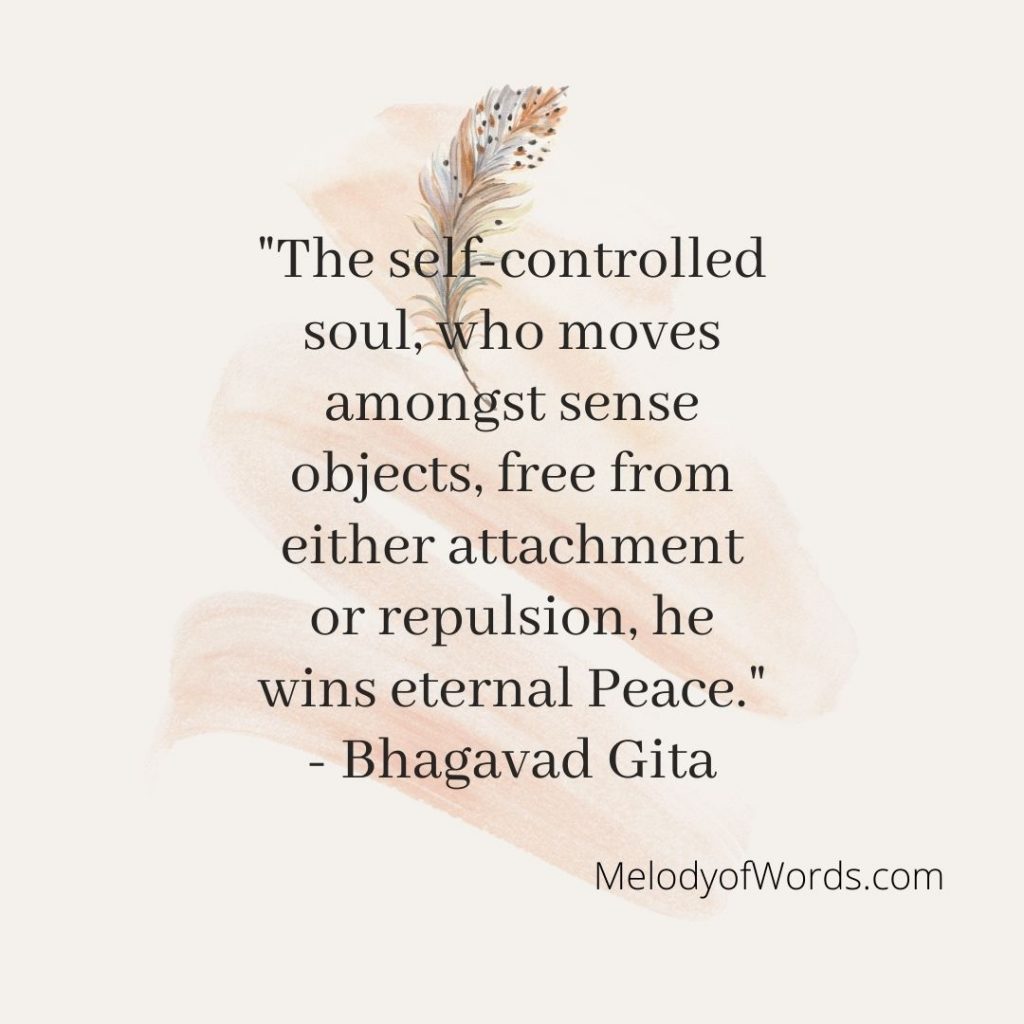 11. "The Lord dwells in the hearts of all creatures and whirls them round upon the wheel of maya. Run to him for refuge with all your strength, and peace profound will be yours through his grace." – Bhagavad Gita Strength Quotes
12. "My eternal seed, Arjuna, is to be found in every creature. I am the power of discrimination in those who are intelligent, and the glory of the noble. In those who are strong, I am strength, free from passion and selfish attachment. I am desire itself, if that desire is in harmony with the purpose of life."
13. "The self-controlled soul, who moves amongst sense objects, free from either attachment or repulsion, he wins eternal Peace."
14. "Those who remember me at the time of death will come to me. Do not doubt this. Whatever occupies the mind at the time of death determines the destination of the dying; always they will tend toward that state of being."
15. "You and I have passed through many births, Arjuna. You have forgotten, but I remember them all."
16. "Life is an Adventure … Dare it
Life is a Beauty … Praise it
Life is a Challenge … Meet it
Life is a Duty … Perform it
Life is a Love … Enjoy it
Life is a Tragedy … Face it
Life is a Struggle … Fight it
Life is a Promise … Fulfill it
Life is a Game … Play it
Life is a Gift … Accept it
Life is a Journey … Complete it
Life is a Mystery … Unfold it
Life is a Goal … Achieve it
Life is an Opportunity … Take it
Life is a Puzzle … Solve it
Life is a Song … Sing it
Life is a Sorrow … Overcome it
Life is a Spirit … Realize it." – The Bhagavad Gita Quotes on Strength
17. "Some realize the Self within them through the practice of meditation, some by the path of wisdom, and others by selfless service. Others may not know these paths; but hearing and following the instructions of an illumined teacher, they too go beyond death."
18. The meaning of Karma is in the intention. The intention behind action is what matters. Those who are motivated only by desire for the fruits of action are miserable, for they are constantly anxious about the results of what they do.
Check out: 12 Important Life Lessons to Learn from Failed Relationships
Shakti Quotes on Strength by Famous Personalities:
19. "The all-pervading energy source of existence or Shakti manifests itself as creation. Shakti is the divine mother who gives birth to and nurtures the new-born-whether it is a new-born babies a brand new relationship, a fresh idea, or a magical manifestation. Although Shakti is beyond the boundaries of gender, form or color, we call It Mother because of its mothering and creative qualities." – Deepak Chopra, Shakti Strength Quotes
20. "For success in life you need yukti (skill) and shakti (strength), Bhakti (Devotion ) and Mukti (Freedom)." – Sri Sri Ravi Shankar
21. "We have to create strength where it did not exist before; we have to change our natures, and become new men with new hearts, to be born again. We need a nucleus of men in whom the Shakti is developed to its uttermost extent, in whom it fills every corner of the personality and overflows to fertilize the earth. These, having the fire of Bhawani in their hearts and brains, will go forth and carry the flame to every nook and cranny of our land." – Sri Aurobindo
Strength Quotes from Buddhism:
22. "In separateness lies the world's greatest misery; in compassion lies the world's true strength." – Buddha Strength Quotes
23. "If one man kills a hundred men, and another man masters himself, the second man is the much greater warrior."
24. "Persevere in thy quest and thou shalt find what thou seekest. Pursue thy aim unswervingly and thou shalt gain victory. Struggle earnestly and thou shalt triumph."
25. "Go forth in every direction- for the happiness, the harmony, the welfare of the many. Offer your heart, the seeds of understanding, like a lamp overturned and re-lit, illuminating the darkness."
26. "If you are poor, live wisely. If you have riches, live wisely. It is not your station in life but your heart that brings blessings." ~ Strength Quotes
27. "No one saves us but ourselves. No one can and no one may. We ourselves must walk the path." – Buddha
28. "Mastering others is strength, mastering yourself is true power." – Lao Tzu
Check out: 50 Inspiring Zen Quotes on Life for the Conscious Minds
Strength Quotes by Successful People: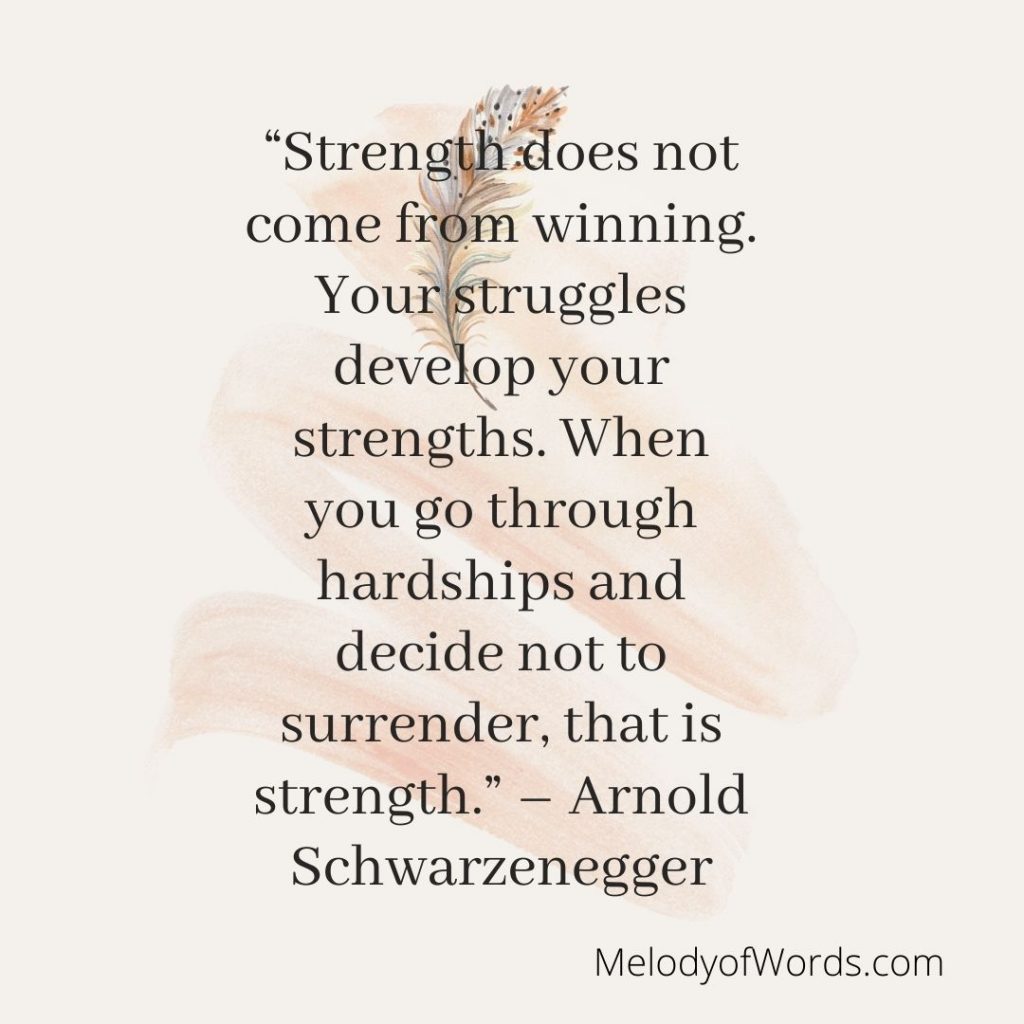 29. "Strength does not come from winning. Your struggles develop your strengths. When you go through hardships and decide not to surrender, that is strength." – Arnold Schwarzenegger
30. "You have power over your mind – not outside events. Realize this, and you will find strength." – Marcus Aurelius
31. "Difficulties are meant to rouse, not discourage. The human spirit is to grow strong by conflict." – William Ellery Channing
32. "Fall seven times, stand up eight." – A Japanese proverb on Strength
33. "Out of suffering have emerged the strongest souls; the most massive characters are seared with scars."– Kahlil Gibran Quotes on Strength
34. "You never know how strong you are, until being strong is your only choice." – Bob Marley
35. "Man often becomes what he believes himself to be. If I keep on saying to myself that I cannot do a certain thing, it is possible that I may end by really becoming incapable of doing it. On the contrary, if I have the belief that I can do it, I shall surely acquire the capacity to do it even if I may not have it at the beginning." – Mahatma Gandhi Quotes on Strength
36. "Some of us think holding on makes us strong; but sometimes it is letting go." – Hermann Hesse
37. "Courage is the most important of all the virtues because without courage, you can't practice any other virtue consistently."– Maya Angelou Quotes on Strength
38. "Life is truly known only to those who suffer, lose, endure adversity and stumble from defeat to defeat." – Anais Nin ~ Strength Quotes
39. "All the adversity I've had in my life, all my troubles and obstacles, have strengthened me…. You may not realize it when it happens, but a kick in the teeth may be the best thing in the world for you." – Walt Disney
40. "A truly strong person does not need the approval of others any more than a lion needs the approval of sheep." – Vernon Howard
41. "There are better starters than me but I'm a strong finisher." – Usain Bolt ~ Strength Quotes
42. "He who believes is strong; he who doubts is weak. Strong convictions precede great actions." – Louisa May Alcott
43. "If you haven't the strength to impose your own terms upon life, then you must accept the terms it offers you." – T.S. Eliot Strength Quotes
44. "Strength and growth come only through continuous effort and struggle." – Napoleon Hill Strength Quotes
45. "Yielding will overcome anything superior to itself; its strength is boundless." – Bruce Lee
46. "You gain strength, courage, and confidence by every experience in which you really stop to look fear in the face. You are able to say to yourself, 'I lived through this horror. I can take the next thing that comes along." – Eleanor Roosevelt
47. "I would encourage us all, African Americans, Asians, Latinos, Whites, Native Americans to study history. I long for the time when all the human history is taught as one history. I am stronger because you are stronger. I am weaker if you are weak. So we are more alike than we are unlike." – Maya Angelou
48. "The terrorists thought they would change my aims and stop my ambitions, but nothing changed in my life except this: weakness, fear and hopelessness died. Strength, power and courage were born." – Malala Yousafzai
49. "Be soft. Do not let the world make you hard. Do not let the pain make you hate. Do not let the bitterness steal your sweetness. Take pride that even though the rest of the world may disagree, you still believe it to be a beautiful place." – Iain Thomas Strength Quotes
50. "We don't even know how strong we are until we are forced to bring that hidden strength forward." – Isabel Allende ~ Strength Quotes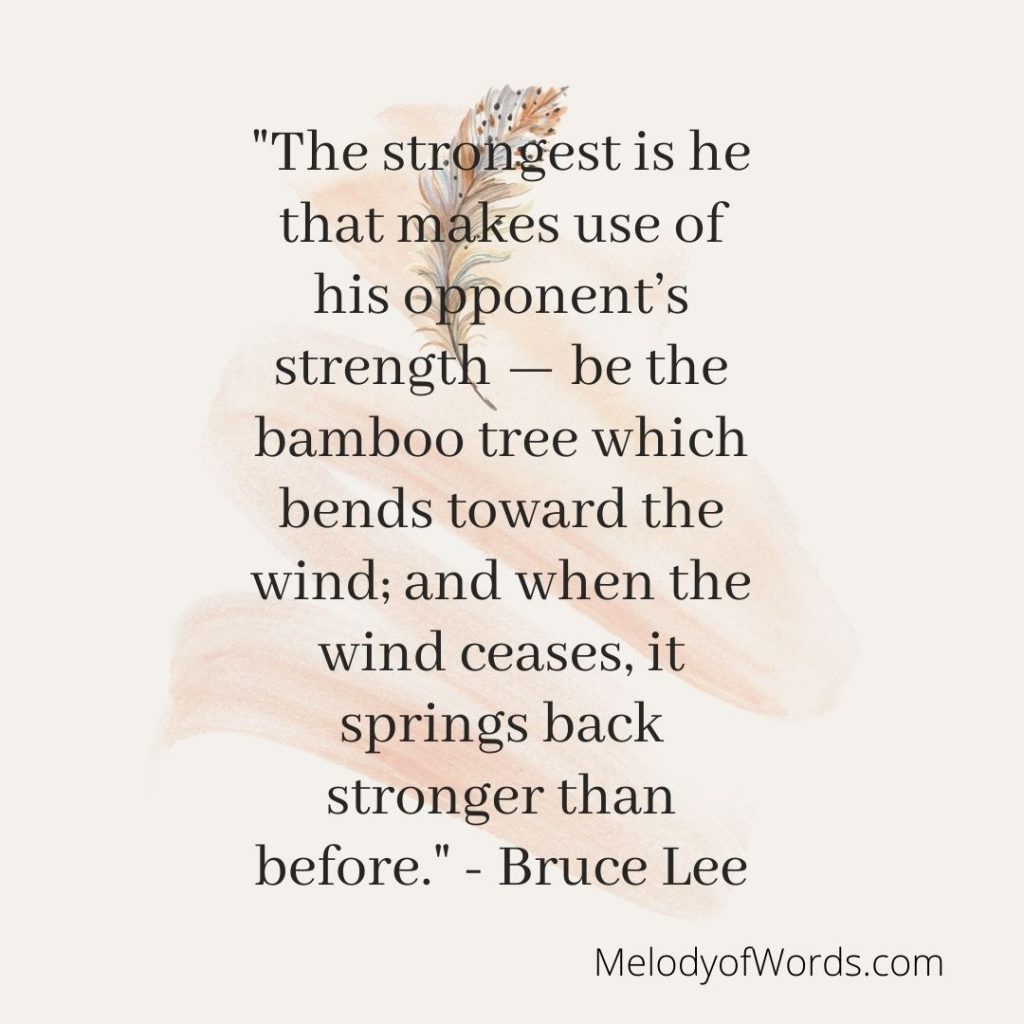 51. "The strongest is he that makes use of his opponent's strength — be the bamboo tree which bends toward the wind; and when the wind ceases, it springs back stronger than before." – Bruce Lee Strength Quotes
52. "Stand up to your obstacles and do something about them. You will find that they haven't half the strength you think they have." – Norman Vincent Peale
53. "Make up your mind that no matter what comes your way, no matter how difficult, no matter how unfair, you will do more than simply survive. You will thrive in spite of it." – Joel Osteen
54. "Difficulties are meant to rouse, not discourage. The human spirit is to grow strong by conflict." – William Ellery Channing
55. "Be very strong… be very methodical in your life if you want to be a champion." – Alberto Juantorena
56. "I love the man that can smile in trouble, that can gather strength from distress, and grow brave by reflection. 'Tis the business of little minds to shrink, but he whose heart is firm, and whose conscience approves his conduct, will pursue his principles unto death." – Thomas Paine Strength Quotes
57. "When a man loves a woman she becomes his weakness. When a woman loves a man he becomes her strength. The is called an exchange of power." – Unknown
58. "Be that fearless girl, the one who would dare to do anything, be that independent girl who didn't need a man; be that girl who never backed down."

– Taylor Swift
58. "A hero is an ordinary individual who finds the strength to persevere and endure in spite of overwhelming obstacles." – Christopher Reeve Strength Quotes
59. "Don't wait for extraordinary opportunities. Seize common occasions and make them great. Weak men wait for opportunities; strong men make them." – Orison Swett Marden
60. "I think scars are like battle wounds – beautiful, in a way. They show what you've been through and how strong you are for coming out of it." – Demi Lovato Strength Quotes
61. "The turning point in the process of growing up is when you discover the core of strength within you that survives all hurt." – Max Lerner ~ Strength Quotes
62. "Do not judge me by my success, judge me by how many times I fell down and got back up again." – Nelson Mandela Strength Quotes
63. "Courage is not the absence of fear, but rather the judgment that something else is more important than fear." – Ambrose Redmoon
64. "Don't despair: despair suggests you are in total control and know what is coming. You don't – surrender to events with hope." – Alain de Botton
65. "It is our attitude toward events, not events themselves, which we can control. Nothing is by its own nature calamitous – even death is terrible only if we fear it." – Epictetus Strength Quotes
66. "Someone I once loved gave me a box full of darkness. It took me years to understand that this, too, was a gift." – Mary Oliver
67. "Courage isn't having the strength to go on, it is going on when you don't have the strength." – Napoleon Bonaparte Strength Quotes
68. "We do not have to become heroes overnight. Just a step at a time, meeting each thing that comes up, seeing it is not as dreadful as it appeared, discovering we have the strength to stare it down." – Eleanor Roosevel Strength Quotes
69. "It is really wonderful how much resilience there is in human nature. Let any obstructing cause, no matter what, be removed in any way, even by death, and we fly back to first principles of hope and enjoyment." – Bram Stoker, Dracula
70. "With the new day comes new strength and new thoughts." – Eleanor Roosevelt Strength Quotes
If you liked 70 Inspirational Strength Quotes that you must Imbibe from Religious Books & Successful People…. then you might like: