40 Refreshing Jay Shetty Quotes to Help you to Think like a Monk
40 Best Jay Shetty Quotes
Jay Shetty is a famous life coach, best-selling author and an ex-monk of British-Indian descent. His life underwent a transformation, when he listened to the discourse of Gauranga Das on selflessness and minimalistic living, delivered at his business school.
This brief meeting became a turning point in Jay's life. He was smitten by Gauranga Das's positive aura and his wisdom, and followed him around the United Kingdom to listen to his remaining lecture circuit.
Post this, Jay spent four summers in India to pursue his spiritual education. During this time, he worked as an intern at reputed corporations and trained under the International Society for Krishna Consciousness, famous as the "Hare Krishna Movement."
Whilst, undergoing his training, he strictly followed a Vedic Monk lifestyle at an ashram in Mumbai, India.
Jay Shetty's Life Story:
The most happy and accomplished people we see today, were once unhappy, purposeless and dissatisfied with their life. This is true in the case of Jay Shetty, who was turned down by 40 companies. Because they didn't want to take risk by hiring someone, who wrote- "Has served as a monk for 3 years" under "Experience."
Jay was at a breaking point in life with a debt of $25,000 at the age of 26. He was living with his parents, and was directionless, depressed, haunted by loneliness and confused about his purpose in life.
When Jay Shetty, the man who has helped others to find a purpose was purposeless in life:
When he got a corporate job, he was dissatisfied with it and felt like he wasn't using his energy in the right space. He knew he could offer more to the world and had the zeal to serve but didn't know how.
When he approached media houses for his mindfulness based video ideas, he got a negative response from all. Moreover, three media houses bluntly responded by telling him, he was too unqualified and too old to have a career in media.
He was four months away from being broke but decided to change the course of his life. He got married to the love of his life Radhi Devlukia and became a successful entrepreneur within 12 months.
Career Graph of Jay Shetty:
Jay Shetty was an alma matter at Queen Elizabeth's School, Barnet. He graduated from the Cass Business School at the City, University of London.
Shetty's work at Accenture as a social media coach, was recognized by Arianna Huffington, who hired him to produce videos for Huffington Post in New York. While working there, he created the most viewed Facebook video of 2018.
Shetty has interviewed famous personalities such as: Russell Simmons, Deepak Chopra, Kobe Bryant, and through Huffington Post, Tim Ferriss.
From being in Debt to making it to the Forbes 30 Under 30 Europe list:
Jay Shetty's name is included on Forbes 30 Under 30 Europe in 2017. His work has been recognized on the National Geographic Chasing Genius Council 2017, and the Asian Media Awards 2016 Best Blog.
He has been featured on the BBC and have interacted with audiences at Google, Nasdaq, HSBC and Barclays.
He also hosts podcasts On Purpose with more than 64 million downloads, some of his guests includes big names including— Alicia Keys, Khloe Kardashian, and Kobe Bryant.
He has also appeared on The Ellen DeGeneres Show, A Little Late with Lilly Singh and Today to discuss mental health and life purpose. He was also the recipient of the 2016 ITV Asian Media Awards and the 2018 Streamy Awards.
Without further ado, let's read some of the best Jay Shetty quotes that'll fill you up with positivity.
40 Refreshing Jay Shetty Quotes to Help you to Think like a Monk
1. "Don't let someone be a priority when all you are to them is an option."
2. "Starve your distractions, feed your focus."
3. "When nobody else celebrates you, learn to celebrate yourself. When nobody else compliments you, then compliment yourself. It's not up to other people to keep you encouraged. It's up to you. Encouragement should come from the inside." – Jay Shetty Quotes
4. "Motivation comes from meaning. Everything comes from meaning."
Also Read: 55 Barack Obama Quotes on Change, Love and His Wife Michelle
5. "The slowest road to success is when you're comparing yourself to others." Jay Shetty Quotes
6. "The challenges we all want to be with someone who makes us happy, when what we need to do is be some who makes us happy."
7. "Everything will happen for you all of a sudden and you will be thankful you didn't give up. Blessings are coming."
8. "Everything makes sense, even if you can't make sense of it right now. Don't judge the moment."
9. "Don't let the world change your smile, use your smile to change the world."
10. "Your identity should be made by what you think you should be."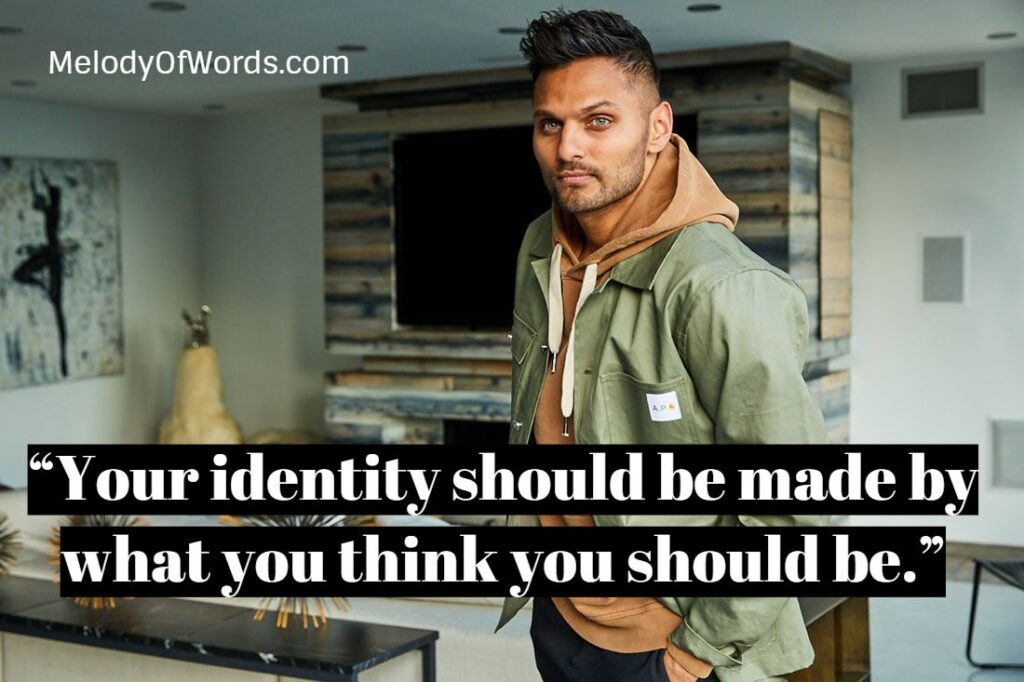 11. "When you want to 'put somebody in their place', put yourself in their place first."
12. "The thing about limitations is that they are only true as long as you believe in them. So, instead of believing in your limitations, start believing in yourself."
13. "A best friend is someone who loves you when you forget to love yourself."
14. "Don't be afraid of new beginnings, from new people, new energy, new surroundings, and new challenges. Embrace new chances at happiness." – Jay Shetty Quotes
Also Read: 21 Life Changing Bhagavad Gita Quotes with Explanation and Meaning
15. "To realize the value of a millisecond, ask the person who just came 2nd at the Olympics."
16. "The biggest room in the world is the room for self-improvement."
17. "The same technology that brings us close to those far away, takes us far away from the people."
18. "The days you don't want to are the days you really have to if you want to reach your goal."
19. "Never judge anyone, because you never know how their life is and what they go through."
20. "We complain that nothing feels real anymore, but we don't give anything time to become real."
21. "The most powerful prison is one when you don't even know that you're locked up."
22. "Spend more time with people who make you forget to look at your phone." Jay Shetty Quotes
23. "If you don't sacrifice for what you want, what you want becomes the sacrifice."
24. "Swap 'Why is this happening to me?' to 'What is this trying to teach me?'. It will change everything."
25. "Many of us are experiencing setbacks and failures in everyday life. Eventually, we get emotionally drained, tired, unmotivated and we stop trying. We believe that because we've been unsuccessful in the past that that barrier still exists even for new ventures." – Jay Shetty Quotes
26. "Fast-forward where you are. Look at yourself in 10, 15, 20 years time and ask yourself the question: Is that where I want to be? If you're in a company, look at the person who's 20 years ahead of you and ask yourself: Is that where I want to be? If you're in a start-up, look at where other startups have got to in similar roles and go: Is that where I want to be? And if the answer's NO, then you need to find a new path." – Jay Shetty Quotes
27. "Real friends tell you when you aren't living up to your potential. They don't let you sit and be mediocre and think you are lit." – Jay Shetty Quotes
28. "If you're looking around and you find yourself being the smartest person in the room, change rooms because you're in the wrong one."
Also Read: 10 Reasons why one Chooses to be a Lone Wolf in a Society that chases Groups
29. "Failures are only failures when we don't learn from them, because when we learn from them they become lessons."
30. "The best lesson I have learned in life came from the worst feeling I ever felt in life."
31. "You cannot transform that which you do not accept."
32. "The paradox of our times is that we have more degrees, but less sense; more knowledge, but less judgment; more experts, but less solutions."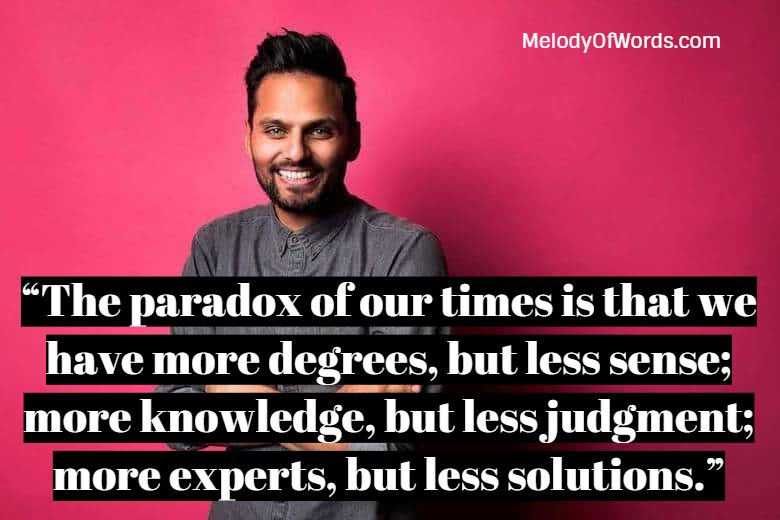 33. "When you learn a little, you feel you know a lot. But when you learn a lot, you realize you know very little."
34. "What if Oprah listened to her haters and doubters? What if Steve Jobs settled for a real job? What if The Rock never broke through depression? What if Ellen never overcame the bullying? Imagine a world where everyone lived their passion. We would be better people. We'd be better partners. We'd be better parents." – Jay Shetty Quotes
35. "Let's not make happiness and success about the size of our homes, but about the size of our hearts; let's not make it about gratification but gratitude."
36. "Money is only a tool. It will take you wherever you wish, but make sure it does not replace you as the driver."
37. "Success comes from gaining, happiness comes from giving."
38. "We may not be the best, but if we keep going longer we will better ourselves."
39. "Think about what you can do right now, not what you wish you had done before."
40. "Your new life will cost you your old one."
If you liked 40 Best Jay Shetty Quotes, you might enjoy reading: