30 Best Michelle Obama Quotes "The First African-American First Lady of the USA"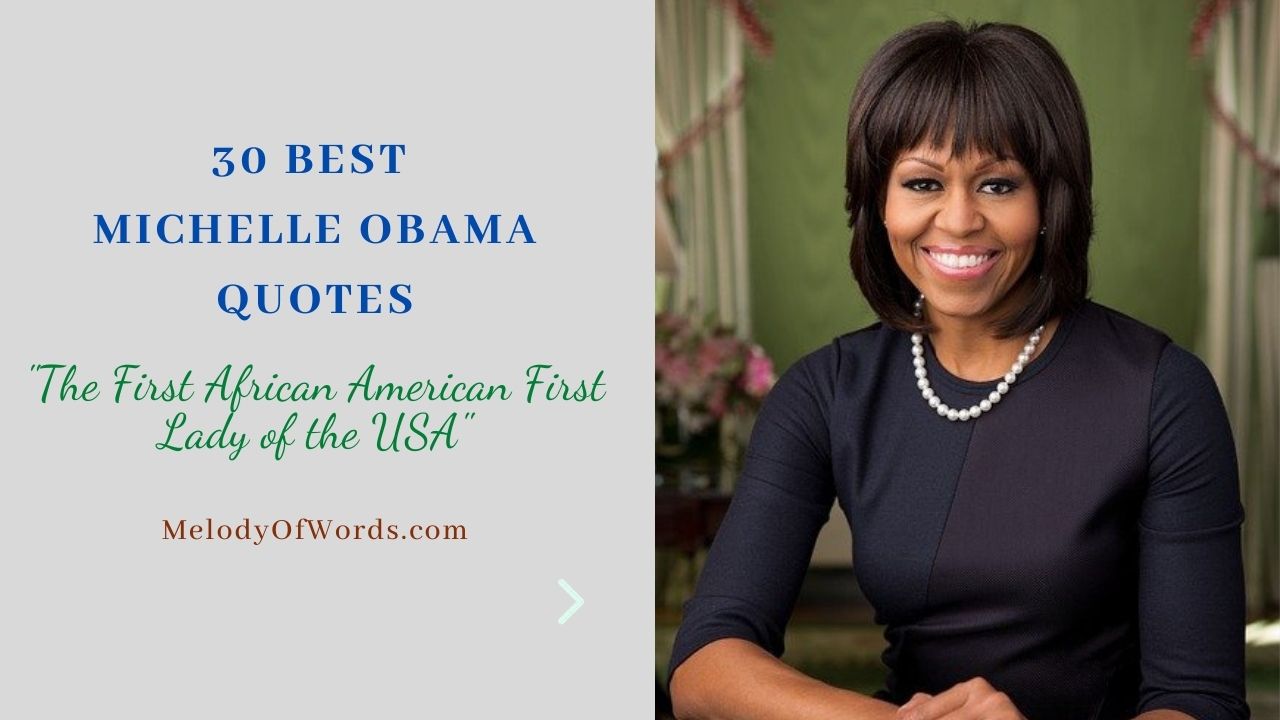 30 Best Michelle Obama Quotes
Michelle LaVaughn Robinson Obama born on January 17, 1964, is an American attorney, author, and the former "First Lady of the United States" from 2009 to 2017.
She is the wife of Barack Obama, the 44th President of the United States. The couple married each other in 1992 and are proud parents to daughters, Sasha and Malia Obama.
Barack's presidential success is incomplete without mentioning Michelle's name. As she has always been a strong supporter of him throughout his political journey to becoming the President of the United States of America.
She was the torchbearer of his political campaigns from 2007 to 2008. She even addressed the 2008 Democratic National Convention.
Michelle is not only a great mother with a good career graph, but a great writer and orator as well. She has delivered eloquent and critically acclaimed speeches at the 2012, 2016, and 2020 conventions.
Her Education and Meeting with her Future husband:
Michelle was raised in a blue-collar home in Chicago, Illinois. Her father was a city water plant employee and Democratic Precinct Captain, and her mother was a secretary at Spiegel's Catalog Store.

Michelle Obama was an alumnus of Princeton University and Harvard Law School. After graduating from the university, she started working at the law firm Sidley Austin, where she met Barack Obama, her new intern. Barack got smitten by her and asked her out for lunch and dinners.

At first, Michelle was a bit reluctant to his offer. As she thought it would be unprofessional to go on dates with an intern, and she had promised her mother to focus only on her career. However, sparks flew, and it was the beginning of a budding romance between the two.

Soon after, she left the firm to work for non-profit organizations, and also worked as the associate dean of Student Services at the University of Chicago.
Throughout her career, she has worked for both private as well as the public sector. She has also served as the Vice President for Community and External Affairs of the University of Chicago Medical Center.
Michelle Obama Career Moves and Work:
Michelle Obama has done tremendous work throughout her career. She has withhold several honorary positions in the offices. Whilst successfully managing her family, kids and supporting her husband's dream. She is a strong and dignified lady who is a role model for many women.
In 1991, Michelle served as an Assistant to the Mayor and as Assistant Commissioner of Planning and Development. In 1993, she assumed the post of Executive Director for the Chicago office of Public Allies, a non-profit organization encouraging people to work for social welfare causes.
Although, she worked there for nearly four years but set fundraising records, that stood still for twelve years, even after she had left. Thereafter, in 1996 she worked as the Associate Dean of Student Services at the University of Chicago.
In the year 2002, she withhold positions with the University of Chicago Hospitals. First as executive director for community affairs and then as vice president for Community and External Affairs.
Michelle Obama— In the Making of the First Lady:
Michelle continued to hold her job at the University of Chicago Hospitals during the primary campaign of 2008. Shen then decided to work part time to look after her daughters, and to help her husband in his presidential election.
During her husband's presidential tenure, she took over the opportunity to raise awareness on poverty, education, LGBT rights, nutrition, physical activity, healthy eating.
In the early months of assuming the title of First Lady, Michelle Obama visited the homeless shelters and soup kitchens to advocate public service.
Michelle supported her husband's policies including equal pay lawsuit, which was the first bill signed by US President Barack Obama.
She even hosted a White House reception for women's rights advocates to celebrate the enactment of the Lilly Ledbetter Fair Pay Act of 2009 Pay equity law.
Some of her power moves as the First Lady were Let's Move! an initiative to fight against growing obesity in children, Reach Higher, Let Girls Learn and Joining Forces. She also did ground-breaking work to support military families and spouses.
In May 2014, Michelle Obama extended her support to bring back school, who had been kidnapped in Nigeria. She raised concern over the issues by tweeting a picture of herself, holding a poster with the #bringbackourgirls campaign hashtag.
A Fashion Icon, Author and One of the most Popular First Ladies of USA:
Michelle Obama will always be remembered in history for being the first African-American woman, who received the honour of being the First Lady of the United States. Her efforts in accelerating her husband's career whilst handling her own job, kids and media is appraisable.
She is one of the best-dressed First Ladies in the history of America. She strongly supports American designers by carrying their outfits with such grace.
Through her fearless attitude and warm nature, Michelle was able to successfully perform her duties as the First Lady of the United States.
Though she was berated for her looks by some media channels and unhappy netizens. Who refused to accept a woman of colour and African descent, assuming the title of the First Lady.
They stirred rumors about Michelle's gender, compared her and made racist memes on her. But she never responded to them, as she didn't want any negative news to gain publicity or receive her attention.
With her positive attitude, her cool temperament and her soft image, Michelle was able to make room in the hearts of the common people. In 2009, she was named Barbara Walters' Most Fascinating Person of the year.
Michelle's charisma is such, that even after Barack's presidency, she continues to rule everybody's heart. In 2020, Michelle topped Gallup's poll of the most admired woman in America for the third year running.
Michelle has extensively written about her journey, from a blue collar home to becoming the "Fist African-American First Lady of USA" in her book "Becoming."
If you haven't read it yet, then don't worry we have it covered for you. Here are some of the best Michelle Obama quotes from her book 'becoming' and other awesome quotes on women, friendship and family.
Michelle Obama Quotes from her Book "Becoming":
1. "Now I think it's one of the most useless questions an adult can ask a child—What do you want to be when you grow up? As if growing up is finite. As if at some point you become something and that's the end."
2. "For me, becoming isn't about arriving somewhere or achieving a certain aim. I see it instead as forward motion, a means of evolving, a way to reach continuously toward a better self. The journey doesn't end."
3. "Failure is a feeling long before it becomes an actual result. It's vulnerability that breeds with self-doubt and then is escalated, often deliberately, by fear." ~ Michelle Obama Quotes
4. "Now that I'm an adult, I realize that kids know at a very young age when they're being devalued, when adults aren't invested enough to help them learn. Their anger over it can manifest itself as unruliness. It's hardly their fault. They aren't "bad kids." They're just trying to survive bad circumstances." – Michelle Obama Quotes from her Book "Becoming"
5. "We were planting seeds of change, the fruit of which we might never see. We had to be patient." ~ Michelle Obama Quotes
6. "You may not always have a comfortable life and you will not always be able to solve all of the world's problems at once but don't ever underestimate the importance you can have because history has shown us that courage can be contagious and hope can take on a life of its own." – Michelle Obama Quotes from her Book "Becoming"
7. "Your story is what you have, what you will always have. It is something to own." ~ Michelle Obama Quotes
8. "If you don't get out there and define yourself, you'll be quickly and inaccurately defined by others."
Also Read: 40 Earnest Princess Diana Quotes on Love, Family, Humanity & Her Personality
Michelle Obama Quotes for Women: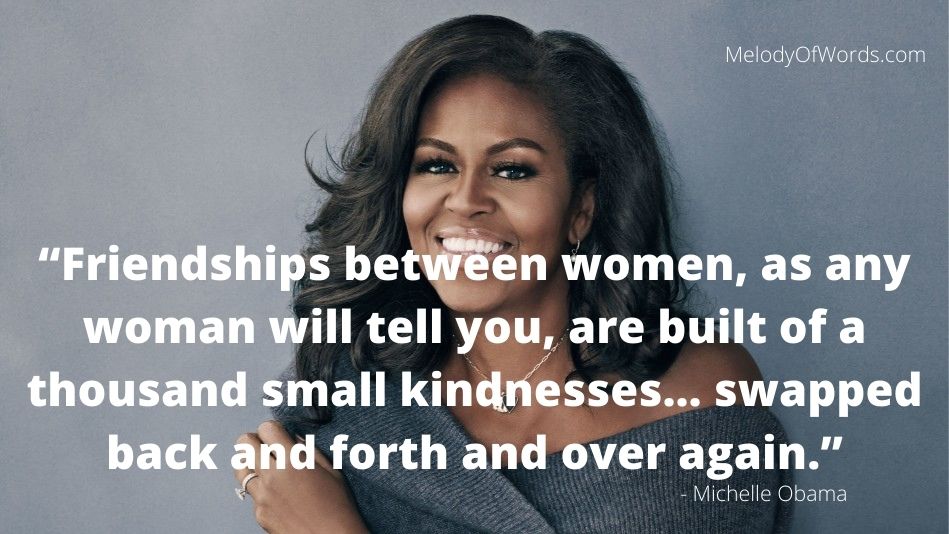 9. "Friendships between women, as any woman will tell you, are built of a thousand small kindnesses… swapped back and forth and over again." ~ Michelle Obama Quotes
10. "Women endure entire lifetimes of these indignities—in the form of catcalls, groping, assault, oppression. These things injure us. They sap our strength. Some of the cuts are so small they're barely visible. Others are huge and gaping, leaving scars that never heal. Either way, they accumulate. We carry them everywhere, to and from school and work, at home while raising our children, at our places of worship, anytime we try to advance."
11. "It's remarkable how a stereotype functions as an actual trap. How many "angry black women" have been caught in the circular logic of that phrase? When you aren't being listened to, why wouldn't you get louder? If you're written off as angry or emotional, doesn't that just cause more of the same?" – Michelle Obama Quotes for Women
12. "The difference between a broken community and a thriving one is the presence of women who are valued."
13. "No country can ever truly flourish if it stifles the potential of its women and deprives itself of the contributions of half its citizens." ~ Michelle Obama Quotes
14. "Strong men, men who are truly role models, don't need to put down women to make themselves feel powerful."
15. "I wake up every morning in a house that was built by slaves. And I watch my daughters, two beautiful, intelligent, black young women playing with their dogs on the White House lawn." ~ Michelle Obama Quotes
16. "Do not be afraid to fail because that often times is the thing that keeps us as women and girls back, because we think we have to be right. We think we have to be perfect. We think that we can't stumble. And the only way you succeed in life, the only way you learn, is by failing. It's not the failure; it's what you do after you fail." – Michelle Obama Quotes for Women
Also Read: 100 Bitter-sweet Existential Quotes by famous Philosophers that'll hit you Deep
Michelle Obama on Friendship: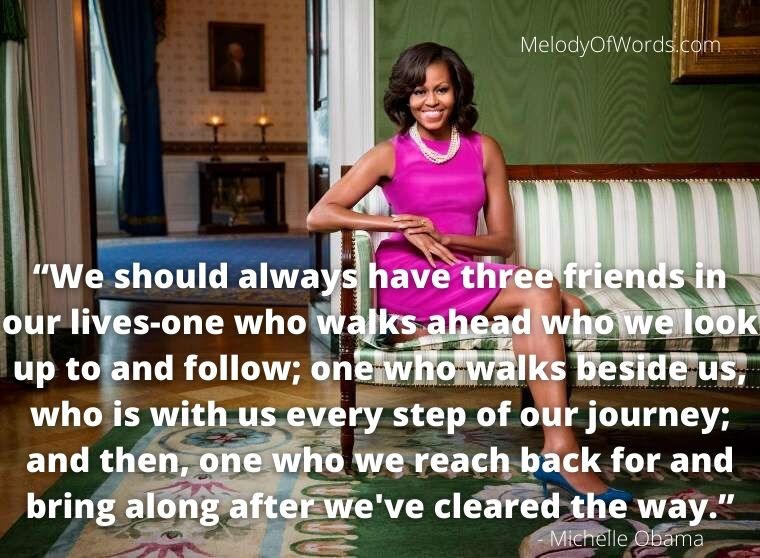 17. "We should always have three friends in our lives-one who walks ahead who we look up to and follow; one who walks beside us, who is with us every step of our journey; and then, one who we reach back for and bring along after we've cleared the way." – Michelle Obama on Friendship
18. "Do not bring people in your life who weigh you down. And trust your instincts… good relationships feel good. They feel right. They don't hurt. They're not painful. That's not just with somebody you want to marry, but it's with the friends that you choose. It's with the people you surround yourselves with." – Michelle Obama Quotes
19. "The fact is, with every friendship you make, and every bond of trust you establish, you are shaping the image of America projected to the rest of the world. That is so important. So when you study abroad, you're actually helping to make America stronger." – Michelle Obama Quotes
Also Read: Self-Efficacy: The Theory of Believing in Your Abilities | Learn 6 Best Ways to Increase Your Self-Efficacy
Inspirational Quotes by Michelle Obama:
20. "Success is only meaningful and enjoyable if it feels like your own." ~ Michelle Obama Quotes
21. "If my future were determined just by my performance on a standardized test, I wouldn't be here. I guarantee you that." ~ Michelle Obama Quotes
22. "We learned about honesty and integrity – that the truth matters… that you don't take shortcuts or play by your own set of rules… and success doesn't count unless you earn it fair and square." – Michelle Obama Quotes on her Husband
23. "One of the lessons that I grew up with was to always stay true to yourself and never let what somebody else says distract you from your goals."
24. "We need to do a better job of putting ourselves higher on our own 'to do' list."
25. "Choose people who lift you up." ~ Michelle Obama Quotes
Also Read: 10 Reasons why one Chooses to be a Lone Wolf in a Society that chases Groups
On Her Husband Barack Obama:
26. "Barack intrigued me. He was not like anyone I'd dated before, mainly because he seemed so secure. He was openly affectionate. He told me I was beautiful. He made me feel good. To me, he was sort of like a unicorn—unusual to the point of seeming almost unreal. He never talked about material things, like buying a house or a car or even new shoes. His money went largely toward books, which to him were like sacred objects, providing ballast for his mind. ~ Michelle Obama Quotes
He read late into the night, often long after I'd fallen asleep, plowing through history and biographies and Toni Morrison, too. He read several newspapers daily, cover to cover. He kept tabs on the latest book reviews, the American League standings, and what the South Side aldermen were up to. He could speak with equal passion about the Polish elections and which movies Roger Ebert had panned and why." – Michelle Obama Quotes on her Husband
27. "It has to be a true partnership, and you have to really really like and respect the person you're married to because it is a hard road," I mean, that's what I tell young couples. Don't expect it to be easy, melding two lives and trying to raise others, and doing it forever. I mean that's a recipe made for disaster, so there are highs and lows. But if in the end you can look him in the eye and say, 'I like you.' I stopped believing at love in first sight. I think you go through that wonderful love stage, but when it gets hard, you need a little bit more." – Michelle Obama Quotes on her Husband
28. "I do care deeply about my husband, I am one of his biggest allies. I am one of his biggest confidants."
29. "Our life before moving to Washington was filled with simple joys. Saturdays at soccer games, Sundays at grandma's house, and a date night for Barack and me was either dinner or a movie, because as an exhausted mom, I couldn't stay awake for both. And the truth is, I loved the life we had built for our girls. I deeply loved the man I had built that life with and I didn't want that to change if he became President." – Michelle Obama Quotes on her Husband
30. "Even though back then Barack was a Senator and a presidential candidate, to me, he was still the guy who'd picked me up for our dates in a car that was so rusted out, I could actually see the pavement going by through a hole in the passenger side door. He was the guy whose proudest possession was a coffee table he'd found in a dumpster, and whose only pair of decent shoes was half a size too small." – Michelle Obama Quotes on her Husband
Watch Michelle Obama Interview
If you liked Michelle Obama Quotes, the you might enjoy: