40 Earnest Princess Diana Quotes on Love, Family, Humanity & Her Personality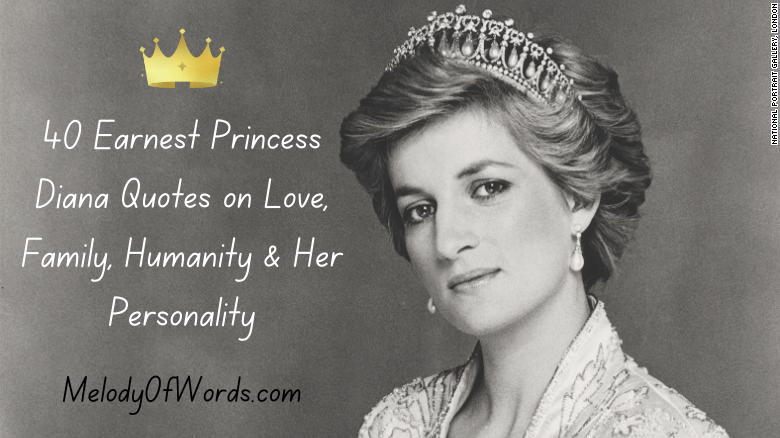 40 Earnest Princess Diana Quotes on Love, Family, Humanity & Her Personality:
Diana considered as the epitome of beauty, grace, and intelligence was the Princess of Wales, and a member of the British royal family. She was the beloved wife of Prince Charles, and the mother of Prince William, and Prince Harry.
Diana Frances Spencer born on July 1961 in Sandringham, England was known as the "People's Princess." Her aristocratic family had close ties with Britain's Royal family for centuries, and included illustrious members like Winston Churchill.
Diana earned the title of "Lady" when her father became the "Earl Spencer" in 1975. She attended first-class schools, though she wasn't considered a great scholar, but she outshined in extracurricular activities such as music, dancing, and swimming.
Princess Diana, a Fashion-icon, a Lovable mother and a Rule breaker:
Diana was an embodiment of grace, and every woman aspired to dress like her, and be like her. She was a global icon, and also a great mother to her sons Prince William, and Prince Harry.
After marrying Prince Charles, the once shy Diana quickly became the apple of everybody's eyes, and even the media couldn't resist photographing her.
She was a star in the public's eye. Her charming personality, elegance, and compassionate nature was admired by all.
It is often quoted that Princess Diana wore her heart on her sleeve, and wouldn't mind breaking rules that she felt were unnecessary or didn't align with her true personality. She wanted to be loved for who she was, this is why she didn't care much about her public image.
Life and Marriage of Princess Diana:
Lady Diana first met Prince Charles when he was dating her elder sister, Lady Sarah. They both developed a mutual interest in each other, and a new relationship started to bloom. After a brief courtship, the couple got engaged, and their wedding was celebrated with great fervour by the people of Britain.
The high-profile royal wedding took place at St Paul's Cathedral in 1981, after which Lady Diana became the Princess of Wales. However, this beautiful relationship soured in no time, as they both had compatibility issues, followed by a string of affairs.
The couple got separated in 1992, and their private life was made public by the media. As they scrutinized them for their extramarital affairs, and broadcasted their marital problems on television.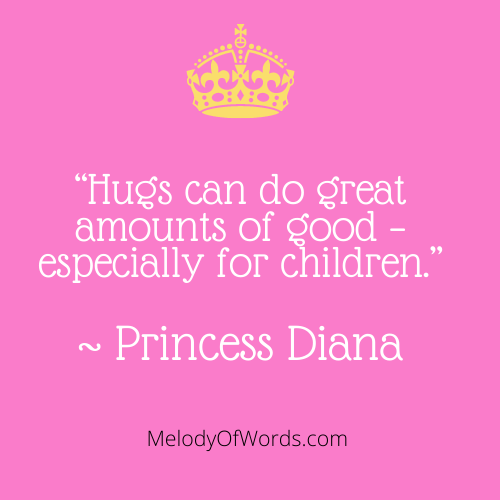 Charity Work and Patronage:
Princess Diana undertook her royal duties with great stride, she actively participated in the social welfare causes, and was praised by the media for her unconventional approach to charity work.
Initially, her charity work centered around children and youth but she later became the torchbearer of AIDS awareness campaigns. Along with this, she raised her voice for the removal of landmines, and also advocated ways to help people battling cancer, and mental illness.
Also Read: 40 Best Flirty Lines to Make Her Blush
The Controversial death of Princess Diana— A Day when Britain mourned:
The paparazzi constantly hounded the princess; wherever she went, they followed her like a shadow. This ultimately became one of the reasons responsible for her death. As on 31, August 1977, the princess died in a fatal car crash.
A few hypothesis suggests, the reason behind her death was the paparazzi, who was chasing her car to photograph her with her boyfriend Dodi.
While other theories provided by the British newspaper Daily Express, and Egyptian businessman Mohamed Al-Fayed, Dodi's father said that it was a planned murder.
Further adding to the conspiracy theory, Diana's butler Paul Burrell published a note, that he claimed was written by Princess Diana. The letter revealed that Prince Charles was planning an accident in Diana's car, causing brake failure, and serious head injury, so he could marry again.
The court condemned such allegations, and ruled that Diana died in an accident. As nobody was wearing the seat belt, when the car collapsed in the tunnel.
Though Princess Diana left the world but her legacy has had a deep impact on the people of Britain, the royal family, and British society.
People remember Diana as the princess of their hearts, and laud her for her brevity and activism. So let's commemorate Princess Diana and her work by reading 40 Earnest Princess Diana Quotes on Love, Family, Humanity & Her Personality.
40 Earnest Princess Diana Quotes on Love, Family, Humanity & Her Personality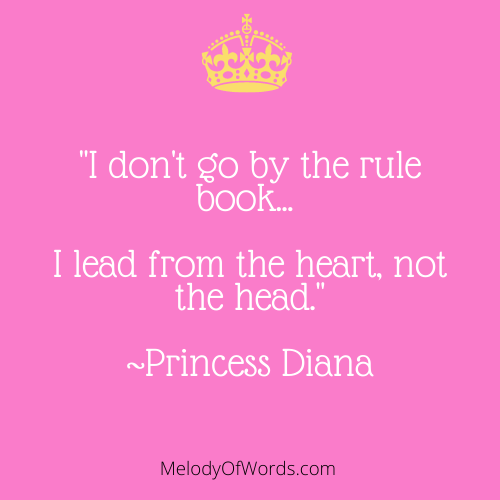 Princess Diana Quotes on Her Personality:
1. "I like to be a free spirit. Some don't like that, but that's the way I am." – Princess Diana Quotes
2. "I don't go by the rule book… I lead from the heart, not the head."
3. "They say it is better to be poor and happy than rich and miserable, but how about a compromise like moderately rich and just moody?"
4. "My first thoughts are that I should not let people down, that I should support them and love them."
5. "I don't want expensive gifts; I don't want to be bought. I have everything I want. I just want someone to be there for me, to make me feel safe and secure."
Also Read: 40 Best Quotes About The Love Of God to Strengthen Your Faith in the Almighty
6. "I am not a political figure, I am a humanitarian figure, always was, always will be."
7. "Is it a weakness that I lead from my heart and not my head?"
8. "Whoever is in distress can call on me. I will come running wherever they are."
9. "I'd like to be a queen of people's hearts, in people's hearts, but I don't see myself being the queen of this country."– Princess Diana Quotes
10. "Helping people in need is a good and essential part of my life, a kind of destiny."
Princess Diana Quotes on Love:
11. "If you find someone you love in life, you must hang onto it, and look after it, and if you were lucky enough to find someone who loved you, then you must protect it." – Princess Diana Quotes
12. "I think the biggest disease the world suffers from in this day and age is the disease of people feeling unloved. I know that I can give love for a minute, for half an hour, for a day, for a month, but I can give. I am very happy to do that, I want to do that."
13. "I knew what my job was; it was to go out and meet the people and love them."
14. "The kindness and affection from the public have carried me through some of the most difficult periods, and always your love and affection have eased the journey." – Princess Diana Quotes
15. "I'm aware that people I have loved and have died and are in the spirit world looking after me."
Also Read: 15 Major Signs of Toxic Parents & How to Identify them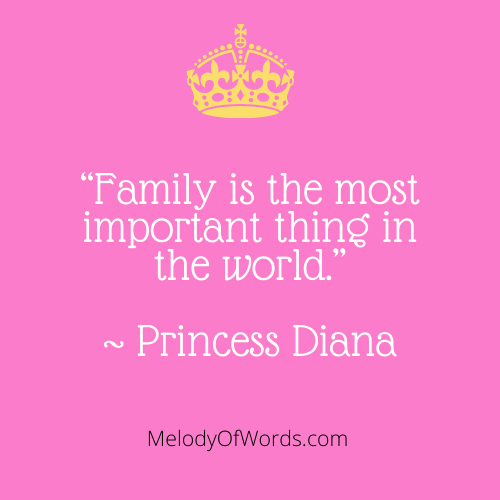 Princess Diana Quotes on Family:
16. "Family is the most important thing in the world."
17. "I live for my sons. I would be lost without them." ~ Princess Diana Quotes
18. "Any sane person would have left long ago. But I cannot. I have my sons."
19. "What must it be like for a little boy to read that daddy never loved mummy?"
20. "I decline to go fox hunting." (She didn't want her husband and sons to be involved in hunting.)
21. "A mother's arms are more comforting than anyone else's." ~ Princess Diana Quotes
Also Read: 50 Best Romantic Love Quotes for Her that'll Make her Say Awww!
Inspirational Princess Diana Quotes: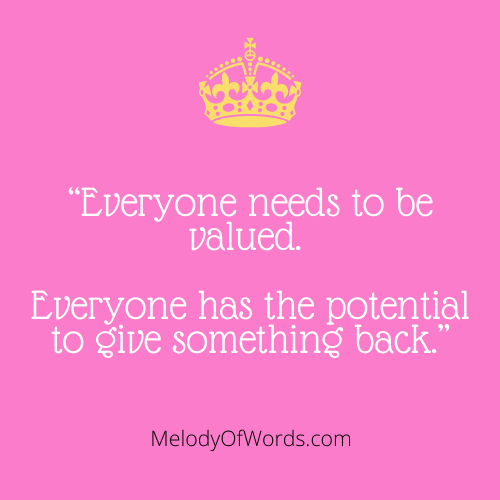 22. "I wear my heart on my sleeve."
23. "Carry out a random act of kindness, with no expectation of reward, safe in the knowledge that one day someone might do the same for you." – Princess Diana Quotes
24. "Everyone of us needs to show how much we care for each other and, in the process, care for ourselves."
25. "Hugs can do great amounts of good – especially for children." ~ Princess Diana Quotes
26. "The greatest problem in the world today is intolerance. Everyone is so intolerant of each other."
27. "I touch people. I think everyone needs that. Placing a hand on a friend's face means making contact."
Also Read: 40 Most Inspiring Elon Musk Quotes that'll Teach you to Think out of the Box
28. "I want my boys to have an understanding of people's emotions, their insecurities, people's distress, and their hopes and dreams." – Princess Diana Quotes
29. "Everyone needs to be valued. Everyone has the potential to give something back."
30. "When you are happy you can forgive a great deal." ~ Princess Diana Quotes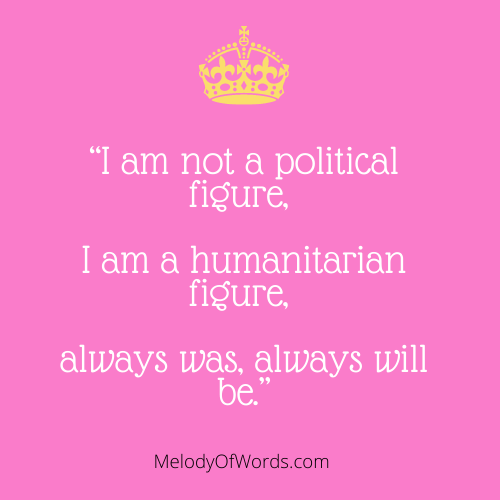 Humanitarian Princess Diana Quotes:
31. "Nothing brings me more happiness than trying to help the most vulnerable people in society. It is a goal and an essential part of my life—a kind of destiny. Whoever is in distress can call on me. I will come running wherever they are."
32. "I'm not a political animal but I think the biggest disease this world suffers from in this day and age is the disease of people feeling unloved, and I know that I can give love for a minute, for half an hour, for a day, for a month, but I can give—I'm very happy to do that, and I want to do that." – Princess Diana Quotes
33. "I think the British people need someone in public life to give affection, to make them feel important, to support them, to give them light in their dark tunnels. I see it as a possibly unique role, and yes, I've had difficulties, as everybody has witnessed over the years, but let's now use the knowledge I've gathered to help other people in distress." – Princess Diana Quotes
Funny Princess Diana Quotes:
34. "Being a princess isn't all it's cracked up to be."
35. "If men had to have babies, they would only ever have one each."
36. "I'm as thick as a plank." ~ Princess Diana Quotes
37. "I don't even know how to use a parking meter, let alone a phone box."
38. "People think at the end of the day that a man is the only answer [to fulfillment]. Actually a job is better for me."
39. "I've got nothing else to do." (On her charity work.)
40. "I had a very bad time with the press — they literally haunted and hunted me. I haven't felt well since day one. I don't think I'm made for the production line." – Princess Diana Quotes
If You Liked Princess Diana Quotes, then You Might Enjoy Reading: