World Environment Day: Children Celebrate amidst Pandemic, rooting for a better World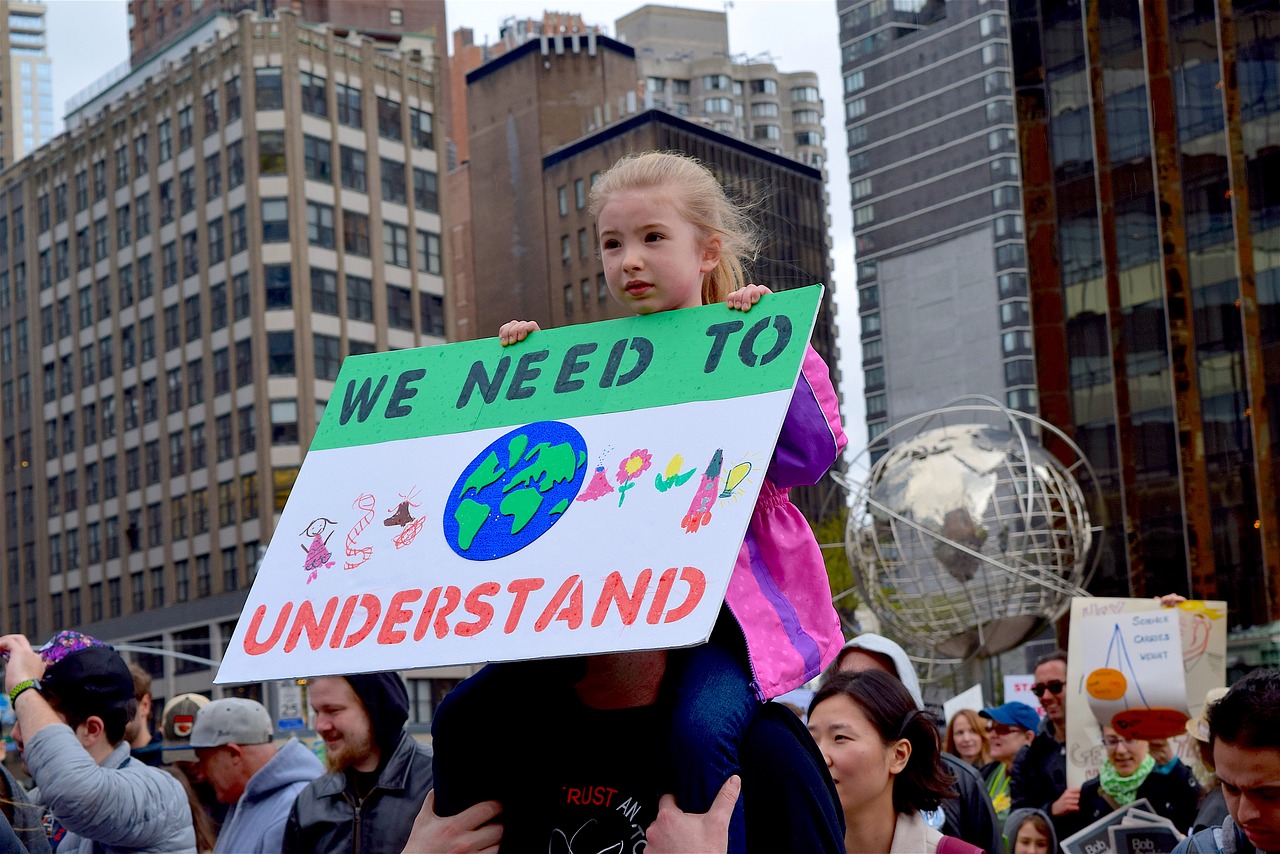 Though the Covid-19 Pandemic has crept into every nook and cranny of the world. But it hasn't stopped the tiny-tots from having fun.
Online classes have proved to be a relief for many kids, who feel summers should be reserved for slurping ice-creams, and gulping down bottles of chilled fruit juices. And my niece Saumya is no different.
School or no school, Kids are having a great time:
Though she and my neighbour Vritti often complain, when will their school re-open. But it's just a facade! I know how happy they are, and their catty moves to show, how excited they are for returning to school.
Since my niece is stuck in Doon along with her mum from the past three months because of the lock-down, and ban on interstate travel. Since her home which is in Delhi is under red-zone.
Therefore, she is having a gala time with us and is going crazy over Doon's windy weather, and sweet summer.
Children are sharing inspirational pictures of their role models on World Environment Day:
Every evening Saumya and Vritti throng here to challenge each other for dancing, wrestling, skits, and other innocent games, that screams nostalgia to me.
Yesterday, Saumya crashed into my room and shared that, her class teacher has entered her into a competition. Wherein, students are required to send their pictures for World Environment Day, and their theme is "environment conservation."
I joked and told her to cut out two white strips of paper, and place it on her front teeth, and she will become a bunny. She laughed and said, no everybody will do the same.
So I came up with a quick plan and made her wear a saree, and tied her hair in a bun to represent a Bishoi woman. Then we took our dear rabbit and made it sit with her.
I think, our vision was blending well with this year's theme for 2020 World Environment Day which is "Celebrate Biodiversity." Since one million species are facing extinction and we need to conserve them.
Who are Bishnoi women:
Bishnoi women from the Bishnoi tribe of Rajasthan are ardent nature lovers, who are known to protect and conserve wildlife.
They nurse, feed and protect wild animals from hunting and poaching. One can see, blackbucks roaming freely in Bishnoi villages
The Bishnoi women are also known to breastfeed orphaned baby deer like their own children. Their compassionate nature and empathy towards nature and wildlife makes them a great example to look up to.
Bishnoi Tribe and Salman Khan's battle against Blackbuck Poaching Case made headlines everywhere:
In the year 1998, Salman Khan along with his co-actors went on a hunting expedition and shot a Blackbuck, commonly known as Indian Antelope.
This majestic animal is found in India, Pakistan, and Nepal, and is the only sole extant member of the genus Antilope.
Since Blackbuck is an endangered species of antelope, which is protected by the Bishnoi group of people. The Bishnoi group was quick to file a case against him.
Witnesses from the Bishnoi community made claims against the actor:
The eye-witnesses pleaded before the bench that, they saw the actor shooting the deer. On chasing the actor's jeep, he threatened them with the gun.
Khan was also charged under the Arms Act for the possession of illegal weapons. The case continued for years, and many hideous excuses were made by the actor. Suggesting the deer was suffering from food poisoning and died due to poor health.
Whereas in his biography, the actor has linked his hunting game with his Pashtun ancestry, and that people were coaxing him to hunt for showing off his skills.
Consequently, money and power influenced the court's decision. After years of litigation, the actor only spent a few days in prison from his 5 years of jail term, and paid Rs 25,000 for breaking the wildlife protection laws.
How people with power play with justice, and get acquitted easily:
When I was in school, this particular case exposed me to the harsh reality of power-backed people, who get so much love for their fake persona. And how they get away easily with crimes.
Since the same actor was pressed with charges of physical abuse on his former partners, ramming and killing homeless people with his car, and was eventually acquitted.
My niece Saumya and I decided we should represent Bishnoi Tribe:
Since my niece didn't know much about the group and was eager to learn more about them.
So I told her, they are a traditional environmentalist group that offers special protection to threatened wildlife such as: Blackbuck, Chinkara, Great Indian Bustard and Khejri tree, who they revere.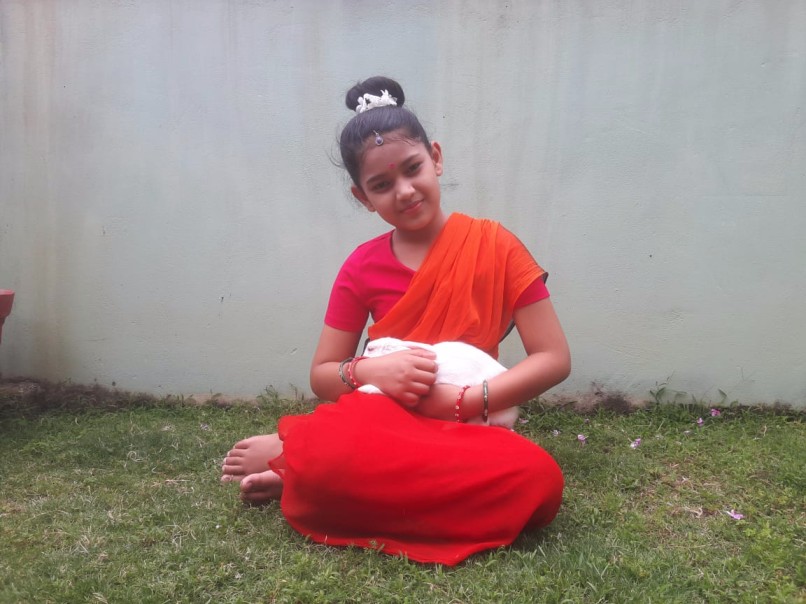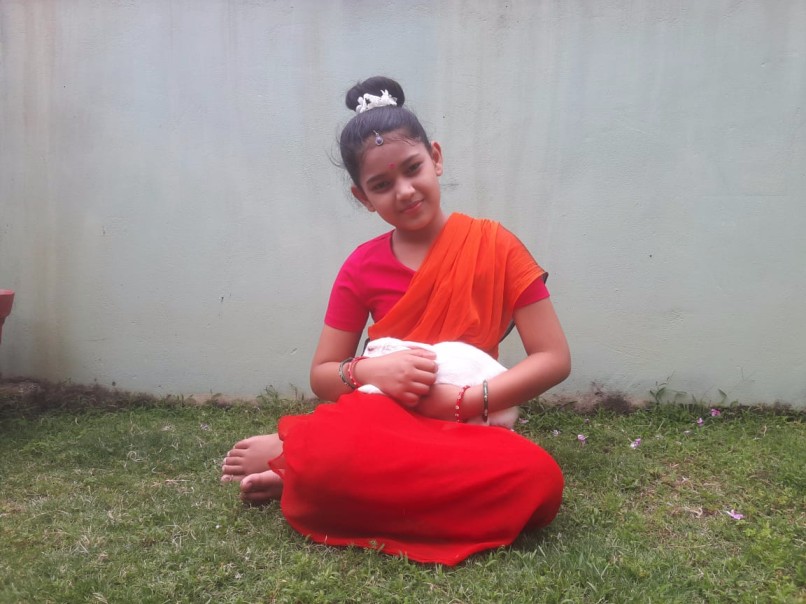 My pet rabbit made a stellar appearance in Saumya's picture:
I quickly snapped a picture of Saumya in her Bishnoi attire, holding my pet rabbit Vinnie, who wanted to chew her saree. But was unsuccessful at it and scratched her back instead.
After which she gave this calming pose, "Warning, back off Saumya, this is my shot!"
Since we failed in the first attempt, we decided to go for Chipko Movement:
Everybody liked her Bishnoi woman picture, but when we sent it to her father. He was quick to point out that the dress was inappropriate. Because Bishnoi women wear Ghaghra (a long skirt) and Choli (blouse or top).
And advised us to try something else, because all her traditional clothes were closeted in Delhi.
So this time, we thought about representing our culture and state, Uttarakhand. To educate others about the great work of Gaura Devi, a mountain woman, who became the flag-bearer of Chipko Andolan.
Don't miss this story: Little Himalayan girl with a Gold nose ring
Who started the Chipko Andolan and Gaura Devi's role in Chipko Movement:
The 1970s Chipko Movement was initiated by Sunder Lal Bahuguna, a noted environmentalist from Garhwal, Uttarakhand. And was lead by Gaura Devi, a brave peasant woman from Chamoli, Uttarakhand.
The Chipko Movement was one of the famous forest conservation movements in India. Which became a rallying point for several environmental movements around the world.
The reason behind Chipko Movement:
The Chipko Movement was a non-violence, sociological and ecological movement started by rural villagers, particularly women from the hilly region of Uttarakhand.
On 26, March 1974, Gaura Devi led this movement by forming a group of women, who hugged the trees to prevent them from being chopped-off by the loggers.
The women stood in unison and protected the trees overnight. The movement was triggered by the government's decision of allotting forest land to a sports goods company.
The success of Chipko Movement paved way for other socio-political movements in Uttarakhand:
The success of Chipko Movement spread from Mandal village in the upper Alaknanda Valley to other Himalayan districts of Uttarakhand (then Uttar Pradesh).
Chipko Movement was an answer to the government that though undermined, hill folks weren't sleeping.
Since then, the women of Uttarakhand have actively participated in other socio-political movements. Including Uttarakhand Adolan, a movement for carving out hilly regions from the plain areas of Uttar Pradesh.
Due to the negligence of the Uttar Pradesh government towards the hill folk. Based on differences in culture, language, and their under-representation in jobs, education, vote, and sharing resources within the state.
Check out: 10 Life Lessons I Learned during my Stay in the Hills
How the dream of a separate hill state couldn't be possible without the efforts of Pahari women:
When I was little, I used to see my grandmother going on rallies. Once they were peacefully rallying in a street and was brutally attacked by the Police, and were thrown away in jail.
Though she didn't know how to read or write and my grandfather was highly educated. But I feel, she had more wisdom and a sense of life than him.
She was always quiet and never raised her voice. But she had a strong sense of equality, rights and saw opportunities for all of us in the future.
Nobody used to accompany her to the rallies, neither she was doing it for being acknowledged as "Uttarakhand Andolan activist." Having spent most of her life in struggles, she might have seen it as an opportunity for us (women).
Since our family had an influx of girls of different ages, and she always told us to study well, to earn lots of respect, and be happy always. This one's for her.
Final pictures, and the learning process was a shared experience for us:
I took a few pictures of my niece clad in a traditional Garhwali dress to represent Gaura Devi.
She was donning a dhoti, woollen blouse, a waistband, and a headscarf. Everything was set, now we had to work with the only tree, which was sprawling in our compound.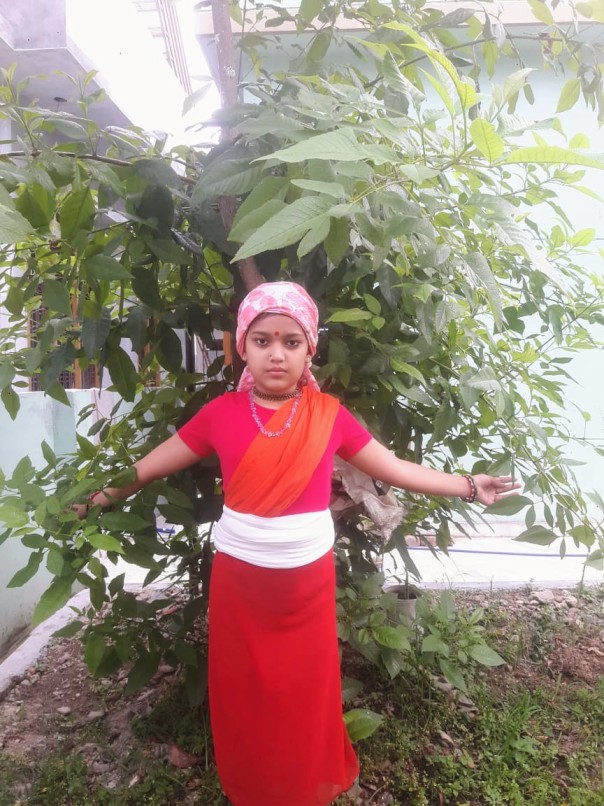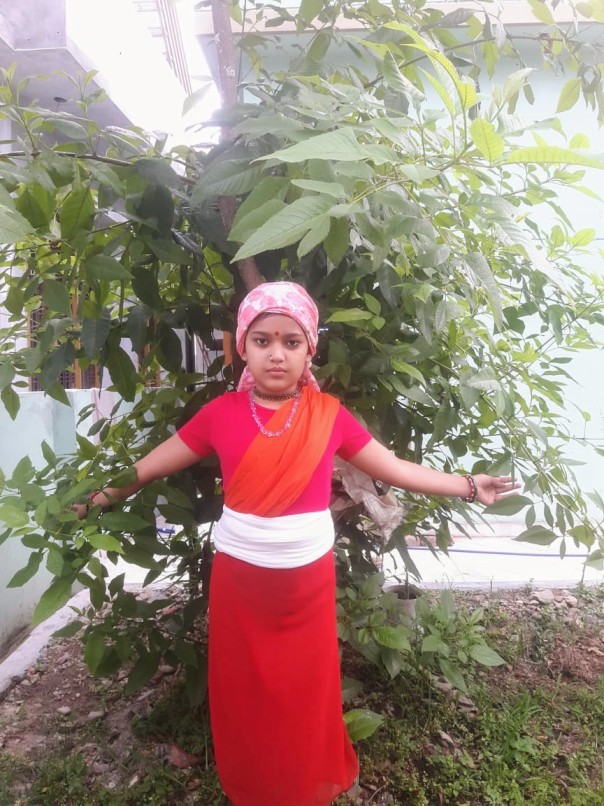 She was hugging the tree and sometimes playing around. I captured a few images of her that I like, I'll share it here.
I think it was a great experience of sharing knowledge, culture, and the need to conserve biodiversity by sharing examples, that she can look up to.
When I asked her what do you think about these women. She told me that they are intelligent and kind-hearted women, who tried their best to do something great for our environment.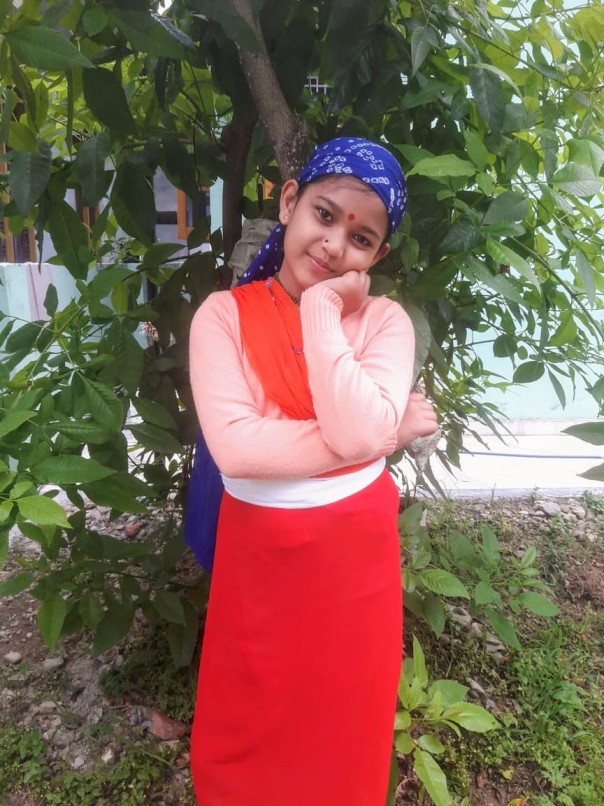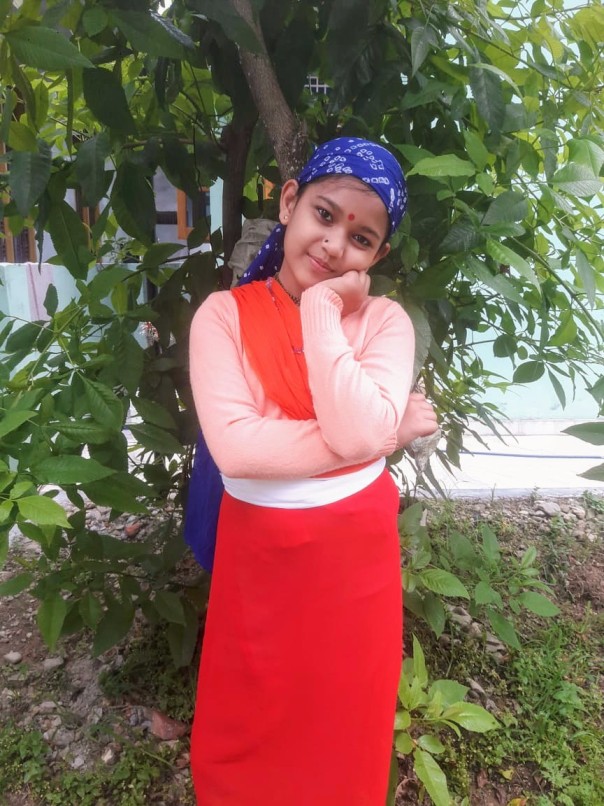 Later, when we sent her images to her father. He liked it and joked with her that in some images she looks like a "poori" (deep-fried Indian bread).
She took the call and threatened her father to take good care of him because she'll be back soon. Later in the evening, her mother sent the pictures to her class teacher, and her class teacher remarked, "Great efforts by Saumya."
You may also like:
Let thy spirit be high in love. Namaste