100 Best Christmas Quotes that are Sweet, Funny and Memorable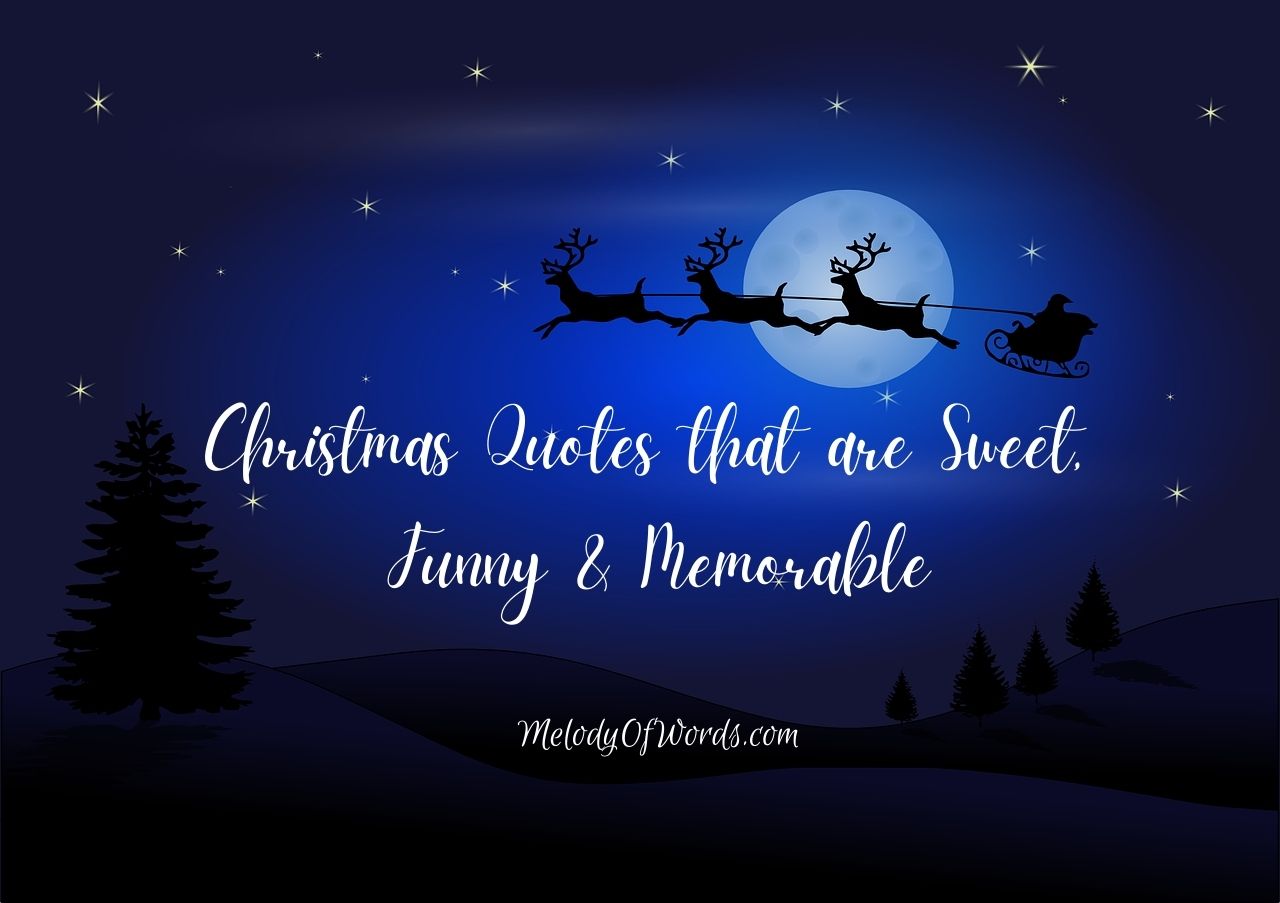 100 Best Christmas Quotes that are Sweet, Funny and Memorable
Christmas is one of the most popular festivals worldwide. It is celebrated with great fervor by people belonging to different racial, ethnic, and religious backgrounds.
Since Christmas is observed in late December when the year is about to end, and it's bone-chilling cold. Therefore, it is one of the most awaited festivals, that people look forward to. So they can have a small get-together with their loved ones.
While, tiny tots get excited to receive gifts from their secret Santa, for teenagers, it's a pleasant time to build their own snowman, and for young couples, it's the ideal time to bond over Christmas tree decoration.
The Importance of Christmas:
Christmas is one such Christian festival, where people connect with their family and friends. They bond over Christmas parties, drink hot chocolate near the bonfire, prepare their favorite recipes and spread happiness with everybody.
No matter how old we get but we still get excited for Christmas and love sending Christmas cards to our loved-ones with personalized messages.
Since Christmas is around the corner let's help you to send heart-warming Christmas wishes to your near and dear ones or to use in your Instagram posts. So here are some of the best Christmas quotes that are sweet, funny, and memorable.
100 Best Christmas Quotes that are Sweet, Funny and Memorable
1. "My idea of Christmas, whether old-fashioned or modern, is very simple: loving others. Come to think of it, why do we have to wait for Christmas to do that?" – Bob Hope
2. "The rooms were very still while the pages were softly turned and the winter sunshine crept in to touch the bright heads and serious faces with a Christmas greeting." – Louisa May Alcott
3. "Peace on earth will come to stay, when we live Christmas every day." – Helen Steiner Rice
4. "I've learned that you can tell a lot about a person by the way [they] handle these three things: a rainy day, lost luggage, and tangled Christmas tree lights." – Maya Angelou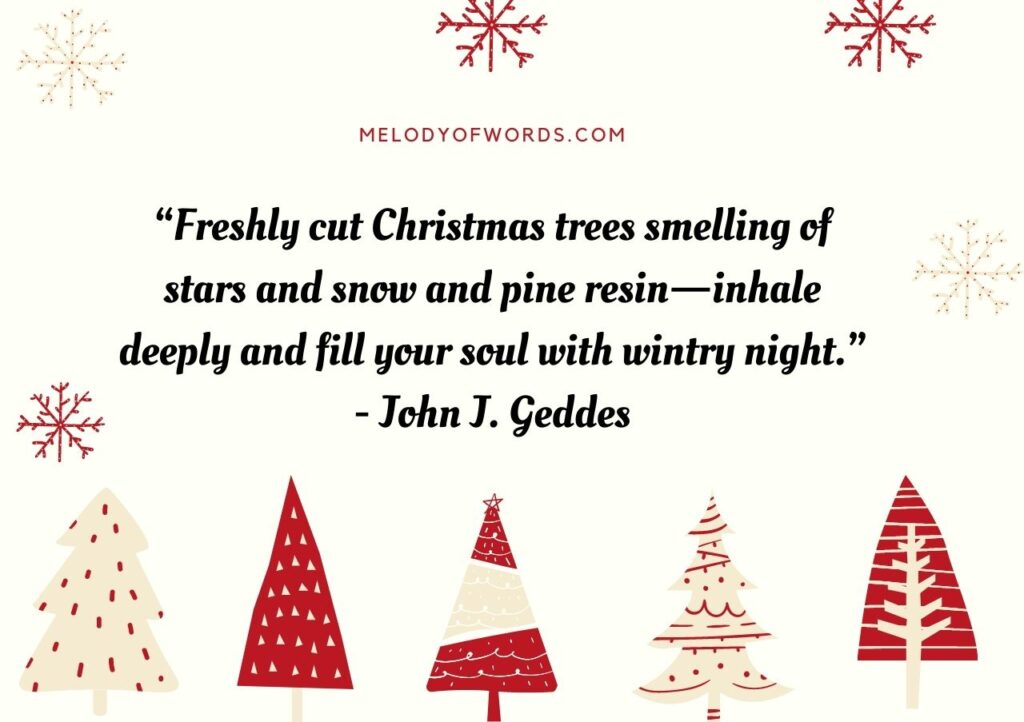 5. "Freshly cut Christmas trees smelling of stars and snow and pine resin—inhale deeply and fill your soul with wintry night." – John J. Geddes
6. "One of the most glorious messes in the world is the mess created in the living room on Christmas Day. Don't clean it up too quickly." – Andy Rooney
7. "Blessed is the season which engages the whole world in a conspiracy of love." – Hamilton Wright Mabie
8. "City sidewalks, busy sidewalks, dressed in holiday style. In the air, there's a feeling of Christmas." – Ray Evans
9. "Christmas works like glue. It keeps us all sticking together." – Rosie Thomas
10. "Christmas is not a time nor a season, but a state of mind. To cherish peace and goodwill, to be plenteous in mercy, is to have the real spirit of Christmas." – Calvin Coolidge, Christmas Quotes
11. "We are better throughout the year for having, in spirit, become a child again at Christmastime." – Laura Ingalls Wilder
12. "It is Christmas every time you let God love others through you." – Saint Teresa of Calcutta
13. "Nothing ever seems too bad, too hard, or too sad when you've got a Christmas tree in the living room." – Nora Roberts
14. "When we recall Christmas past, we usually find that the simplest things – not the great occasions – give off the greatest glow of happiness." – Bob Hope
15. "Christmas waves a magic wand over this world, and behold, everything is softer and more beautiful." – Norman Vincent Peale, Christmas Quotes
16. "Like snowflakes, my Christmas memories gather and dance — each beautiful, unique, and gone too soon." – Deborah Whipp
17. "He who has not Christmas in his heart will never find it under a tree." – Roy L. Smith.
18. "Merry Christmas! If you are reading this from your hiding place in the bathroom, on the back porch, or in your childhood bedroom, because you cannot spend one more minute with your relatives, this is totally fine. You are doing great. You have built a life that works for you, and tomorrow, you get to go back to it." – Emily McDowell
18. "I will honor Christmas in my heart, and try to keep it all the year." – Charles Dickens
19. "The thing about Christmas is that it almost doesn't matter what mood you're in, or what kind of year you've had–it's a fresh start." – Kelly Clarkson, Christmas Quotes
20. "What is Christmas? It is tenderness for the past, courage for the present, hope for the future." – Agnes M. Pahro
Also Read: 50 Best Snowman Quotes that are Cute, Funny & Adorable
21. "I love the excitement, the childlike spirit of innocence, and just about everything that goes along with Christmas." – Hillary Scott, Christmas Quotes
22. "Aren't we forgetting the true meaning of Christmas? You know, the birth of Santa." – Bart Simpson
23. "Fine old Christmas, with the snowy hair and ruddy face, had done his duty that year in the noblest fashion, and had set off his rich gifts of warmth and color with all the heightening contrast of frost and snow." – George Eliot
24. "May your hearth be warm, your holidays grand, and your heart held gently in the good Lord's hand."
25. "Christmas and the holidays is the season of giving. It's a time when people are more kind and open-hearted." – Gisele Bundchen
26. "Our hearts grow tender with childhood memories and love of kindred, and we are better throughout the year for having, in spirit, become a child again at Christmastime." – Laura Ingalls Wilder
27. "My brother, little sister and I decorate the tree together, and every year we fight over who gets to hang our handmade childhood decorations." – Carly Rae Jepsen, Christmas Quotes
28. "It's true, Christmas can feel like a lot of work, particularly for mothers. But when you look back on all the Christmases in your life, you'll find you've created family traditions and lasting memories. Those memories, good and bad, are really what help to keep a family together over the long haul." – Caroline Kennedy
29. "Christmas, my child, is love in action. Every time we love, every time we give, it's Christmas." – Dale Evans
30. "Christmas gift suggestions: To your enemy, forgiveness. To your opponent, tolerance. To a friend, your heart. To a customer, service. To all, charity. To every child, a good example. To yourself, respect." – Oren Arnold, Sweet Christmas Quotes
31. "There's a certain magic that comes with the very first snow. For when the first snow is also a Christmas snow, well, something wonderful is bound to happen." – Frosty the Snowman, Christmas Quotes
32. "Christmas is most truly Christmas when we celebrate it by giving the light of love to those who need it most." – Ruth Carter Stapleton
33. "Santa Claus is anyone who loves another and seeks to make them happy; who gives himself by thought or word or deed in every gift that he bestows." – Edwin Osgood Grover, Christmas Quotes
34. "God never gives someone a gift they are not capable of receiving. If He gives us the gift of Christmas, it is because we all have the ability to understand and receive it." – Pope Francis
35. "We count down the days just to experience it nearly exactly as we always have. It is so comfortable, familiar, and perfectly nostalgic that, frankly, we have no desire to improve upon it at all." – Joanna Gaines, Christmas Quotes
36. "Christmas is a day of meaning and traditions, a special day spent in the warm circle of family and friends." – Margaret Thatcher
37. "I'm dreaming of a white Christmas, just like the ones I used to know. Where the treetops glisten, and children listen to hear sleigh bells in the snow." – Irving Berlin, White Christmas
38. "Christmas is a season for kindling the fire for hospitality in the hall, the genial flame of charity in the heart." – Washington Irving, Christmas Quotes
39. "As we struggle with shopping lists and invitations, compounded by December's bad weather, it is good to be reminded that there are people in our lives who are worth this aggravation, and people to whom we are worth the same." – Donald E. Westlake
40. "Christmas is a necessity. There has to be at least one day of the year to remind us that we're here for something else besides ourselves." – Eric Severeid
41. "Christmas is a baby shower that went totally overboard." – Andy Borowitz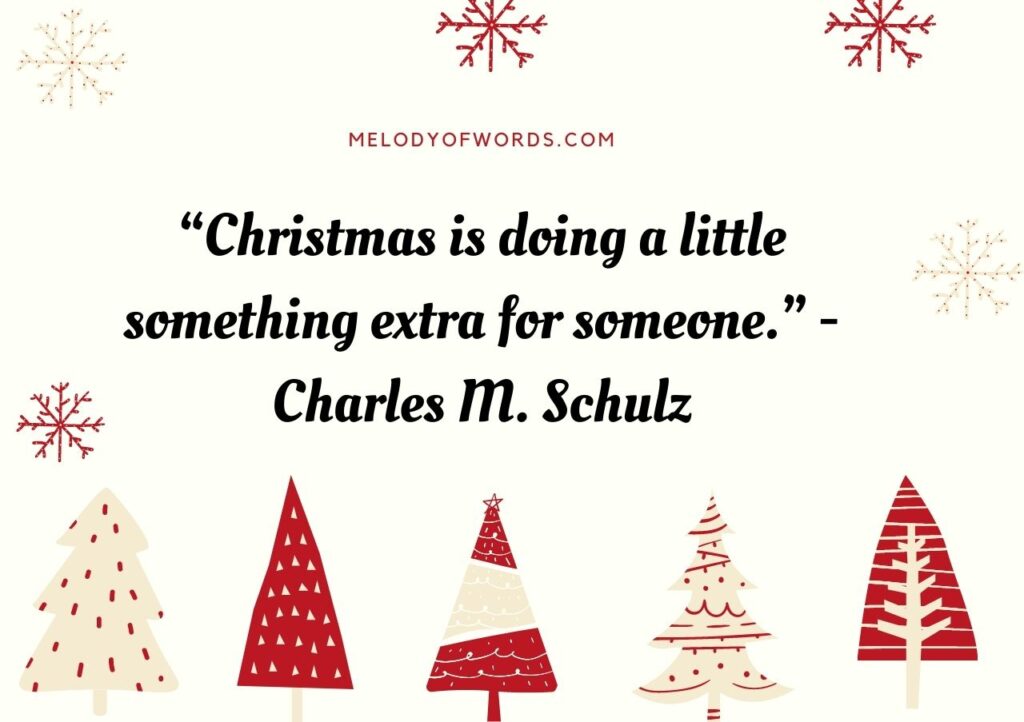 42. "Christmas is doing a little something extra for someone." – Charles M. Schulz
43. "Probably the reason we all go so haywire at Christmas time with the endless unrestrained and often silly buying of gifts is that we don't quite know how to put our love into words." – Harlan Miller, Christmas Quotes
44. "Nothing says holidays like a cheese log." – Ellen DeGeneres
45. "Gifts of time and love are surely the basic ingredients of a truly merry Christmas." – Peg Bracken
46. "Mankind is a great, an immense family. This is proved by what we feel in our hearts at Christmas." – Pope John XXIII
47. "It's Christmas Eve. It's the one night of the year when we all act a little nicer, we smile a little easier, we cheer a little more. For a couple of hours out of the whole year, we are the people that we always hoped we would be." – Frank Cross
48. "For centuries men have kept an appointment with Christmas. Christmas means fellowship, feasting, giving and receiving, a time of good cheer, home." – William Jewett Tucker
49. "At this time of year, few fights evoke more feelings of cheer and goodwill than the twinkling lights of a Christmas tree." – Queen Elizabeth II
Also Read: Importance of Navratri Festival in Indian Culture and Its Relevancy according to Science
50. "Christmas is like candy; it slowly melts in your mouth sweetening every taste bud, making you wish it could last forever." – Richelle E. Goodrich
51. "Christmas moves us to think of others rather than of ourselves & directs our thoughts to giving." – B.C. Forbes
52. "We should learn the true Christmas lesson of gentle, thoughtful kindness to those we love and to all we meet in life's busy ways." – J. R. Miller, Christmas Quotes
53. "Christmas is forever, not for just one day. For loving, sharing, giving, are not to put away." – Norman Wesley Brooks
54. "Don't get caught up in the wrapping paper and forget that the gift of the Christmas season is simply love." – Toni Sorenson
55. "And that, of course, is the message of Christmas. We are never alone. Not when the night is darkest, the wind coldest, the world seemingly most indifferent…" – Taylor Caldwell
56. "I wish we could put up some of the Christmas spirit in jars and open a jar of it every month." – Harlan Miller
57. "Seeing is believing, but sometimes the most real things in the world are the things we can't see." – Chris Van Allsburg, Christmas Quotes
58. "There has to be at least one day of the year to remind us that we're here for something else besides ourselves." – Eric Sevareid
59. "Freshly cut Christmas trees smelling of stars and snow and pine resin–inhale deeply and fill your soul with wintry night." – John J. Geddes
60. "Blessed is the season which engages the whole world in a conspiracy of love." – Hamilton Wright Mabie
Also Read: 39 Greatest Buddhist Quotes on Happiness that'll Transform your Thinking Pattern
61. "Heap on more wood! The wind is chill; But let it whistle as it will, we'll keep our Christmas merry still." – Walter Scott
62. "Christmas gives us an opportunity to pause and reflect on the important things around us." – David Cameron
63. "Christmas day is the children's, but the holidays are youth's dancing-time." – Booth Tarkington, Christmas Quotes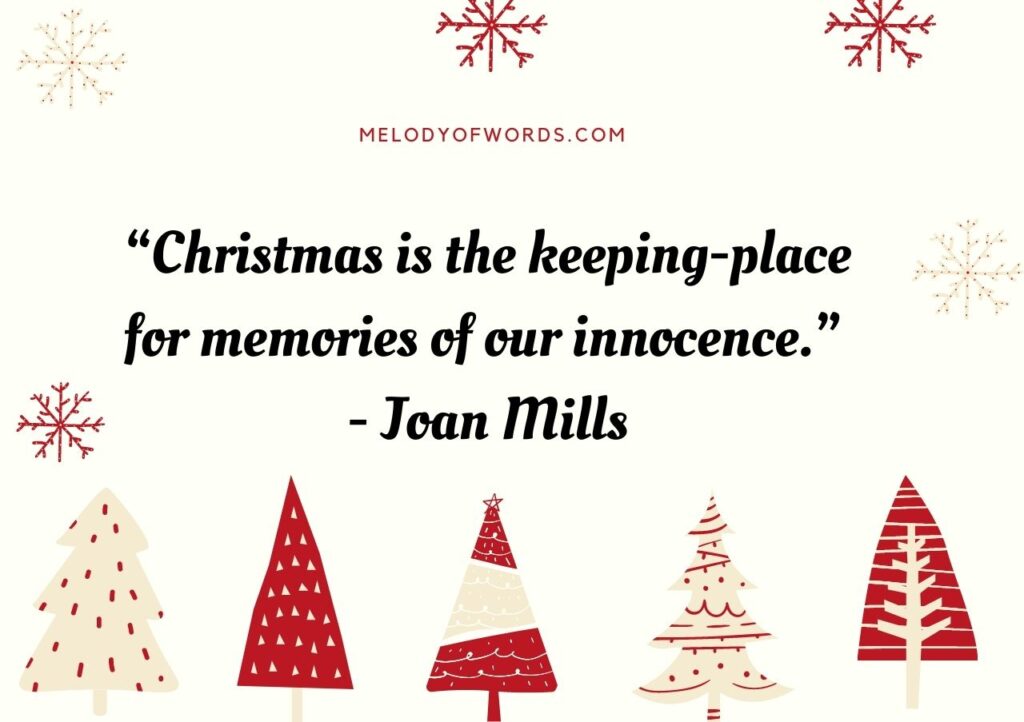 64. "Christmas is the keeping-place for memories of our innocence." – Joan Mills
66. "Christmas always rustled. It rustled every time, mysteriously, with silver and gold paper, tissue paper and a rich abundance of shiny paper, decorating and hiding everything and giving a feeling reckless extravagance." – Tove Jansson
67. "Oh the weather outside is frightful,
But the fire is so delightful,
And since we've no place to go,
Let it snow, let it snow, let it snow."
68. "And so this is Christmas…what have you done?" – John Lennon
69. "Let us keep Christmas beautiful without a thought of greed." – Ann Garnett Schultz, Christmas Quotes
70. "Want to keep Christ in Christmas? Feed the hungry, clothe the naked, forgive the guilty, welcome the unwanted, care for the ill, love your enemies, and do unto others as you would have done unto you." – Steve Maraboli
71. "The mood is right, the spirit's up. We're here tonight, and that's enough. Simply having a wonderful Christmas time." – Paul McCartney, Wonderful Christmas Time
72. "Christmas now surrounds us, Happiness is everywhere. Our hands are busy with many tasks as carols fill the air." – Shirley Sallay
78. "Christmas was definitely the best thing ever, even better than pizza. But instead of all her favorite toppings, Amitola was surrounded by all her favorite people." – Aishabella Sheikh
79. "Have yourself a merry little Christmas. Let your heart be light. From now on, your troubles will be out of sight." – Hugh Martin and Ralph Blane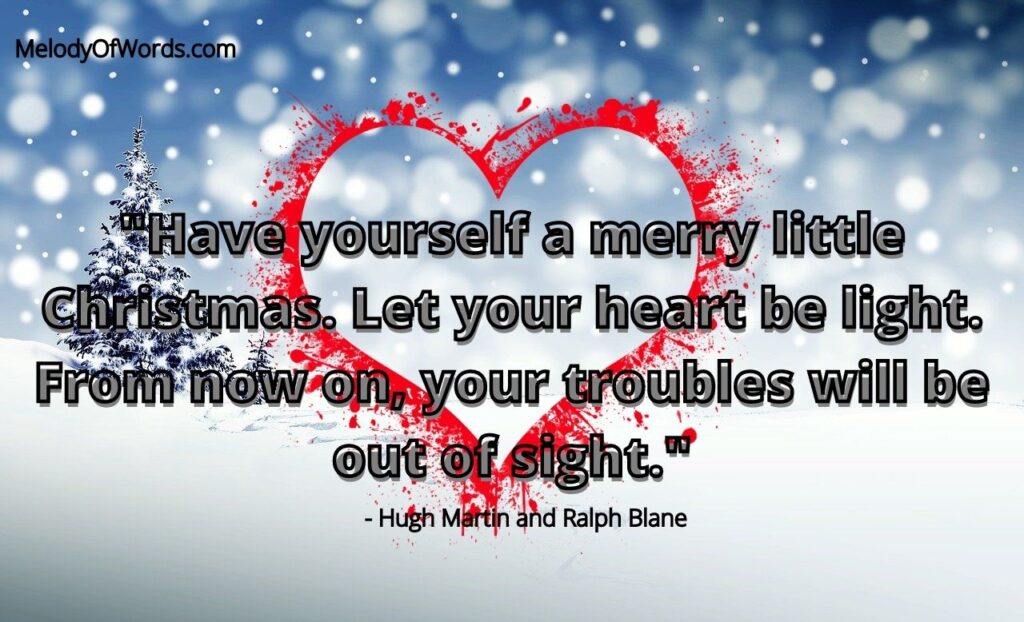 Also Read: 80 Flirty Texts to Make Your Lover or Crush Feel Special
80. "Were I a philosopher, I should write a philosophy of toys, showing that nothing else in life need to be taken seriously, and that Christmas Day in the company of children is one of the few occasions on which men become entirely alive." – Robert Lynd
81. "The nutcracker sits under the holiday tree, a guardian of childhood stories. Feed him walnuts and he will crack open a tale."- Vera Nazarian, Christmas Quotes
82. "I don't think Christmas is necessarily about things. It's about being good to one another." – Carrie Fisher
83. "Christmas is not as much about opening our presents as opening our hearts." – Janice Maeditere
84. "Maybe Christmas, he thought, doesn't come from a store. Maybe Christmas…perhaps…means a little bit more!" – Theodor Seuss Geisel, How the Grinch Stole Christmas
85. "Christmas is not just a time for festivity and merry making. It is more than that. It is a time for the contemplation of eternal things. The Christmas spirit is a spirit of giving and forgiving." – J. C. Penney
86. "A Christmas miracle is when your family doesn't get into a single argument all day." – Melanie White
87. "That's what Christmas memories are made from, they're not planned, they're not scheduled, nobody puts them in their blackberry, they just happen." – Deck the Halls, Christmas Quotes
88. "May Peace be your gift at Christmas and your blessing all year through!"
89. "At Christmas play and make good cheer, For Christmas comes but once a year." – Thomas Tusser
90. "The best of all gifts around any Christmas tree: the presence of a happy family all wrapped up in each other." – Burton Hills
91. "Christmas may be a day of feasting, or of prayer, but always it will be a day of remembrance—a day in which we think of everything we have ever loved." – Augusta E. Randel
92. "You know you're getting old when Santa starts looking younger." – Robert Paul
93. "From home to home and heart to heart, from one place to another. The warmth of joy Christmas brings us closer to each other." – Emily Matthews, Christmas Quotes
94. "It's the most wonderful time of the year. There'll be much mistletoe-ing, and hearts will be glowing when loved ones are near." – George Wyle and Eddie Pola, It's the Most Wonderful Time of the Year
95. "There are no strangers on Christmas Eve." – Adele Comandini
96. "The joy of brightening other lives becomes for us the magic of the holidays." – W.C. Jones
97. "Let's get lit."
98. "Have yourself a merry little Christmas, make the Yuletide gay." – Ralph Blane, Christmas Quotes
99. "It is Christmas in the heart that puts Christmas in the air." – W.T. Ellis
100. "A Christmas candle is a lovely thing; It makes no noise at all, But softly gives itself away; While quite unselfish, it grows small." – Eva K. Logue
If you liked these Christmas Quotes that are Sweet, Funny and Adorable, then you might enjoy: