50 Best Snowman Quotes that are Cute, Funny & Adorable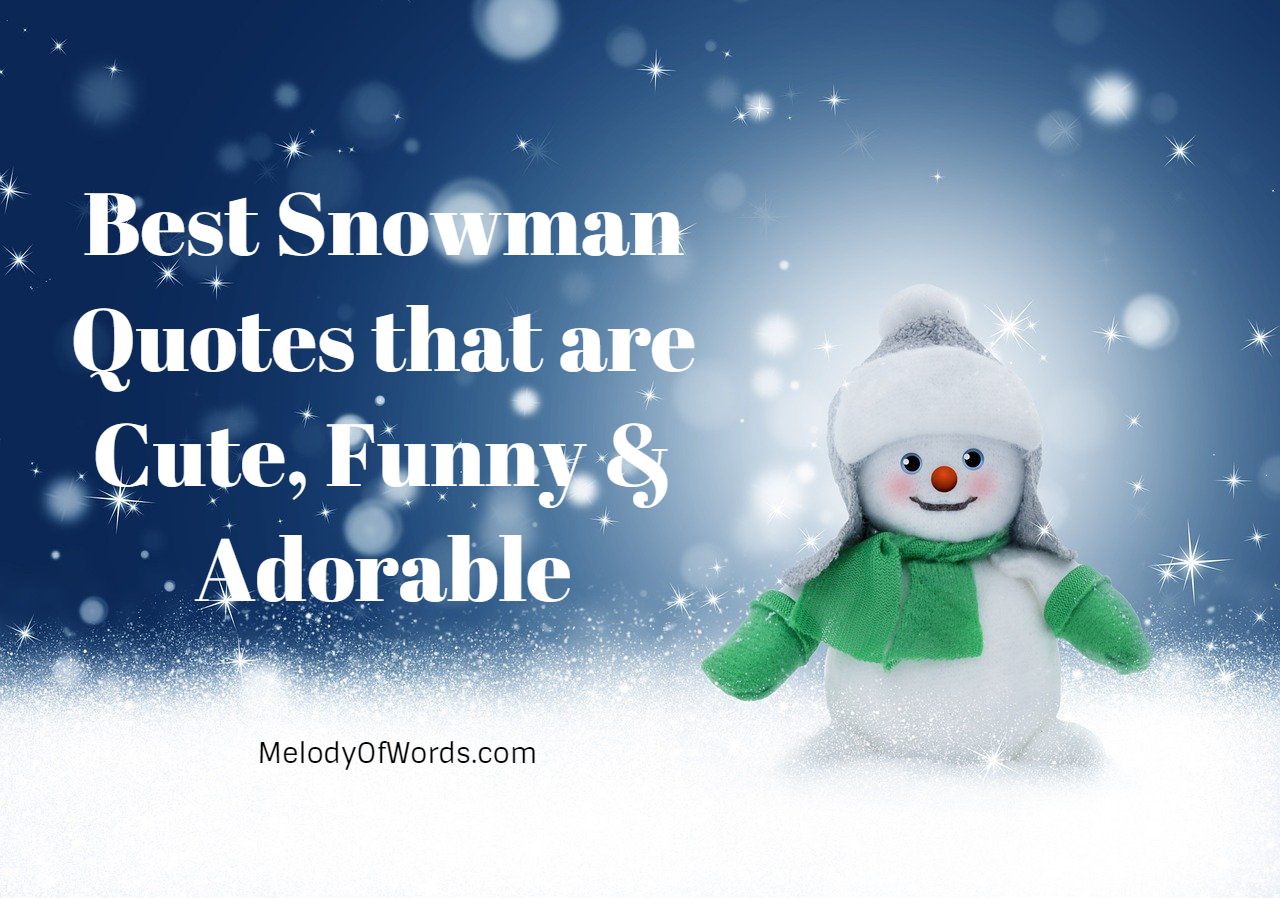 Best Snowman Quotes that are Cute, Funny & Adorable
Winter is the most awaited season for adults as well as children. Since they wait for it to snow, so they can show off their skills of building the best snowman of the year. It's a great leisure activity, which helps people to bond with their family and friends. As everybody unite to create the perfect snowmen.
During holiday season and Christmas, many youngsters, children and adults come together to build the snowman, that represents their work of art.
How a Snowman is Made:
The snowman usually has a round body, made by compressing the snow with hands. In North America, the snowman is built with three spheres, representing the head, torso and the lower body.
Whereas in UK, it is generally made from two spheres, one used for making head and the other for torso. The two perfectly round balls are used to make its head and body. Coal is used to create eyes, a long carrot to give it a sharp pointy nose, and sticks to make its hands.
A snowman is incomplete without adding accessories. Therefore, people like to give it a personal touch by adding hat, scarf, sunglasses, a broom, cigar and other stuff to make it unique.
History of Snowmen Making:
Though we cannot trace the exact history of snowman making, as it finds no particular mention in books or texts. However, the old data left behind particularly belonging to the Middle Ages suggest, that snowmen making was a part of the culture of Europe.
Author Bob Eckstein in his book "The History of the Snowman" wrote and documented snowmen from the Middle Ages by researching their artistic depictions in European museums, art galleries and libraries.
The earliest documentation, that he found dates back to 1380 book of hours, found in the Royal Library in The Hague.
Whilst, the earliest known photograph of a snowman was taken in 1853 by Welsh photographer Mary Dillwyn, the original one is in the collections of the National Library of Wales.
Interesting Facts about Snowmen:
Snowman is called "Yukidaruma" in Japanese. Since it is shaped like a Daruma doll, a round traditional Japanese doll representing the Buddhist monk, Bodhidharma.
There's even a tradition of making snow bunnies in Japan, which is quite similar to making snowmen.
Snowmen have a special place in media, as many movies and animation series show them as pivotal characters, such as Olaf the Snowman in the famous movie "Frozen."
There's a famous holiday song "Frosty the Snowman," which was later adapted into movie and TV specials.
There's even a world record for building the largest snowman. Which was set up in 2008 in Bethal, Maine. The snowman had a towering height of 122 feet 1 inch (37.21 m) in height.
The smallest snowman was created in December 2016 at a nano-fabrication facility at University of Western Ontario. It consisted of roughly 0.9 micron spheres of silica, platinum arms, and a nose made by an ion beam.
Love for Snowman:
I personally love building snowman because it reignites the old memories. When we were little kids, we used to play with snow and make round balls to create our minion version of a snowman.
Watching us immersed into the task of making snowman, other family members would join us too. Uncles and aunts used to crack jokes on how disturbed our snowman looks. Sometimes they would put their shoe on its head, other times a beer bottle on its mouth.
I bet, you might have some hysterical moments related to snowman building. Let's revive those moments by reading~ 50 Best Snowman Quotes that are Cute, Funny and Adorable.
50 Best Snowman Quotes that are Cute, Funny & Adorable
Funny Snowman Quotes: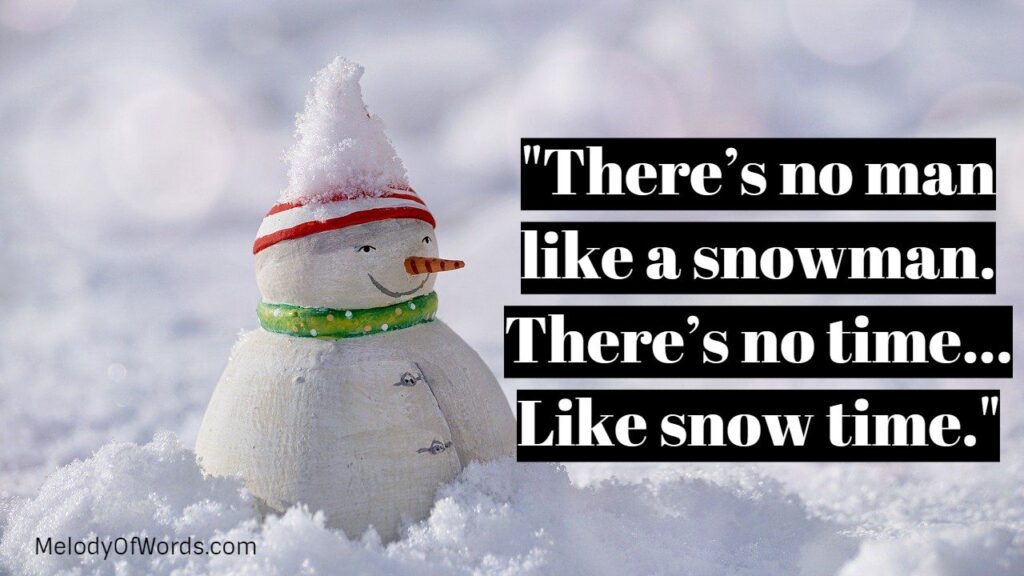 1. "There's no man like a snowman. There's no time… Like snow time."
2. "It snowed last year too: I made a snowman and my brother knocked it down and I knocked my brother down and then we had tea." – Dylan Thomas
3. "Snowman's Prayer: Please freeze! Amen"
4. "Old snowmen never die, they just melt away."
6. "Hug a snowman. It's a cold world out there."
7. "You never try to snow a snowman." – Bo Belinsky
8. "Snowflakes are one of nature's most fragile things, but just look what they can do when they stick together." – Vesta M. Kelly
9. "I believe the Abominable Snowman may be real. I think there may be something in that." – David Attenborough
10. "Have you noticed since Global Warming took hold that all the snowmen look kind of angry?" – Dana Gould
Also Check Out: 85 Awesome Vampire Names with Meaning and Origin (Male & Female)
11. "Snowmen are the best kind of men, when you get tired of them you can just turn up the heat." – Snowman Quotes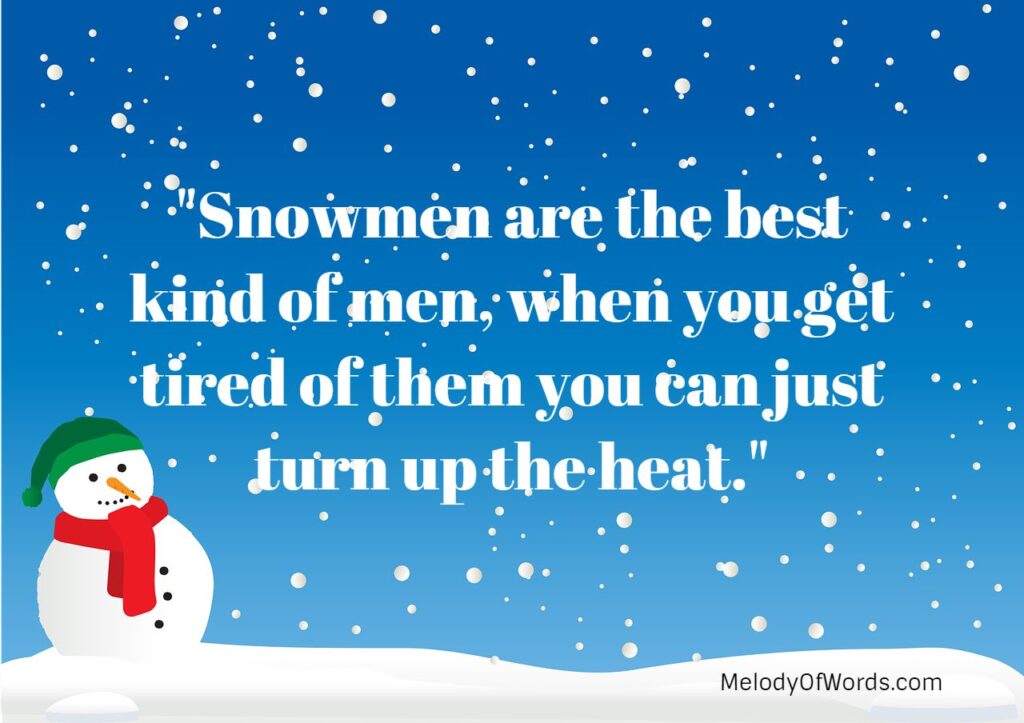 12. "Part of the kick of making people laugh was doing something different. We were a rare breed – spotting one of us was like pinning a space alien, or abdominal snowman." – Lenny Bruce, Snowman Quotes
13. "Snowman wakes before dawn." – Margaret Atwood
14. " When you're coming out, you have to deal with the whole world saying 'Oh! You're an abominable snowman'." – Eddie Izzard
15. "He was the second snowman to be melting away before her eyes, only this one was different. It was a paradox. The colder he became, the more he melted." – Markus Zusak
Don't Miss: 101 Best Mc Names with Origin and Meaning
Cute Snowman Quotes:
16. "It was the beginning of the greatest Christmas ever. Little food. No presents. But there was a snowman in their basement." – Markus Zusak
17. "Whenever a snowman melts away, A snow angel is added to heaven that day."
18. "A snowman is love and laughter all rolled up into one."
19. "Snowmen aren't forever, but their memories are."
20. "Snowmen fall from heaven… unassembled."
21. "I love snow; I love building snowman. The only thing I don't like is the cold – so if we could have a hot Christmas, that would be amazing." – Ella Henderson, Snowman Quotes
22. "People often trust low-res images because they look more real. But of course they are not more real, just easier to fake… You never see a 10-megapixel photograph of Big Foot or the Abominable Snowman or the Loch Ness Monster." – Errol Morris
Also Read: 39 Greatest Buddhist Quotes on Happiness that'll Transform your Thinking Pattern
23. "I'm glad that life isn't like a Christmas song, because if my friends and I were building a snowman and it suddenly came alive when we put a hat on it, I'd probably freak and stab it to death with an icicle." – Matthew Perry
24. "Jimmy had been full of himself back then, thinks Snowman with indulgence and a little envy. He'd been unhappy too, of course. It went without saying, his unhappiness. He'd put a lot of energy into it." – Margaret Atwood
25. "A snowman is the perfect man. He's very well rounded and comes with his own broom."
26. "I bet when Neanderthal kids would make a snowman, someone would always end up saying, 'Don't forget the thick heavy brows.' Then they would get embarrassed because they remembered they had the big hunky brows too, and they'd get mad and eat the snowman." – Jack Handey, Snowman Quotes
27. "Often I wish this would all be over, Liesel, but then somehow you do something like walk down the basement steps with a snowman in your hands." – Markus Zusak, Snowman Quotes
Also Read: 55 Christian Quotes on Love which Goes beyond the Self
28. "Snowflakes are snow angels blowing kisses from heaven."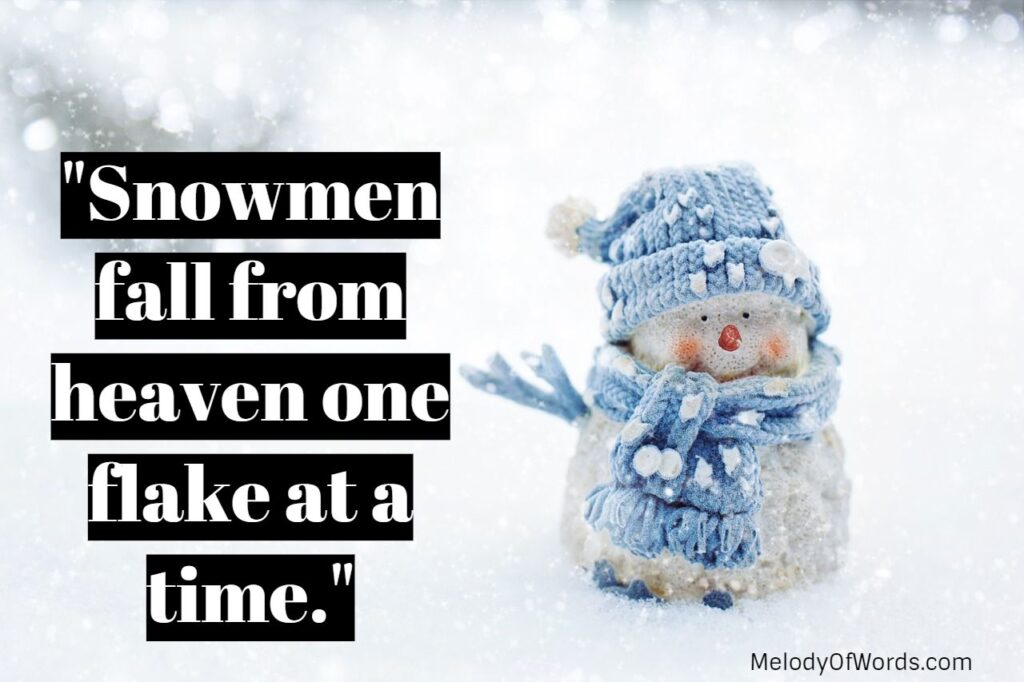 29. "Snowmen fall from heaven one flake at a time."
30. "People often trust low-res images because they look more real. But of course they are not more real, just easier to fake… You never see a 10-megapixel photograph of Big Foot or the Abominable Snowman or the Loch Ness Monster." – Errol Morris, Snowman Quotes
Interesting Quotes about Snowman:
31. "The sun came out, And the snowman cried. His tears ran down on every side. His tears ran down Till the spot was cleared. He cried so hard That he disappeared." – Margaret Hillert, Snowman Quotes
32. "I remember that winter because it had brought the heaviest snows I had ever seen. Snow had fallen steadily all night long and in the morning I woke in a room filled with light and silence, the whole world seemed to be held in a dream-like stillness. It was a magical day… and it was on that day I made the Snowman." – Raymond Briggs, Snowman Quotes
33. "I loved you when you opened like a lily to the heat; you see I'm just another snowman standing in the rain and sleet who loved you with his frozen love, his second-hand physique, with all he is and all he was a thousand kisses deep." – Leonard Cohen, Snowman Quotes
34. "I am not my childhood,' Snowman says out loud." – Margaret Atwood
35. "All snowmen look to the sky, knowing their death will be delivered by the horizon. Before dawn, their life becomes the darkest. The moment before the sun burns all.
The Snowmen go mental. Kill or be killed.
I only just escaped the violent puddles, the sticks and stones.
The broken carrot noses." – Craig Stone
36. "Just because you saw a vampire doesn't mean that a snowman or a Loch Ness Monster also exists." – Kumail Nanjiani
37. "Finn whispered, "What has a head, thorax, and abdomen, but stands six feet tall?" "A snowman?" – Ridley Pearson
38. "I got an ant farm. Them fellas didn't grow anything. Hey, how about some celery? Plus, if I tore your legs off, you would look like snowmen." – Mitch Hedberg, Snowman Quotes
39. "I love Christmas. Frosty the Snowman, peace on Earth and mangers, Salvation Army bell ringers and reindeer, the movie 'Meet Me in St. Louis,' office parties and cookies." – Mo Rocca
40. "Jimmy had been full of himself back then, thinks Snowman with indulgence and a little envy. He'd been unhappy too, of course. It went without saying, his unhappiness. He'd put a lot of energy into it." – Margaret Atwood
41. "Part of the kick of making people laugh was doing something different. We were a rare breed – spotting one of us was like pinning a space alien, or abdominal snowman. There were maybe a hundred stand-ups in the whole country when I was doing it." – Lenny Bruce, Snowman Quotes
42. "And again it snowed, and again the sun came out. In the mornings on the way to the station Franklin counted the new snowmen that had sprung up mysteriously overnight or the old ones that had been stricken with disease and lay cracked apart-a head here, a broken body and three lumps of coal there-and one day he looked up from a piece of snow-colored rice paper and knew he was done. It was as simple as that: you bent over your work night after night, and one day you were done. Snow still lay in dirty streaks on the ground but clusters of yellow-green flowers hung from the sugar maples." – Steven Millhauser, Snowman Quotes
Also read: 50 Best Pregnancy Quotes to Celebrate the Joy of New Moms
43. Winter is the king of showmen, Turning tree stumps into snowmen And houses into birthday cakes And spreading sugar over lakes. Smooth and clean and frosty white, The world looks good enough to bite. That's the season to be young, Catching snowflakes on your tongue. Snow is snowy when it's snowing, I'm sorry it's slushy when it's going. – Ogden Nash, Snowman Quotes
44. I'm a little snowman short and fat,
Here is my scarf and here is my hat.
When I see the snowfall,
Hear me shout
"All you children please come out!" – Anon
45. "So Crake never remembered his dreams. It's Snowman that remembers them instead. Worse than remembers: he's immersed in them, he'd wading through them, he's stuck in them. Every moment he's lived in the past few months was dreamed first by Crake. No wonder Crake screamed so much." – Margaret Atwood, Snowman Quotes
46. "The moth settled onto the curtain and sat still. It was an astonishing creature, with black and white wings patterned in geometric shapes, scarlet underwings, and a fat white body with black spots running down it like a snowman's coal buttons. No human eye had looked at this moth before; no one would see its friends. So much detail goes unnoticed in the world." – Barbara Kingsolver, Snowman Quotes
47. "I love "Frosty the Snowman." My family and I like to go on a sleigh ride with a two-horse sleigh in Aspen, so we all scream different songs at the top of our lungs. I hope it doesn't scare the horses." – Mariah Carey, Snowman Quotes
48. "When I was nine years old, I wrote a short story called 'How to Build a Snowman,' from which no practical snowperson-crafting techniques could be gleaned. The story was an assignment for class and it featured a series of careful but meaningless instructions. Of course, the building of the snowman was a red herring." – Sloane Crosley, Snowman Quotes
49. "A chubby little snowman
had a carrot nose.
Along came a bunny,
and what do you suppose?
That hungry little bunny,
looking for some lunch,
Grabbed that snowman's nose,
Nibble, nibble, crunch!" – Anon
50. "Songs that aren't even remotely connected to Christmas are now officially canonized Christmas tunes. 'Frosty the Snowman,' 'Jingle Bells' and 'Winter Wonderland' never mention anything religious but are still notches in Christmas' belt of musical dominance." – Matisyahu, Snowman Quotes
If you liked these Best Snowman Quotes, the you love to read: